Metamaterial Inc.
Mastering Light with Smart Materials
Overview
Almost every great advancement in technology can be attributed to a breakthrough in materials science. The Industrial Revolution was driven in large part by advancements in the metallurgy of iron and steel, enabling the harnessing of steam power and the construction of sophisticated machinery. The discovery of semiconducting materials and the means of chemically modifying their properties led to the invention of the transistor, and the enablement of the Digital Age in which we live.
We are now in the midst of another revolution in materials science involving the invisible world of nanotechnologies, nanostructures, and metamaterials, materials that can manipulate and utilize light and other forms of energy in new ways, many of them previously thought impossible.
Metamaterial Inc. ("META") (CSE:MMAT) specializes in the design and nanofabrication of highly functional materials designed to improve the ways we interact with and benefit from light and other forms of energy. Using advanced proprietary and environmentally sustainable technologies, META harnesses the power of light by reflecting, absorbing, or enhancing it in exciting, often revolutionary, new ways. The scientists and engineers at META consider themselves to be at the forefront of this current revolution in materials science.
---
The META Mission: To Make Products Smarter and More Sustainable by Mastering Light with Advanced Materials
The META Vision: To Democratize Nanomaterials and Help Improve Human Life
---
What META Does
META designs and manufactures functional films that are engineered at nanoscopic levels to control light and other electromagnetic waves. META's products are called metamaterials because they have advanced properties not inherent in the material's original form.
META's products can be used in a growing number of applications:
To block harmful light such as green laser or ultraviolet radiation
To gather and redirect light to improve solar panel performance
To improve performance of optical displays
To replace transparent conductive materials on touch screens, LCD or OLED displays
Defogging or de-icing windows.
The acquisition or enhancement of signals for non-invasive medical imaging such as MRI, or for sensing applications such as glucose monitoring.
How META Does It
META has invented three core technologies:
META's holographic technology enables the company to modify the properties of proprietary polymer films at the molecular level to achieve desired effects. For illustration, imagine an immense lighthouse multi-element, glass lens system (Fresnel lens), completely implemented at nano scale in a thin film.
META's lithographic technology enables the printing of conductive patterns, fine enough to be invisible on a transparent film.
META's wireless sensing technology enables the sensing and control of electromagnetic waves through metallodielectric structures printed on flexible substrates.
In all cases, META's breakthrough printing technologies allow, for the first time, production of metamaterials on a large scale at low cost.
META's Advantages
META's proprietary roll-to-roll manufacturing processes allow large scale, low cost production. Until the development of META's advanced metamaterial printing technologies, metamaterial production has been analogous to the Gutenberg press, the printing one sheet at a time.
META has worked for several years with the major manufacturers of proprietary polymer films and has a unique understanding of the capabilities and limitations of these materials.
META has developed algorithms and libraries which allow us to design new applications quickly and effectively.
META is well recognized in the industry, having established relationships with many current and potential partners to address the very large markets for each of its products.
In partnership with Airbus, META has developed a commercial product, metaAIR, already in the commercial marketplace.
META's Strategy
Because of its large potential markets, META's core strategy is a B2B model where the company develops products in coordination with large established players capable of addressing the market. In many cases, each of META's products would be an enabling technology in end products, such as a film to improve solar panel performance. In other cases, META would manufacture a product to be registered, marketed, and distributed by a large partner, as with metaAIR and SATAIR.
META is disciplined in its choices of potential commercial applications and employs a road-mapped, staged product development approach that can be assisted by the acquisition of non-dilutive financing during development stages.

Metamaterial Inc. Corporate Highlights
Value Proposition
Traditional industrial coatings are generally cheap to produce, highly commoditized, and achieve varying levels of performance. Some nano-coatings offer additional performance benefits but often contain rare earth metals, making them expensive and slow to produce.
By using advanced design and nano-patterning technologies, coupled with roll-to-roll manufacturing capabilities, META can produce products that are low cost, highly precise and in far higher volumes than competing technologies can produce. Significantly, META can achieve its production quality and scalability using zero rare earth metals, and yet META's standard nanocomposites are able to out-perform rare earth metal coatings. When circumstance require META to use rare earth metals in its processes, a fraction of these raw materials, typically 2 to10 times less, can be used, resulting in thinner coatings that can, in turn, out-perform META's standard nanocomposites.
META has invested 9 years and millions of dollars to develop a technology platform with its 3 core capabilities, holography, lithography and wireless sensing, and in the process has assembled a global team of top scientists and engineers.
META has been granted 39 patents in 27 patent families, and currently has 43 patent applications pending internationally.
META is working with Fortune 500 companies from diverse industries, from aerospace to medical and consumer electronics, utilizing a B2B business model that delivers purpose-built solutions as well as stand-alone products.
META is headquartered in Dartmouth, Nova Scotia with R&D Offices near Silicon Valley and London, UK.
Video: Metamaterial's Technologies
Medical Applications with Future High Impact Capabilities
META's wholly owned London UK subsidiary, MediWise (has been developing a bloodless glucometer, GlucoWise® (www.gluco-wise.com) to monitor blood sugar levels for diabetics. GlucoWise® will be miniaturized to fit between the thumb and the index finger. It will be capable of taking up to 10,000 readings a second, essentially continuous readings, and then downloading the results onto the user's smart phone. Since 2014, the company has been awarded UK £3.71 million by Innovate (full list of 11 awards). META's GlucoWise® has also won a global competition by MIT and a EUR200k cash prize.
META is in discussions with large medical device companies to assist in the acceleration of regulatory approvals and in the commercialization of its medical products.
Metamaterial Science Highlights
Metamaterials are nanocomposite structures consisting of materials such as metals or plastics that have been designed and engineered to exhibit desirable properties not commonly, if ever, found in nature. Metamaterials can attain desired characteristics by incorporating structural elements of sub-wavelength sizes. These meta-atom structures can be as small as 5 nanometers (nm), or five billionths of one meter.
Metamaterials have the potential to transform the world around us by creating new compounds with unusual and exotic properties for unique applications. These materials can manipulate light in ways not possible in nature, creating new potential for light-related products and applications.
Markets that META is Enabling and Growth Trends
$4.1B by 2025 Metamaterials Market (Emerging market 43% CAGR)
$200B by 2030 Advanced/Smart Materials (20.6% CAGR)
$333B by 2026 Solar (PV) (25.1% CAGR)
$567B by 2025 Automotive EV (22% GAGR)
$3T by 2020 Electronics, Displays and IoT devices (23% CAGR)
Metamaterial Products & Application
NanoWeb®
META's flagship product, NanoWeb®, is a transparent conductor made of an invisible metal mesh that can be fabricated onto any glass or plastic surface. It offers a superior alternative to Indium Tin Oxide (ITO), Silver Nanowire (AgNW), graphene, carbon nanotubes and other technologies. It is conductive at low voltages, is flexible and offers high resolution. At only 500 nanometers, the metal mesh is not visible to the human eye. NanoWeb®is a low-cost, high-performance metamaterial that can be sustainably produced, with potential applications in major industries.

Metamaterials' proprietary NanoWeb® material can be used effectively in transparent antennas that allow for fully integrated antenna functionality in surfaces, while maintaining visibility. NanoWeb® materials have direct applications for automotive windshields and windows that are often used as antennas to communicate with radio towers or other vehicles, whether via Bluetooth, 5G or other communication standards. NanoWeb® materials can also be used in de-icing and defogging applications, EMI Shielding and for electronic device touch screens.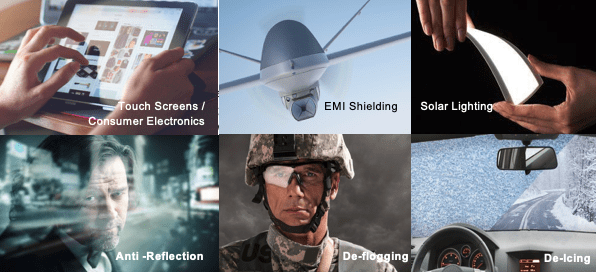 metaSOLAR®
META is in the early stages of the development of new solar films that have the potential to increase solar cell output by collecting and absorbing light more efficiently. metaSOLAR™ is designed to trap light from all angles without the need for concentrators or energy-consuming mechanical sun tracking systems. META's metaSOLAR™ objectives are to increase the total output of solar cells and to reduce the cost per kilowatt of energy generated by solar power systems.
Lockheed Martin
In 2017 Metamaterial Inc. signed a $5.6 million agreement with Lockheed Martin (NYSE:LMT) to continue the development of metaSOLAR™. Together, the companies intend to incorporate META's ultralightweight, high efficiency nanoWeb® technology into the metaSOLAR™ program.
"We are pleased to see our ITB investment going to a great Canadian global innovator such as Metamaterial Inc. Their work in the field of smart materials and in developing a disruptive solar application suitable for flight is an example of what Canadian technology offers the world," said Charles Bouchard, Chief Executive of Lockheed Martin Canada.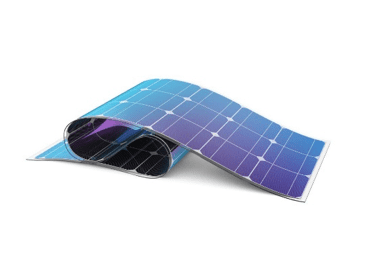 metaAIR®

META is working to engineer metamaterials capable of selectively blocking light of specific colors or wavelengths to provide protection for military personnel, pilots, and in other applications. Metamaterials contain tiny patterned structures that allow the filters to exhibit unique properties, manipulating electromagnetic waves in unparalleled ways. The mataAIR® lightweight optical filters can be applied to most clear glass or plastic surfaces including eyeglasses, protective goggles, safety glasses and visors. META's flagship product, metaAIR®, offers laser glare protection from lasers, providing pilots with clear vision at night that cannot be interrupted by unwanted laser strikes or visual distractions.
Airbus
In February 2018 META entered a new agreement with Airbus SE (EPA:AIR; OTC:EADSF) for the certification, validation and commercialization of its laser protection product, metaAIR™, for the aviation industry. The agreement follows an initial partnership between Airbus and META to test and tailor metaAIR™ to protect against harmful laser beams aimed at aircraft.
Over the last five years there have been about 40,000 laser incidents reported to the Federal Aviation Administration (FAA), the UK Civil Aviation Authority and Transport Canada.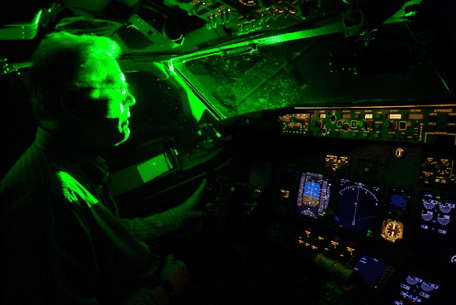 "We know from facts and conversations with clients that cockpit illuminations are real, immediate and increasing in frequency, and metaAIR will benefit our customers," said Pascal Andrei, Vice President, Chief Product Security Officer, at Airbus. "We also see an increasing number of possible applications for metaAIR, beyond the commercial aircraft division."
The partnership between META and Airbus is a prime example of Airbus' "start-up 2 partner" program, which aims to build mutually beneficial relationships between Airbus and disruptive innovators in the industry.
SATAIR, a subsidiary of Airbus is the exclusive distribution partner for metaAIR Laser Glare Protection Eyewear.
Wireless Sensing Applications
In July 2018 META acquired Mediwise Ltd, a medical research and development company pioneering cutting edge wireless devices in medical diagnostics and monitoring. Mediwise brings to META an extensive portfolio of 22 patents in metamaterials for medical applications. Mediwise's patented technology is expected to be incorporated into the design of META's GlucoWise™ devices.
Samsung Collaboration
In 2019, META partnered with Samsung's Advanced Institute of Technology team, to develop transparent fingerprint sensors suitable for next generation smartphones and tablets. META and Samsung recently published their research results (Source: Conference of the Next Generation Lithography 2019), highlighting that "Transparent fingerprint sensors were fabricated to have lower resistance and higher transmittance compared to the conventional sensors."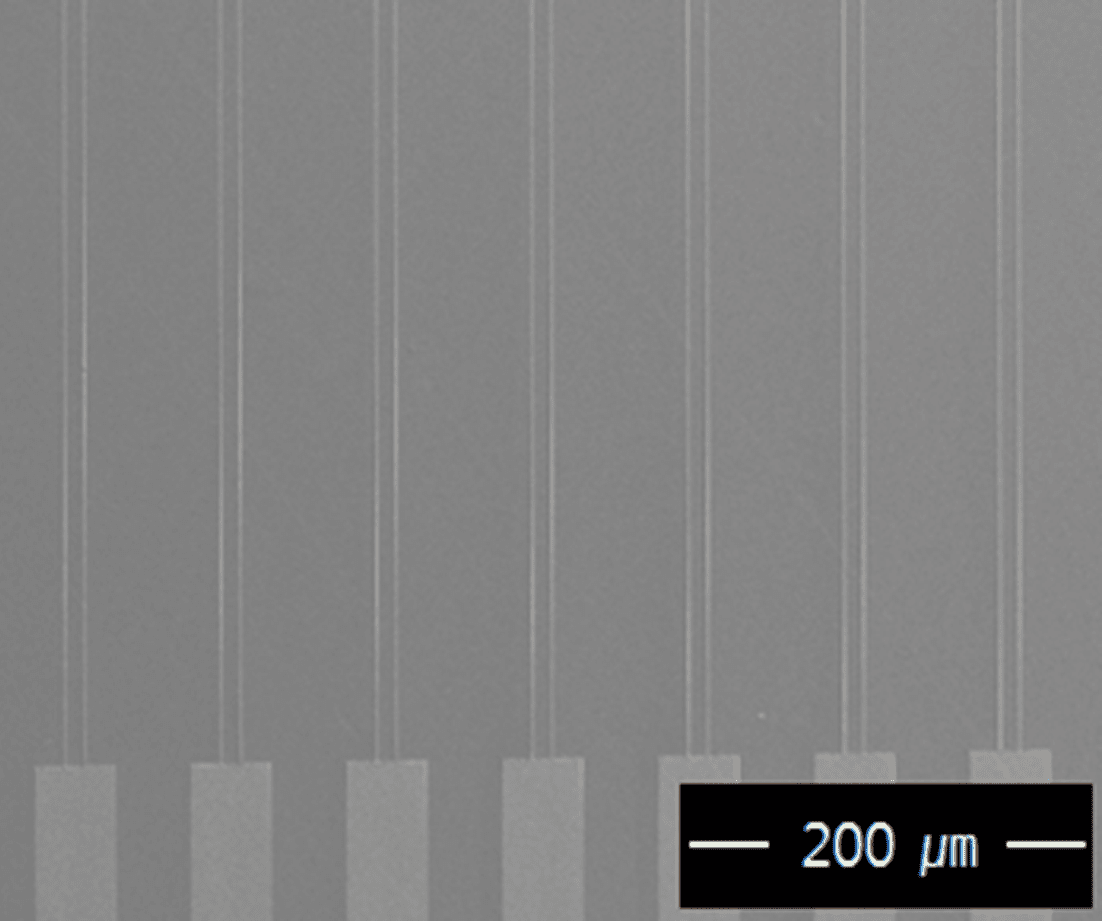 "Fingerprint sensors made with RML® can have lower sheet resistance and higher visible light transmittance than the sensors made of conventional transparent conductor materials, such as ITO and silver nanowires."
Wireless Sensing
In 2019, META partnered with Samsung's Advanced Institute of Technology team, to develop transparent fingerprint sensors suitable for next-generation smartphones and tablets.
Competitive Advantage:
META's Wireless Sensing capability enables fabrication of sensors & antennas completely invisible to the human eye.
META's sensors & antennas can be placed below smartphone displays, on windows of vehicles or buildings, within windshields and sunroofs
META's antenna can operate from low to high frequencies (2G, 3G, 5G and beyond) and provide communication systems for conventional, EV and autonomous vehicles.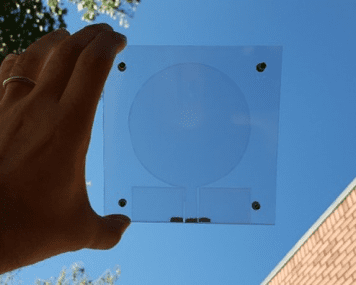 The GlucoWise™ technology and research results have been featured in peer-reviewed journals. In 2017, results of a human trial done in collaboration with the University of Roehampton were published in the journal, Nature. In 2018, the Company published results of an animal trial in pigs that showcased the sensitivity of the system.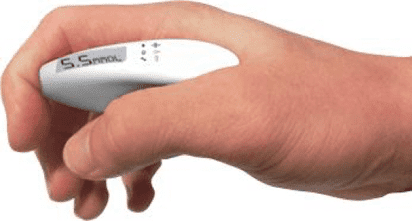 The GlucoWise™ device has been designed with a discrete and economical shape to allow continuous and intermittent testing without the need for additional parts. The wearable device takes no more than 10 seconds to initiate retrieval of readings and will allow patients to conduct limitless tests discreetly without the need to disrupt their daily lives. GlucoWise™ will be completely noninvasive and will require no consumable materials. Data from the device can be sent to the GlucoWise™ app on any smartphone or tablet for immediate review.
Sensor Technology
META is also developing wearable and implantable sensors capable of providing real-time information to aid in the diagnosing and treatment of leading illnesses, including breast cancer. Radiation treatments require the exact targeting of cells to encourage the most effective treatment, creating the need for precise tools capable of identifying and treating these areas. According to Technavio, the medical sensors market is expected to grow by US$6.21 billion during 2010 to 2023, at a CAGR of 9 percent. To improve treatment techniques, Mediwise is designing miniature healthcare devices that can be safely implanted into the body, providing real-time in-vivo diagnostics to healthcare professionals.
Metamaterial Inc. Management Team
George Palikaras – President & CEO
George is the founder and CEO of Metamaterial Inc. (MTI), a smart materials and photonics company, solving some of the world's most difficult problems to change the way we use, interact and benefit from light. Over the past years he has forged partnerships with global brands, enabling MTI to develop and lead new technologies. In 2012, he received the Goldman Sachs 10,000 Small Businesses program for CEO's with the highest growth potential and Frost & Sullivan's 2014 Global Aerospace Product Leadership Award for Lamda Guard metaAIR, the new revolutionary thin-film that provides protection from laser strikes in the commercial aviation industry.
Themos Kallos – Co-Founder, Chief Science Officer
Dr. Kallos leads the innovation, research, and the team of scientists at MTI. He has worked toward pioneering commercially viable metamaterial technologies in solar, optical filters, and LED and technologies. He is an experienced electrical engineer with expertise in applied physics, metamaterials, wireless communications, and electromagnetic simulations. He holds a Ph.D. in Electrical Engineering from the University of Southern California, and has over 10 years' experience in applied physics, engineering, and technical project management. He has filed 28 patent applications, and has authored over 50 publications in applied physics, electromagnetics and metamaterials
Gardner Wade – Chief Product Officer
Mr. Gardner Wade is the Chief Product Officer at Metamaterial Inc. He joined the Atlantic Canada headquarters after spending over two decades as the Managing Director of Development Engineering in high definition optical eyewear for global brands in military, flight and performance sports applications. Recently Mr. Wade led a 3-year optical lens manufacturing development at Intel Corporation for its augmented reality and wrist worn electronics division. He holds 9 issued USA patents in optical lens and frame design along with holographic lens applications. Mr. Wade received a Bachelor of Science degree from San Diego State University and has attended courses at Massachusetts Institute of Technology, Boston and the Art Center College of Design, Pasadena. He has held management positions at Andersen Consulting, American Film Technologies, Oakley Inc. (subsidiary of Luxottica Italy) and Intel. Mr. Wade managed military eyewear and goggle product development for (ESS) Eyewear Safety Systems. ESS and Oakley Military products are actively used in the United States Airforce, Army and Marine forces.
Nadine Geddes – Director of Operations
Dr. Nadine Geddes is one of the original founders of MTI, and manages daily operations in both Canada and the United Kingdom. Prior to joining MTI, Dr. Geddes held various research and project management positions at Loughborough University, King's College London, Dalhousie University in Halifax, and the Department for Work and Pensions in the United Kingdom. She was responsible for managing both small and large scale research projects, reinforcing research policies, preparing reports, recruitment, and ensuring all projects were completed on time and on budget. Her extensive experience in research and project management has been instrumental in various metamaterial research projects at MTI. Dr. Geddes holds both a Masters Degree and Ph.D. in Ergonomics from Loughborough University in England, specializing in assistive technology.
Frederico Bastos – Vice President of Sales and Business Development
Mr. Bastos is an experienced Operator and Entrepreneur with a focus on international business development and strategy high technology businesses. Having started his career at JPMorgan currency derivatives team and later at BIG Bank, he has an investment management, capital markets background. He worked at a Silicon Valley-based Cybersecurity Startup called Dtex Systems as director of Business development where he was responsible for opening Latam, US, APAC and EMEA operations, managing key accounts and working with CEO on fundraising and growth strategy from a team of 10 to a team of 100 and revenue growth of $15M USD. Frederico holds an MBA from Tuck School Of Business, an Investment Management Certificate from London Business School, and Bachelor and Masters Degrees in Economics from Universidade Católica Portuguesa.
Cindy Roberts – Vice President of Marketing and Communications
Ms. Roberts is a result orientated marketing and communications professional bringing more than 20 years' experience in both the private and public sector. She began her career as a partner at a boutique marketing and communications agency. She has worked with global companies including Microsoft, Shell, and Swissair.
Ms. Roberts worked for Bay of Fundy Tourism where she led the global marketing and communications strategy for Bay of Fundy in the New7Wonders of Nature Campaign, that landed a spot as a global finalist. She also worked as a consultant for Hill & Knowlton Canada for the launch of Coca-Cola's activation program for the 2010 Olympic Torch Relay in Halifax.
As a community volunteer, she chaired the World Youth Sailing Wine Festival Fundraiser, was the VIP Coordinator for the 2003 IIHF Junior Hockey Championships, was a past member of the Halifax Chamber of Commerce Marketing and Communications committee and currently serves as a board member at Sail Nova Scotia.
Panos Kosmas – Vice President of Biomedial Engineering
Panos Kosmas co-founded MediWise in 2011, with the aim to develop new commercial applications of radio waves in medical sensing and imaging. He is currently a Reader at the Faculty of Natural and Mathematical Sciences, King's College London, United Kingdom. He has also held research positions at the Center for Subsurface Sensing and Imaging Systems, Boston, USA, the University of Loughborough, UK, and the Computational Electromagnetics Group, University of Wisconsin-Madison, USA. Panos joins MTI with 20 years of experience in the use of EM waves for medical applications, specialising in numerical simulations, antenna design, and the development of algorithms which can translate data from sensors and devices to meaningful diagnostic information. He is currently principal investigator and project manager in research projects of total value over £7M, which are funded by Innovate UK, European Union's H2020 Programme, and UK's Engineering and Physical Sciences Research Council (EPSRC). Panos received the Diploma in Electrical and Computer Engineering from the National Technical University of Athens, Greece, in 1999, and the M.S. and Ph.D. degrees in Electrical Engineering from Northeastern University, Boston, MA, USA in 2002 and 2005, respectively. His academic expertise extends to microwave engineering, signal processing and physics-based detection methods, and inverse problems theory and techniques. He has contributed two book chapters and over 90 journal and conference publications, and he has organised and delivered various short courses, special sessions, and workshops in these areas.
Marc Trepanier – Director of Quality Assurance and Engineering
Marc Trepanier joins MTI with over 25 years of experience in implementing quality management systems for the manufacturing, fabrication and service industries. Marc worked for Composites Atlantic Limited in a number of roles over a 20-year period. As the company grew, Marc's role progressed to the position of Quality Director. With his help, Composites Atlantic became widely known as a leading innovator in composite manufacturing and development. Marc relocated to Western Canada in 2013 where he worked for Mistras and Acuren, and consulted with various organizations implementing their quality management systems in the oil, gas, transportation and construction industries.
Oliver Seitz – Director of Advance Materials
Dr. Oliver Seitz is the Director of Advanced Materials for MTI. He has over 10 years of research experience in developing new nanomaterials and surfaces related to semiconductor industries. Prior to joining MTI, Dr. Seitz worked at Rolith Inc. where he was developing and demonstrating several applications using the RML technology. Dr. Seitz did his Bachelor in Chemical-Physics, and Masters in Surface-Interfaces and Evolving material, in Paris France. He earned his Ph.D. in Chemistry/Materials Science in 2004 at Versailles University in France. He attended two postdocs at the Weizmann Institute of Science, in Israel and at the University of Texas at Dallas. Dr. Seitz has also authored and co-authored of over 45 publications.
Oshrit Harel – Manager R&D and Materials Engineering
Ms. Harel brings over 15 years of experience in Materials Engineering and R&D to MTI. She previously worked at Micron Technology and spent close to ten years at Intel's Silicon Photonics group in Israel, where she filed two patents in Silicon Photonics technology. Ms. Harel specializes in the development of novel optical receivers and transmitters using CMOS (Complementary metal–oxide–semiconductor) technology. Additionally, she brings a wealth of experience from the semi-conductor industry in processes such as deposition, photolithography and etching. Ms. Harel attended Sapir college in Israel and received a Bachelor of Science in Advanced Materials Engineering from the Jerusalem College of Engineering.
Andrew Mark – Manager of Optical Engineering and Metamaterial Design
Andrew Mark is the Manager of Optical Engineering and Metamaterial Design at Metamaterial Inc. (MTI). He received his BSc in Physics from Queen's University in Kingston, Canada followed by his MSc. In 2009 he was granted a PhD from Queen's for work on atomic resolution scanning tunneling microscopy of semiconductor defect structures. Starting in 2009, he spent two years as a postdoctoral researcher at the Surface Science Research Center at the University of Liverpool, UK. Between 2012 and 2017 he was a postdoctoral researcher and research scientist at the Max Planck Institute for Intelligent Systems in Stuttgart, Germany, where his research covered topics such as acoustic holography, large-scale fabrication techniques for 3D nanostructures, chiral plasmonics, mechanical metamaterials, and applications of nanoplasmonics. He has authored over 30 journal papers and was awarded the Gunter Petzow prize in 2015 for outstanding research in the field of material science.
Ragip Pala – Manager, Metamaterial Devices & Applications
Ragip Pala, PhD in Applied Physics Manager, Metamaterial Devices & Applications Ragip Pala is an expert in next generation metamaterial technology research and development for the cleantech, medical, and aerospace industries. His role at MTI is to advance MTI's commercial efforts on the device and system level. Dr. Pala received his Ph.D. in Applied Physics from Stanford University, where he worked in the Nanophotonics Laboratory. Prior to joining MTI, he worked at the California Institute of Technology (Caltech) as a senior research scientist in the Atwater lab, focusing on resonant photonic systems and metamaterials for imaging, sensing and photovoltaic applications. Dr. Pala was also involved with Caltech's development of novel characterization techniques for nanoscale analysis and discovery of new materials. Dr. Pala's research experience spans the design and demonstration of novel light trapping systems for photovoltaic devices, tunable metamaterial systems for solid state LIDAR, dynamic holograms, nanoscale plasmonic systems for integrated photonic circuits, and development of new spectroscopic methods for optical and electrical characterization of emerging materials. Dr. Pala has filed 5 patent applications and authored or co-authored more than 30 peer reviewed research articles in major journals and conferences.
Metamaterial Inc.'s Board of Directors
Ram Ramkumar – Chairman of the Board
Mr. Ramkumar is currently a director of Continental and past Chairman of the board of Snipp Interactive Inc., a public company offering promotional and loyalty platform and services to consumer product companies. Mr. Ramkumar has also served on the boards of numerous other public companies listed on the TSX and NASDAQ, including Inscape Corporation where he was CEO until 2004. His background includes extensive experience as President and CEO with public companies in the manufacture of office furniture. Mr. Ramkumar was part of a team that lead the growth of these companies in the North American market with facilities in Canada and the US. Over the last 10 years, Mr. Ramkumar has been an investor in a number of business ventures ranging from flexographic printing to technology development in the area of extracting metals from minerals. Mr. Ramkumar has a Bachelor of Technology (Metallurgical Engineering) and Master of Business Administration from the University of Toronto and was a chartered accountant.
Maurice Guitton – Director
Mr. Guitton is the former chairman of the board for Metamaterial, a current director of Metamaterial, and is the chairman of Lamda Guard Technologies Ltd. He is one of Canada's most experienced CEOs with over 40 years of experience. He holds more than 16 patents and has won several business awards, including the Nova Scotia Export Achievement Award. He is the former President of the Atlantic Network of the French Chamber of Commerce in Canada, and is listed among Atlantic Canada's Top 50 CEOs. Mr. Guitton began his career at Rossignol Skis in France. While working with Rossignol Skis, he built five manufacturing plants in North America. He was recruited by Cellpack Aerospace in Switzerland to open their first aerospace company in Canada, located in Lunenburg, Nova Scotia. From 1993 to 2003, he was Executive Vice President and President of Composites Atlantic Limited and, in 2004, he became Chief Executive Officer of the company. Mr. Guitton belongs to many industry associations, has years of board experience and mentors others by sharing his experience and knowledge. He received the French Legion of Honor, the French Order of Merit, and the James Floyd Aeronautic Award of Canada.
Allison Christilaw, MBA, ICD.D – Director
A seasoned consultant and business leader, Allison holds both an HBA and MBA from the Ivey Business School at the University of Western Ontario.
A graduate of the Directors Education Program through the Institute of Corporate Directors, her board work includes Secretary and Governance Chair on the Appleby College Board of Governors, HR and Nominations Chair on the Oakville Galleries Board of Directors, Director of the Haltech Board and Director of the Bayshore Foundation.
Currently, as an independent consultant and advisor to leaders, Allison brings a wealth of knowledge and experience, sharing her expertise in business strategy and operational effectiveness. Having lead organizations, she knows how it feels to be and what is important to do as a leader. She ran and sold a successful consulting business to one of the big 4 consulting firms, developing a deep understanding of the intricacies of acquisition and integration.
Steen Karsbo – Director
Mr. Karsbo has close to 40 years of experience in the aviation industry and has held various senior management positions for Satair, an Airbus company. He brings a wealth of knowledge in business development, sales, product management, marketing and communications. His most recent role was as Vice President and Head of Business Development at Satair. As an aviation consultant, he focuses on providing independent consulting and advisory services to a wide range of OEMs, investors, private equity and venture capital companies and start-ups. Areas of expertise include sales strategies, merger and acquisition support and assessment, supplier management, new business strategies, systems and power- plant supply chain, and board advisory roles.
Eric M. Leslie – Director
Mr. Leslie has extensive experience in the areas of management consulting, venture capital advisory services, corporate governance, operations and go forward structuring plans for early stage companies. Since 1991, Mr. Leslie through his firm, Merchant Equities Capital Corp., has been leveraging his experience and contacts into securing and fulfilling contracts with multiple clients over a broad spectrum of industries. Over the past 28 years, Mr. Leslie has served as an officer and or director of numerous public and private companies.
---
This profile is sponsored by Metamaterial Inc. (CSE:MMAT) and provides information which was sourced by the Investing News Network (INN) and approved by Metamaterial Inc, in order to help investors learn more about the company. Metamaterial Inc is a client of INN. The company's campaign fees pay for INN to create and update this profile.
INN does not provide investment advice and the information on this profile should not be considered a recommendation to buy or sell any security. INN does not endorse or recommend the business, products, services or securities of any company profiled.
The information contained here is for information purposes only and is not to be construed as an offer or solicitation for the sale or purchase of securities. Readers should conduct their own research for all information publicly available concerning the company. Prior to making any investment decision, it is recommended that readers consult directly with Metamaterial Inc and seek advice from a qualified investment advisor.