Lomiko Metals
Graphite, Graphene & 3D Printing
Overview
Lomiko Metals Inc. (TSXV:LMR,OTCQB:LMRMF,FWB:DH8B) is a Canada-based, exploration-stage company, focused on the exploration and development of battery minerals such as lithium and graphite. Lomiko Metals also has a 100 percent interest in Lomiko Technologies Inc., an investor in technology and manufacturer of electronic products. The company is engaged in the acquisition, exploration and development of resource properties that contain minerals for the growing green economy. Its mineral properties include the La Loutre graphite property, which all have had major mineral discoveries.
China produces approximately 70 percent of the world's graphite and the market has seen five percent growth in the past decade due to growth in the Asian steel markets. Additionally, the global electric vehicle (EV) market is predominately fueling the demand for graphite, as the mineral is a main component in the construction of the anode in lithium-ion batteries. EV sales are expected to reach $2 million by 2019 due to cities and countries around the world adopting clean energy initiatives and moving away from using traditional combustion engines.
Aside from its mining assets, Lomiko Metals has strategic partnerships with technology companies to research and develop high-value end-uses for graphite. Its wholly-owned subsidiary Lomiko Technologies, which is being sold to Promethieus Technologies, controls a 40 percent interest in Graphene Energy Storage Devices Corp. (Graphene ESD), an 18.5 percent interest in SHD Smart Home Devices, which produces three electronic products. Lomiko plans to retain its 20 percent interest in Promethieus Technologies, which is scheduled for an IPO.
Graphene ESD has a research agreement with the Research Foundation at Stony Brook University (SBU) to develop new supercapacitor designs for energy storage. Due to their fast charge-discharge characteristics, low equivalent series resistance, long life-cycle and wide operating temperatures, supercapacitors are being used in transportation, industrial and grid energy storage.
Smart Home Devices Ltd., is planning to develop and manufacture, distribute and sell USB Spider Chargers and related devices. Smart Home Devices aims to penetrate the smart home market for the internet of things (IoT) and seek out revenue streams. It sees offices, hotels and coffee shops as potential markets for USB charging devices.
Promethieus Technologies, a technology incubator, is currently in the process of financing and an IPO in Europe. Lomiko Metals has announced its intent to sell its 100 percent interest in Lomiko Technologies to Promethieus Technologies for C$1.23 million.
Company Highlights
Key properties are located in the established mining jurisdiction of Quebec.
La Loutre property is 53 kilometers away from the Imerys graphite mine near Lac de Iles, Quebec.
New NI 43-101 resource estimate and preliminary economic assessment (PEA) expected in 2020.
Growing EV market.
20 percent interest in Promethieus Technologies, a technology incubator based in Europe.
Graphite Properties in Quebec
La Loutre Flake Graphite Property
Lomiko Metals has signed an option agreement with Quebec Precious Metals (TSXV:CJC) on the La Loutre project and Lac des Iles project allowing Lomiko Metals to acquire a 100 percent interest in the property. Lomiko Metals currently owns 80 percent of those properties. The La Loutre property consists of one large block of 42 mineral claims covering 2.5 million hectares. It is located approximately 53 kilometers east of Imerys S.A.'s (OTC:IMYSF) graphite mine, North America's only operating open pit mine which has produced 5.2 million tonnes grading at 7.42 percent graphitic carbon.
Exploration
The new area of mineralization appears to be 200 meters wide, has a current strike length of over 900 meters in a northwest to southeast direction and is open in both directions. A map of drill holes at the Refractory zone which includes 2015, 2016 and 2019 results. Highlights include 7.74 percent graphite over 135.60 meters including 16.81 percent graphite over 44.10 meters from hole LL-16-01, two different intersections in hole LL-16-02 reporting 17.08 percent graphite over 22.30 meters and 14.80 percent graphite over 15.10 meters and 110.80 meters of 14.56 percent graphite in Hole LL-16-03.
In February 2019, Lomiko Metals commenced its 15-hole drill program at the Refractory zone which was later expanded to 21 holes. The program returned wide intercepts of granite in multiple drill holes. The Refractory zone is open in both directions and now has a strike length of 900 meters. Highlights from the program include 87.9 meters grading 7.14 percent graphite, 21 meters grading 15.48 percent graphite, 116.9 meters grading 4.80 percent graphite and 15.2 meters grading 7.56 percent graphite.
Additional results from the Refractory zone include 22.30 meters grading 17.08 percent graphite, 15.10 meters grading 14.80 percent graphite and 110.80 meters grading 14.56 percent graphite. Moving forward, Lomiko Metals intends to complete an updated NI 43-101-compliant resource estimate for the property.
Resource
In February 2016, Lomiko Metals and Canada Strategic released an indicated resource of 18.4 million tonnes grading 3.19 percent flaked graphite and an inferred resource of 16.7 million tonnes grading 3.75 percent flake graphite with a cut-off of 1.5 percent. The sensitivity table also features 4.1 million tonnes of 6.5 percent in the indicated category and 6.2 million tonnes at 6.1 percent flake graphite in the inferred category with a cut-off of 3 percent. The results are all focused on the Graphene and Battery zones and did not include exploration results from September 2015.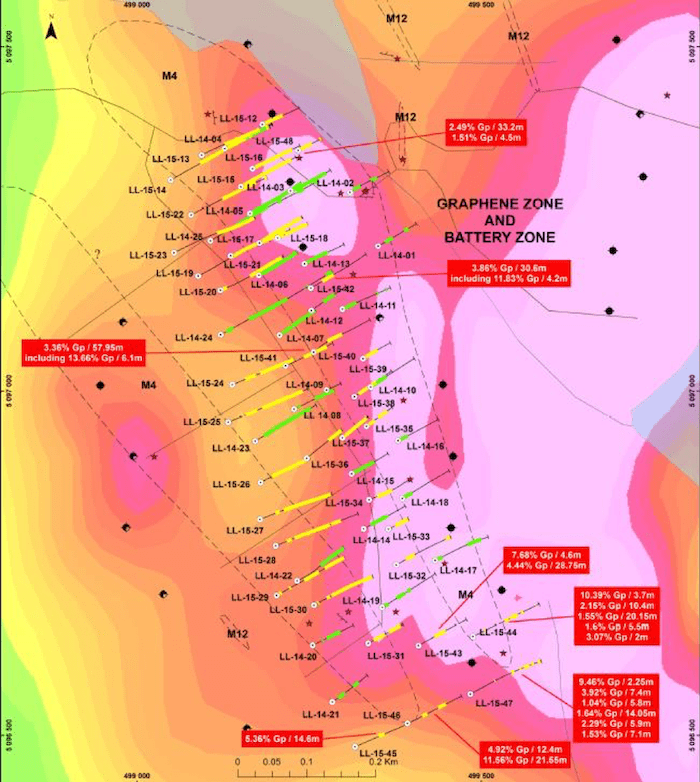 Lomiko's Technology Partners
Graphene Energy Storage Devices Corp.
Lomiko Metals is a founding shareholder of Graphene ESD and controls 40 percent of the R&D company through its subsidiary Lomiko Technologies. In February 2016 Graphene ESD signed a research agreement with the Research Foundation of Stony Brook University (SBU) to partner with the SBU Center for Advanced Sensor Technologies to develop new supercapacitor designs for energy storage. The target applications for this technology include grid-tied inverters, grid stabilization systems and automotive and locomotive drive trains.
Smart Home Devices Ltd.
Previously, Lomiko Technologies was the exclusive licensee of three devices designed by MegaHertz Power Systems Ltd. under a deal announced in October 2014. However, MegaHertz Power Systems has amalgamated a number of new concept designs, technology licenses, patent applications and intellectual property into Smart Home Systems in order to penetrate the smart home market for IoT and seek out revenue. Lomiko Metals has agreed to contribute the trademark and jointly develop Spider Charger and become a shareholder (18.5 percent) of Smart Home.
In September 2017, Lomiko Metals received its Canadian trademark application for the Spider Charger. Smart Home Devices plans to enter into negotiations to sell the Spider Charger and other related devices in North American markets with IoT distributors and builders.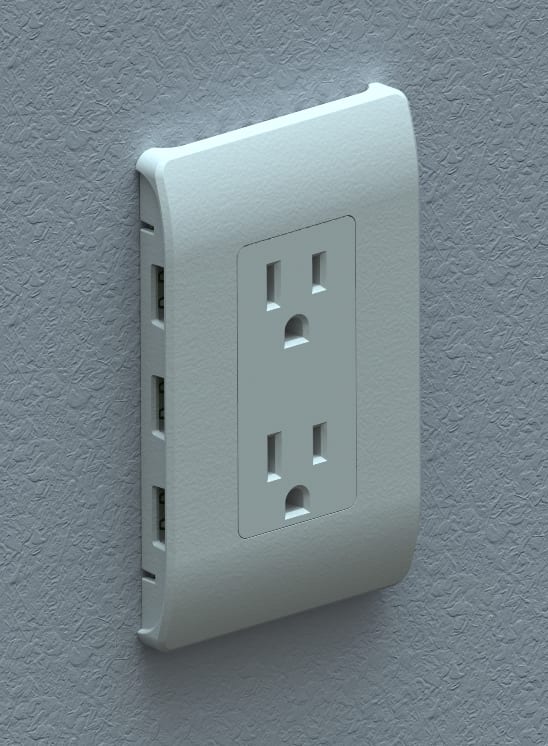 A year later, the company announced that it had secured a US design patent for its Spider Charger device. The company has finalized its designs on the device and is awaiting its final approval from the Canadian Standards Association. The latest design allows the device to be installed and used in any home or office and provides users with an increased power output that is able to support wireless connections and fast charging. The device eliminates the need for bulky power converters that are required when using a power bar and has six USB charging stations built into the existing AC receptacles.
Promethieus Technologies
Lomiko Metals announced the launch of Promethieus Cryptocurrency Mining Corporation, a cutting-edge cryptocurrency mining company in partnership with SHD Smart Home Devices Corporation. Lomiko Metals is expected to control 20 percent of the company, while various partners including engineers, commercial real estate partners and initial investors are expected to control the remaining portion.
In July 2019, Lomiko Metals announced that it would sell its 100 percent interest in Lomiko Technologies Inc. to Promethieus Technologies for C$1.23 million.
Lomiko's Management Team
Paul Gill – Chief Executive Officer
Paul Gill is involved in the strategy, planning and implementation of creating new businesses and restructuring organizations. He is currently the CEO of Lomiko Metals (TSXV:LMR), CEO of Lomiko Technologies, Director of Graphene ESD and Altair Ventures. He was instrumental in spearheading investment activities under Lomiko Technologies into Graphene 3D Lab (TSXV:GGG), a graphene and 3D printing company, Graphene ESD and Smart Home Devices Ltd, an electronics manufacturer, and Promethieus Technologies Inc.
Until October 2006, Gill was heavily involved in the dynamic growth stage of Norsemont Mining, during which the company grew from a market capitalization of $1 million to a buyout of $512 million. During his tenure with Norsemont Mining, he was the vice-president of business development, as well as the director, president, CEO, chief financial officer and corporate secretary. In 2011, Norsemont was bought by HudBay Minerals for $512 million.
Jacqueline Michael – Chief Financial Officer
Jacqueline Michael has over 20 years of financial and administrative experience. In 1988, Michael co-founded the Conac Group, a software development company for construction management, where she acted as President and CEO. In 1997, she was successful in taking the company public on the CDNX Exchange and helped raise over $5 million in private placement financings for the company. Michael has acted in the role of President and Chief Executive Officer for public companies for over 10 years.
Julius Galik – Director
During the past 17 years, Julius Galik has been instrumental in the development and financing of various small capitalized companies, both private and public. A businessman and a former financial advisor with PFSL Investments and WFG, he has been mutual fund licensed since 2001. He brings with him a strong knowledge of finance, and a thorough understanding of the financial markets, security regulations and disclosure practices that impact public companies. Since 2009, Galik has also sat on the Board of Directors for Lomiko Metals Inc. (LMR). He has been involved in start-up situations within the mining exploration industry in Western Canada since 2002, and brings to the Board solid mediation and negotiation skills, an entrepreneurial mindset, leadership, strategic planning and many years of financial experience.
Gabriel Erdelyi – Director
Gabriel Erdelyi studied Mechanical Engineering Technician Studies at George Brown College in 1994. He then entered the family business as a tool and die apprentice, but always held the same zest for entrepreneurship as his father who started the business. He eventually took over the family business and expanded from three people to over 20. In 2006, he was awarded the designation as one of the fastest growing companies in Canada from Canadian Business Magazine.
Erdelyi created Dieroll Metals Products Inc. based in Mississauga, Ontario in 2003 having purchased a stamping and roll forming company in 2003 during difficult financial times. Dieroll Metal Products Inc. is an industry leader in roll forming production and stamping tooling for the metal processing industry. It serves a variety of industries including construction and building products, structural and architectural components, the roofing industry, heating and cooling components, the mining industry, transportation sector including trucking and railway car components and the automotive industry.
---
*Disclaimer: The profile provides information which was sourced and approved by Lomiko Metals (TSXV:LMR,OTCQB:LMRMF,FWB:DH8B) in order to help investors learn more about the company. Lomiko Metals is a client of the Investing News Network (INN). The company's campaign fees pay for INN to create and update this profile page, to which links are placed on Investingnews.com and channel newsletters.
The company description, investment highlights and catalysts were sourced by INN and approved by the company. INN does not guarantee the accuracy or thoroughness of the information contained on this page.
INN does not provide investment advice and the information on Investingnews.com profile should not be considered a recommendation to buy or sell any security.
INN does not endorse or recommend the business, products, services or securities of any company profiled.
Readers should conduct their own research for all information publicly available concerning the company.