Lexaria Bioscience
Out-Licensing Patented Biotechnologies
Overview
Lexaria Bioscience Corp. (CSE:LXX,OTCQX:LXRP) is a biotechnology company that has submitted over 50 patent applications and has been granted 16 patents. Operating on an out-licensing and royalty business model, the company generates 90 percent of its revenue from royalties and through its licensing agreements on its patented DehydraTECH™ technology.
Lexaria's DehydraTECH™ technology enhances the taste, smell, speed of action, bio-absorption and bioavailability of beneficial compounds in ingestible products. The technology is able to create formulations that quickly and effectively deliver a wide range of bioactive molecules, such as nicotine and common non-steroidal anti-inflammatory (NSAID) pain-relievers, among others. The technology also forms the basis in Lexaria's two other product offerings: TurboCBDTM, a high-absorption, full-spectrum hemp oil capsule and ChrgD+, a water-soluble and ready-mix hemp supplement powder packet.
Lexaria's main focus is on developing its IP portfolio and broadening the uses of its DehydraTECH™ technology. To this effect, Lexaria has been completing numerous research projects with its research partner, the National Research Council of Canada (NRC), to test the effectiveness of its technology and has received positive results to date. Lexaria's DehydraTECH™ technology has been shown to increase the absorption of bioactive compounds by as much as five to 10 times and take effect in as little as 15 minutes after administration in some studies.
Lexaria has recently initiated its largest clinical trial which contains 11 separate animal studies and is designed to test Lexaria-developed nanotech enhancements. The company expects its research to lead to greater improvements in DehydraTECH™ performance for its next-generation formulations that are currently under development.
Lexaria is also conducting research on nicotine with the goal of finding a healthier nicotine solution for smokers. The company has recently signed an investment agreement with Altria Group LLC (NYSE:MO), which intends to provide Lexaria with up to US$12 million in funding for its nicotine research. According to the World Health Organization, there are approximately 1.1 billion smokers across the globe and seven million people die of smoking-related illnesses each year.
Lexaria is led by an experienced management team that holds over 20 percent of the company's shares. Lexaria benefits from the leadership and experience of Chief Legal Officer and Senior Advisor of Innovation Dr. Edward Ergenzinger brings to the team. Dr. Ergenzinger has been a licensed patent attorney for over 15 years. He also has a doctorate degree in neuroscience with concentrations in pharmacology and physiology, which will benefit Lexaria as the company continues to conduct research into its patented technology.
Lexaria's Company Highlights
Intellectual property (IP) portfolio consists of over 50 patent application submissions and 16 granted patents.
Approximately 90 percent of the revenue generated is from royalty income.
Generating revenue by out-licensing patented DehydraTECH™ technology.
Positive results in preclinical and clinical research for DehydraTECH™ technology.
The largest DehydraTECH™ technology clinical trial in the company's history is currently underway.
Extensive research being conducted on nicotine.
Altria is providing up to US$12 million in funding for Lexaria's nicotine research initiatives.
Licensing agreements in place with Cannfections Group Inc., Biolog Inc., Nuka Enterprises LLC and Hill Street Beverage Company Inc. (TSXV:BEER).
Research partnership with the NRC.
Four wholly-owned subsidiaries focused on key market sectors.
Kelowna R&D facility nearing completion.
Management holds over 20 percent of the company's shares.
Lexaria's Business Model
Lexaria generates revenue through a royalty and sales business model in a variety of sectors. The company plans to license out its patented DehydraTECH™ technology to other companies and receives a royalty for any products sold that utilized the technology. Additionally, Lexaria generates revenue off the sales of its products: ViPova™ teas, TurboCBDTM capsules and ChrgD+ hemp supplements powder packs.
Approximately 90 percent of the company's profit margin on top-line revenue is generated from royalty income. The money is then reinvested into the company to continue researching its existing products, expand those products into new markets and to develop new and innovative products. Lexaria's revenue is also put towards expanding the company's IP portfolio to include new formulations and products and into conducting clinical research.
DehydraTECHTM
DehydraTECH™ is Lexaria's patented and cost-effective delivery technology that enhances the taste, smell, speed of action, bio-absorption and bioavailability of beneficial compounds in ingestible products. DehydraTECH's patents cover its use with a broad range of bioactive molecules, such as nicotine, NSAID pain-relievers, among others.
Lexaria's DehydraTECH™ technology has been designed to formulate and deliver lipophilic, or fat-soluble, payloads. The technology is an additional value-adding step to companies that are looking to improve the effectiveness of their existing or new supplements and foods, prescription-based and non-prescription-based drugs and nicotine products.
Lexaria licenses its technology to other companies around the world and has not developed a line of products containing controlled substances under the Lexaria name and brand.
How it works
During the DehydraTECH™ process, the desired compound is combined with certain fatty acids to form a substrate material, which is then dehydrated to fuse the two materials together at a molecular level before the combined molecules are put into production. This process is also expected to mask the oral and olfactory receptors in these compounds, making them essentially flavorless and odorless, removing the need for sweeteners and chemical masking agents.
After the product is swallowed, the fatty acids protect the compound from hostile stomach conditions and quickly moves it into the small intestine, where nutrient bio-absorption occurs. Once in the small intestine, the fatty acids are believed to facilitate the rapid absorption of the compounds into the circulation system in one of two ways depending on the fatty acid and the desired mode of transport: hepatic transport or lymphatic transport.
Hepatic transport uses the liver to deliver the compound into the bloodstream. This method is expected to be used when pro-drug compounds are used and must be metabolized by liver enzymes into order to be activated in the body. Lymphatic transport facilitates a faster onset time and or maximizes the action of the desired compound without biotransformation. Lymphatic lacteals divert the compound away from the liver and into the bloodstream quickly
Lexaria's DehydraTECH™ formulations may also be used to engineer time-release products with fast and sustained profiles. This can be achieved by pairing the desired compound with medium and long-chain fatty acids.
Research
Through Lexaria's in vitro and in vivo studies, the company has been able to demonstrate that its DehydraTECH™ formulations can increase the intestinal bio-absorption of bioactive compounds by as much as five to 10 times, an effect that occurs in as little as 15 minutes after the compounds have been administered.
Lexaria has been conducting research in conjunction with the NRC, with the goal of optimizing Lexaria's patented technology that is focused on investigating lipophilic active classes such as cannabinoids, vitamins, NSAIDs and nicotine. The company's research with the NRC could result in broadening and strengthening its IP portfolio and provides the foundation for new commercial arrangements.
Lexaria's work with the NRC determined that the DehydraTECH™ technology creates a new molecular entity through its processing, making it easier for Lexaria to prove that its technology is safe for human consumption. Additional studies are underway with the NRC for nicotine.
Preclinical research
Lexaria conducted an in vitro study that mimicked an individual's intestines and intestinal absorption. Samples of Lexaria's CBD-fortified ViPova™ black tea were used in the model as were concentration-matched CBD control samples.
Results from the study returned up to a 499 percent improvement when using Lexaria's ViPova™ black tea when compared to the control group. Additionally, the study showed a 325 percent improvement when they used their DehydraTECH™, but without the fatty-acid incorporation, with their ViPova™ black tea when compared to the control group.
Clinical research
Following the company's in vitro study, Lexaria conducted independent, controlled, human-focus studies to corroborate its in vitro findings. The study resulted in a five to 10 times increase in CBD absorption in as little as 15 to 30 minutes in healthy volunteers.
After this was completed, Lexaria completed a blinded human focus study to evaluate the performance of THC-infused chocolates that were formulated using the company's DehydraTECH™ technology when compared to a controlled group. The subjects that participated in the study preferred the chocolates formulated using Lexaria's technology. Additionally, the onset of effectiveness also occurred quickly, within 15 to 20 minutes.
In March 2019, Lexaria commenced its largest cannabinoid research program. The program contains 11 separate animal studies and will test Lexaria-designed nanotech enhancements. The company expects its research to lead to greater improvements in DehydraTECH™ performance for its next-generation formulations that are currently under development.
Through the testing, Lexaria has proven that its DehydraTECH™ technology delivers cannabinoids to the bloodstream more quickly and effectively than conventional industry cannabinoid edible formulations that use medium-chain triglyceride (MTC) oils, such as coconut oil. Lexaria's technology was able to deliver measurable quantities of CBD into the bloodstream in under two minutes. When compared to the MCT control, DehydraTECH™ delivered more CBD into the bloodstream in 15 minutes than the control, which took 60 minutes.
In the nanotech trial, DehydraTECH™ was able to deliver 1,137 percent more CBD into animal brain tissue following oral ingestion than certain existing industry formulations when using generic nanotech techniques.
Through recent improvements to the technology, Lexaria believes that the DehydraTECH™ delivery platform could be suitable for use in single oral dosage forms such as capsules, tablets and pills for the pharmaceutical, medical and supplement markets. The company has filed new patent applications for its new innovations.
Lexaria's Research Initiatives
Lexaria is looking into various applications for its DehydraTECH™ technology. The company has conducted research into the use of its technology in developing CBD-based topical creams. The results from this study showed a 225 percent increase in CBD permeability when compared to the leading formulations on the market and showed a 1,900 percent increase in permeability when compared to the control formula.
Lexaria has also accelerated its nicotine research efforts. Earlier in 2018, Lexaria conducted a nicotine absorption and tolerability study in vivo with animals. Initial results from the study indicated no obvious signs of gastrointestinal distress in the animals.
Once the data was collected, the Lexaria formulations displayed 1,160 percent faster delivery of peak quantities of nicotine to the bloodstream, 148 percent increase in the quantity of peak nicotine delivered to the bloodstream and 560 percent higher brain levels of nicotine were observed when compared to the control group. Additionally, low levels of nicotine were found in urine samples, which resulted in enhanced nicotine activity and bioavailability over the course of the study and lower quantities of key liver metabolites in the bloodstream which suggest a bypass of first-pass liver metabolism.
"We are very pleased with these topline study findings demonstrating excellent tolerability and substantially faster, more potent and bioavailable absorption of nicotine in an ingestible format with our DehydraTECHTM technology than controls," said Lexaria President John Docherty. "This data supports further investigation of the many possible benefits of our DehydraTECHTM technology for nicotine delivery with potential both as a nicotine replacement therapy as well as an alternative product format for regular tobacco users over today's inhaled options."
Following this study, Lexaria conducted a nicotine edibles research program that would build off of the previous nicotine study. The company was able to deliver nicotine in an edible form into blood plasma minutes before dosing an animal in an in vivo study.
Lexaria's DehydraTECH™ technology delivered nicotine at the two, four, six, eight and 10-minute marks post-dosing and was able to achieve a 90.2 percent greater delivery at the 10-minute mark than the control formulation and with greater absorption levels than the control. Highlights from the study include a 79 percent improvement in peak blood levels when using Lexaria's DehydraTECH™ technology, a 94 percent improvement in the total quantity of nicotine delivered into the bloodstream at the 60-minute mark and showed a rapid delivery rate of nicotine into the bloodstream.
The company's second-generation testing of its edible nicotine solution utilized Lexaria's DehydraTECH™ technology. The results showed a 195 percent more nicotine across the blood-brain-barrier, which would allow for smaller doses. The formulation was also four times faster at reaching its peak level in brain tissue than the control formulation.
Lexaria is continuing its research efforts into developing new products that will provide smokers with a healthier source of nicotine.
Lexaria's Kelowna R&D Facility
Lexaria has received its building permits to begin renovations on the company's larger head office in Kelowna, British Columbia. The new facility is expected to include an R&D laboratory that will headquarter almost all of Lexaria's R&D on both restricted and non-restricted substances. The new facility is expected to expedite certain processes and reduce R&D throughput times when compared to Lexaria's current facility in Phoenix. It is also expected to assist Lexaria in maintaining and increasing its leadership in IP.
In August 2019, Lexaria received its cannabis R&D license from Health Canada. The license allows the company to produce and evaluate topical creams and lotions among others for R&D purposes at its purpose-built facility. The company intends to continue its R&D initiatives concerning non-restrictive substances, such as aspirin.
Lexaria's Other Products
TurboCBD™
In March 2017, Lexaria launched TurboCBD™, a high-absorption, full-spectrum hemp oil capsule. Each capsule is formulated with ginseng and ginkgo biloba to enhance focus and memory and reduce stress and fatigue. The capsules are vegan, gluten-free, sugar-free and nut-free and leave no hemp oil aftertaste.
The capsules were designed to work with the physiology of the human gastrointestinal system. When the capsules are combined with minute quantities of long-chain fatty acids, such as sunflower oil, their effectiveness in being absorbed into the circulatory system is improved.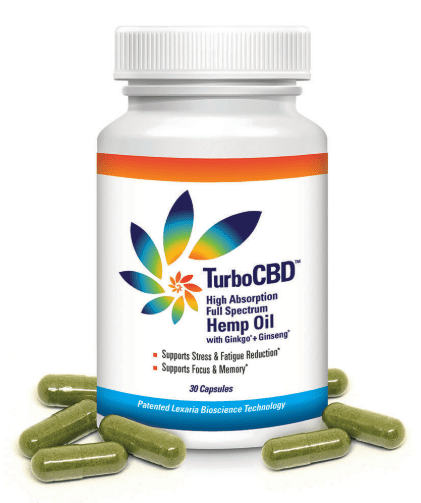 Research
In April 2018, Lexaria conducted a clinical study to evaluate the cardiovascular and cognitive health effects of their TurboCBDTM capsules. The study consisted of a double-blind and placebo-controlled testing on 12 healthy male volunteers. The study was focused on determining whether vascular function and cognitive performance will improve after consuming the pill.
Initial results were released four months later and showed a quick onset time that corroborated their results from their in vitro and clinical studies. Highlights from the study include a 317 percent increase in absorption at the 30-minute mark, the capsules released more CBD into the bloodstream at the 60-minute mark and the capsules released approximately 86 percent more CBD into the bloodstream at the 90-minute mark. Additional data from the test is still being collected.
Additional findings from the clinical trial were released in February 2019. The findings for a single 90-milligram dose of TurboCBDTM include evidence of lower blood pressure, higher blood flow to the brain, faster delivery onset of CBD into the brain and larger quantities of CBD in the blood. Based on the positive outcomes of the study, Lexaria intends to conduct further human clinical trials to test a wide range of ages and pathologies.
ChrgD+
In November 2018, Lexaria launched ChrgD+, a water-soluble and ready-mix hemp supplement powder packet that can be added to the individual's favorite drink. ChrgD+ incorporates multi-spectrum hemp oil that is processed by Lexaria's patented DehydraTECHTM technology. Each ChrgD+ packet will contain two grams of powder that is nearly flavorless and odorless.
"This new delivery format is truly unique in its performance," said Lexaria CEO Chris Bunka. "It's a simple way to add a multi-spectrum powdered hemp supplement to your favorite beverage at any time and enjoy its fast-acting, non-altered taste with no oily residue. Lexaria's ChrgD+ product format is being evaluated by others for use in their psychoactive cannabinoids products sector as per our proven track record as a technology provider to the industry."
Lexaria commercially launched ChrgD+ in August 2019. The powder is available for purchase in the US online at chrgd.life and a growing number of retail locations across the western US states.
Lexaria's Subsidiaries
In October 2018, Lexaria created four wholly-owned subsidiary companies that focus on distinct customer bases and business applications. This allows Lexaria to focus its research and optimize the company's financial structure and partnerships to ensure that each sector of its business is given due consideration, time and effort.
Lexaria CanPharm
Lexaria CanPharm Corp. provides Lexaria's DehydraTECH™ technology and other enhancements to the global cannabis industry and administers Lexaria's cannabis-related patent portfolio. Lexaria CanPharm licenses its technology to companies in Canada, the US and Europe.
Lexaria Nicotine
Lexaria Nicotine Corp. has a global license to provide DehydraTECH™ technology to the global nicotine and tobacco industries and administer Lexaria's nicotine-related patent portfolio. Since mid-2017, Lexaria has been in discussion with several leading nicotine and tobacco companies from across the globe and is working towards establishing a healthier nicotine sector. Lexaria Nicotine is focused on reduced-risk nicotine solutions to help smokers lead healthier lives and reduce the risk of cancer by avoiding combustible products.
Lexaria Hemp
Lexaria Hemp Corp. has a global license to provide DehydraTECH™ to the rapidly growing hemp-based foods and supplement industries. Lexaria Hemp Corp. is currently in discussions with a number of companies regarding the utilization of its technology in hemp products for the Canadian and US markets and discussions are underway with hemp companies from across the globe.
Lexaria Pharma
Lexaria Pharmaceutical Corp. also has a global license to provide DehydraTECH™ to the pharmaceutical sector to help find solutions for pain relief, vitamins, PDE5 inhibitors, hormone treatments, central nervous system conditions, among others. Lexaria Pharma manages the company's IP and focuses on R&D and product development.
Lexaria's Partnerships and Agreements
Cannfections
In January 2018, Lexaria signed a licensing agreement with Cannfections Group Inc., a cannabis-infused chocolate and gummies contract manufacturer. Under the terms of the agreement, Lexaria is expected to provide its DehydraTECH™ technology to Cannfections so they can develop next-generation cannabis-infused chocolates and candies for the Canadian and international cannabis markets for a period of seven years. Lexaria expects to receive a royalty on any revenue generated on products sold that utilized its DehydraTECH™ technology.
Biolog
The following month, Lexaria signed another licensing agreement with Biolog Inc., a private cannabis company that specializes in cannabis-infusion technology for food and beverages. Lexaria plans to provide its patented DehydraTECH™ technology to Biolog so they can develop a line of cannabis-infused food and beverage products for the US cannabis market for a period of five years. Lexaria expects to receive a royalty on any revenue generated on products sold that utilized its DehydraTECHTM technology.
Nuka
Later that month, Lexaria signed a new licensing agreement with Nuka Enterprises LLC, the maker of 1906 brand cannabis chocolates and other edible products. The agreement disclosed the renewal of Nuka's license rights to Lexaria's DehydraTECH™ technology for its use in their 1906 cannabis chocolate brand for a 10-year period.
Prior to this agreement, Nuka had been utilizing Lexaria's technology for the past two years. 1906 chocolates can be found in 150 location across Colorado and is a well-respected brand in the cannabis space. Nuka intends to expand the 1906 brand into states that have legalized the recreational use of cannabis, such as Colorado, Nevada, California, New Jersey and Massachusetts. Nuka has also acquired the option to expand its products and brand into Canada through Lexaria's licensee, Cannfections.
"Nuka was our first commercial client and has been an ideal partner due to their focus on using technology and advanced science as a competitive advantage," said Bunka. "Nuka's success with the 1906 brand of cannabis chocolates – recognized for their fast onset times, efficacy, taste and unique formulations – clearly demonstrate the market potential for DehydraTECH™. This comprehensive, long-term relationship between Nuka and Lexaria is poised to redefine the cannabis industry and holds great potential for us in other markets."
In May 2019, Lexaria expanded its relationship with Nuka as the licensee's business expands in order to accommodate the additional growth and production output. Nuka plans to expand its operations for cannabis chocolates and edibles into six additional states. The company also intends to offer cannabis beverages in three states in 2019 and 2020.
"Nuka's astonishing growth since launch is impressive and we can't wait to see what innovative products they design next using DehydraTECHTM technology," said Bunka "Together, we have a market advantage that will significantly change public perception of how and when to consume cannabis and plant medicine because consumers don't have to wait an hour or longer for their edibles to kick in with the 1906 brand."
Hill Street Beverage Company
In July 2018, Lexaria signed a definitive licensing agreement with Hill Street Beverage Company on a five-year, semi-exclusive basis to produce a line of cannabis-infused alcohol-free beverages for the Canadian cannabis market, pending regulatory approval.
Lexaria expanded its relationship with Hill Street in July 2019 by signing a 10-year joint manufacturing partnership. The two companies plan to jointly develop a new brand for the Canadian markets. The new brand is expected to feature products such as tablets, capsules or packets. The partnership also plans to produce similar powders as a bulk ingredient for sale to other licensed producers for the use in developing their own DehydraTECH™-powered products.
Lexaria also awarded Hill Street two, 10-year, semi-exclusive licenses for the use of Lexaria's DehydraTECH technology. These licenses allow Hill Street to use Lexaria's DehydraTECHTM technology around the world.
Altria Group
In January 2019, Lexaria entered into a definitive investment agreement with a subsidiary of Altria Group. The investment is expected to fund the research Lexaria is conducting in regards to oral nicotine delivery systems and consumer products that use the company's DehydraTECHTM technology. Under the terms of the agreement, Altria will be granted an exclusive licensing right to DehydraTECH™ that is expected to allow the company to commercialize oral nicotine products in the US. Altria will initially provide US$1 million in funding, but can increase that to US$12 million through multiple phased private financings.
"This is an incredible milestone for Lexaria Bioscience and our shareholders. We are proud that Altria has chosen to invest in our DehydraTECH™ technology and look forward to reaping the benefits of working with a world-class partner," said Bunka. "Together we have the opportunity to change nicotine delivery and make a difference in the lives of millions of consumers."
Lexaria's work with Altria is currently within the first phase of the project. Results have been positive to date and are supportive of the successful completion of phase one, which marks the first step in developing commercially-viable products using Lexaria's technology.
Private beverage company agreements
Lexaria has also signed licensing agreements with private cannabis-infused beverage companies in California and Nevada. Each agreement covers a period of five years and the use of Lexaria's DehydraTECHTM technology to produce cannabis-based beverages in the US.
Lexaria's Management Team
Chris Bunka — Chairman and CEO
Chris Bunka is a serial entrepreneur and has been involved in several private and public companies since the late 1980's. For over a decade he was well-known as a part-time business commentator in print and radio, as well as an author. He has extensive experience in the capital markets, corporate governance, project acquisition and corporate finance. He is also a named inventor on some of Lexaria's pending patents.
John Docherty — President and Director
John Docherty is a senior operations and management executive with over 20 years of experience in the pharmaceutical and biopharmaceutical sectors. He has worked with large multinational companies, as well as emerging private and publicly-traded startups. Docherty is the former President and COO of Helix BioPharma, where he led the company's pharmaceutical development programs for its plant and recombinantly derived therapeutic protein product candidates. He was also instrumental in the areas of investor and stakeholder relations, capital raising, capital markets development, strategic partnering, regulatory authority interactions and media relations.
Prior to this, he was the President and Director for PharmaDerm Laboratories Ltd., a Canadian drug delivery company that developed unique microencapsulation formulation technologies for use with a range of active compounds. Docherty has also held positions with companies such as Astra Pharma Inc., Nu-Pharm Inc. and PwC's former global pharmaceutical industry consulting practice. He is a named inventor on issued and pending patents and he has a M.Sc. in Pharmacology and a B.Sc. in Toxicology from the University of Toronto.
Dr. Edward Ergenzinger — Chief Legal Officer and Senior Advisor of Innovation
Dr. Ergenzinger is a U.S. licensed patent attorney who also holds a doctorate in Neuroscience and has over 15 years of experience providing patent services to clients that have ranged from small start-ups to some of the world's largest pharmaceutical and biotechnology companies. His professional experience includes serving as Director of Intellectual Property and Legal Affairs at the Duke Human Vaccine Institute, where he managed intellectual property assets arising from over $50 million dollars per year of extramural grants. He also provided seminal patent prosecution and worldwide portfolio management services for a second-generation vaccine that has been the world's best-selling vaccine since 2010, with annual sales of up to $6.24 billion.
Allan Spissinger — CFO and Corporate Secretary
Prior to concentrating on finance and accounting, Allan Spissinger worked within the IT sector for over a decade, specializing in corporate IT infrastructure and software development projects. He joined the audit and assurance department at PwC where he obtained his Chartered Professional Accountant (CPA) designation focusing on financial reporting and Sarbanes-Oxley (SOX) compliance in the following sectors: resources, manufacturing and technologies. His positive mentorship, excellent communication and extensive leadership skills have enabled him to successfully manage a variety of private businesses for over 20 years.
Alex Blanchard — Manager of Corporate Communications and Investor Relations
Alex Blanchard entered the brokerage business in 1996 and enjoyed a 20-year career as an investment advisor with a focus on micro-cap equities and public venture capital. Over the course of his career, he was involved in advising and financing numerous public and private companies and developed a large network of retail and institutional clients in Canada, Europe and the US. He received his Bachelor of Arts degree from UBC in 1992.
Nicholas Baxter — Director
Nick Baxter received a Bachelor of Science (Honours) from the University of Liverpool in 1975, and has worked on oil and gas projects across the globe. Since the 1980's, he has worked with companies in the public markets both in the U.K. and in Canada.
Ted McKechnie — Director
Ted McKechnie is a well-recognized thought leader in the Canadian food industry. In the past, he was president of Maple Leaf Foods, an owner and senior executive at Humpty Dumpty and a senior leader at PepsiCo. After a distinguished career as an executive and marketer specializing in food manufacturing, he now focuses on moving the Canadian food sector into the future. Besides being the chairman of Food Starter's board, McKechnie is also the Chairman and CEO of The Davies Group and William Davies Consulting Inc. He is also a chairman of the board for Advanced Technology For Food Manufacturing, and the Director of Lexaria Bioscience Corporation.
Brian Quigley – Director
Brian Quigley is a 20-year consumer packaged goods veteran of managing complex regulatory environments including for novel and innovative nicotine products, with additional deep experience with operations and marketing. In his time at Altria, he spearheaded harm reduction strategies and worked to deliver results by creating change in the tobacco business in North America. He has launched dozens of new products, created consumer-focused innovation strategies and built businesses and cultures that deliver results.
Quigley formed Green Sky Strategy with other cannabis community leaders following four years of investing and strategic advisory roles to create the first cannabis strategy team that combines deep cannabis industry and consumer experience with proven Fortune 500 strategic thinking. A graduate of the University of New Hampshire, he serves on the board of the Science Museum of Virginia Foundation and on the board of trustees of the Virginia Foundation for Independent Colleges.
Gregg Smith — Senior Advisor
Mr. Smith spent 20 years on Wall Street as an investment banker focused on executing private equity placements with a strong focus on life sciences. Gregg was formerly the Managing Director and Head of Cowen and Company's Private Equity Group and prior to that, a Principal of the Equity Private Placements Group at Bank of America Merrill Lynch. Gregg began his career at Bear Stearns and is also the only east coast member of Sand Hill Angels – an active angel investment group comprised of investors and senior business executives based in Silicon Valley. Currently, Gregg is the Founder of Evolution VC Partners, a New York-based "culture tech" venture investment firm with more than 90 portfolio companies in emerging consumer-tech companies.
Dr. Philip Ainslie — Advisor
Dr. Ainslie is a Co-Director for the Centre for Heart, Lung and Vascular Health in Canada, Research Chair in Cerebrovascular Physiology and Professor at the University of British Columbia. His research is directed to the integrated mechanisms, which regulate human cerebral blood flow in health and disease with specific areas of interest including fundamental mechanisms of cerebral blood flow regulation, influence of environmental stress on cerebrovascular function.
---
*Disclaimer: This profile is sponsored by Lexaria Bioscience Corp. (CSE:LXX,OTCQX:LXRP). This profile provides information which was sourced by the Investing News Network (INN) and approved by Lexaria Bioscience Corp., in order to help investors learn more about the company. Lexaria Bioscience Corp. is a client of INN. The company's campaign fees pay for INN to create and update this profile.
INN does not provide investment advice and the information on this profile should not be considered a recommendation to buy or sell any security. INN does not endorse or recommend the business, products, services or securities of any company profiled.
The information contained here is for information purposes only and is not to be construed as an offer or solicitation for the sale or purchase of securities. Readers should conduct their own research for all information publicly available concerning the company. Prior to making any investment decision, it is recommended that readers consult directly with Lexaria Bioscience Corp. and seek advice from a qualified investment advisor.