Latin Metals
Following a Prospect Generator Model in South America
Overview
Latin Metals Inc. (TSXV:LMS; OTCQB:LMSQF) is a resource exploration company focused on precious metals and copper projects in South America, specifically in Peru and Argentina. The company operates a prospect generator model with a focus on the acquisition of highly prospective properties where surface exploration and the company's experience can add significant value.
The goal of the exploration is to define compelling drill targets and if possible, to complete drill permitting. Thereafter, the company expects to seek a joint venture partner to fund continued exploration through drilling and advanced exploration. In doing so, the company intends to protect shareholders from the dilution associated with funding ongoing drill campaigns while retaining a minority interest so that shareholders have exposure to the upside of any potential discovery.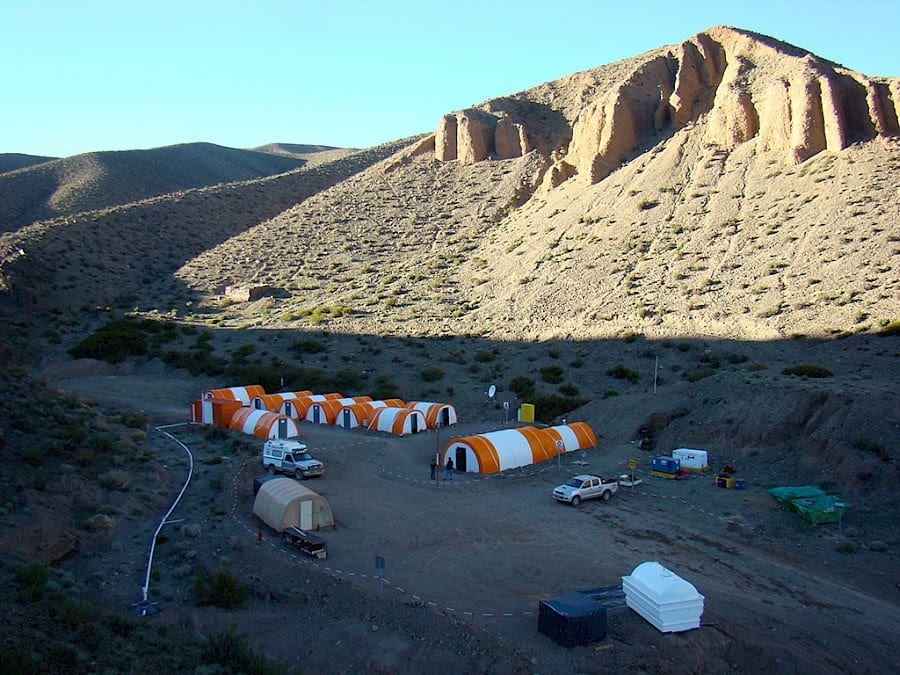 In order to secure a quality partner, Latin Metals relies on the experience of its management to recognize and acquire quality projects that meet the needs of major and mid-tier mining companies. The company has done this previously when it partnered with Newmont in an exploration alliance which was 50 percent funded by Newmont. More recently, the company optioned its 100-percent-owned Organullo gold project to Yamana Gold.
Latin Metals' Company Highlights
Following a prospector generator model, acquiring high-potential properties before advancing them through exploration and partnerships
Focused on projects in Latin America, including under-explored areas of Peru and Argentina
2020 objective to secure joint venture partners for several key projects in Argentina, while moving to make multiple property acquisitions in Peru
Management and advisors have decades of experience working for major mining companies and have a comprehensive understanding of industry needs
Latin Metals' Organullo Gold Project, Argentina
Latin Metals' Organullo gold project is 100-percent owned and consistent with the company's model, the project was acquired by staking at a minimal cost. The Organullo project includes almost 11,000m of historical drilling, in addition to rock and soil sampling geochemistry that has been conducted on the property.
Gold anomalies on the property have been shown to extend over approximately seven kilometers of strike length, with only a small portion of this strike length tested by drilling to date.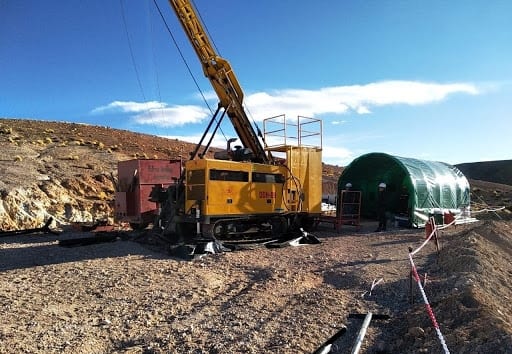 Latin Metals' Esperanza Copper-Gold Project, Argentina
Latin Metals' Esperanza copper-gold project in Argentina hosts an extensive copper-gold porphyry system that is exposed at surface and extends to at least 400m depth. Most recently, Latin Metals completed a successful drill program and results included the best drill hole intersection to date, with 387m grading 0.57 percent copper and 0.27 g/t gold. The deposit is open and Latin Metals aims to secure a joint venture partner to complete the drill testing.
Argentina has a proven history of copper production, specifically in the country's northwest region. There are 11 significant copper projects in Argentina, however, most are already controlled by large mining companies. Esperanza is the only porphyry project of its kind currently held by a junior company that is available for joint venture.
Latin Metals' Santa Cruz Properties
Latin Metals owns a portfolio of six properties in the Santa Cruz province, all of which are close to existing projects with known mineralization in the area. The Deseado Massif region of Santa Cruz is home to multiple operating mines in addition to a number of advanced-stage exploration projects owned or operated by major mining companies including Newmont (NYSE:NEM), Yamana Gold (TSX:YRI, NYSE:AUY), and Hochschild Mining (LON:HOC).
Santa Cruz is a leading jurisdiction for the discovery of low and intermediate sulfidation epithermal gold and silver deposits with approximately 19 million ounces of gold and 580 million ounces of silver discovered since 1990. Latin Metals believes the area is one of the top exploration destinations in South America, partially due to its short history of exploration which offers the potential for further discoveries.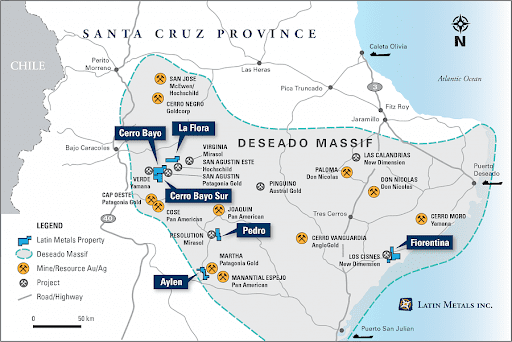 Latin Metals is completing mapping and geochemical sampling at all of its projects, aiming to define drill targets before optioning the properties out. Work to date has defined gold and silver mineralization at many of the properties.
Latin Metals' Mina Angela Property, Argentina
Latin Metals' 100-percent owned Mina Angela property is a past producer that hosts low-sulfidation epithermal gold mineralization. Between 1983 and 1992, Mina Angela reportedly produced 1,037,360 tonnes at an average grade of 4.0 g/t gold, 48.4 g/t silver, 2.0 percent lead, 0.4 percent copper and 4.6 percent zinc.
Operators began exploring the Mina Angela property again in 1992, including Lonrho which completed 18 drill holes for a total of 3,500 meters. Hochschild Mining later initiated a feasibility study on the property with the potential of re-opening the mine site, however, the financial crisis of 2008 caused the company to abandon the project. Past-producing veins on the property are open along strike with significant potential for the discovery of additional ounces.
In 2019, the company signed an option agreement with Patagonia Gold, which has an exclusive option to acquire Mina Angela. Patagonia has made aggregate cash payments of US$140,000 to Latin Metals to date. To exercise the option in full, Patagonia will be required to make additional payments to Latin Metals in the aggregate amount of US$950,000 cash. Upon the exercise of the Option, Patagonia will be required to grant to Latin Metals a 1 percent net smelter returns royalty on any future production from the project.
Latin Metals' Management Team
Latin Metals' management team and board of directors have more than 125 years of combined experience in the resource sector and with a focus on South American assets.
Keith Henderson – President, CEO & Director
Mr. Henderson has 25 years' global experience in the mineral exploration industry throughout Africa, Europe, and North and South America. He was educated in Europe, graduating with B.Sc. (Hons) and M.Sc. in geology and has extensive experience in multiple mineral deposit types and commodities. Keith worked with Anglo American Exploration in Europe and North America, leading a number of exploration projects, and ultimately, he was appointed project manager for Anglo Coal as the company made its first entry into Canada. In 2007, Keith joined Cardero Resource Corp. as Executive Vice-President, where he played a critical role in advancing the Pampa de Pongo through a positive scoping study and ultimate sale for US$100 million cash. He was formerly President & CEO at Dorato Resources and is currently President & CEO at Velocity Minerals Inc. (TSX.V: VLC), focused on gold exploration in Bulgaria. Keith serves on the board of several public companies.
Eduardo Leon, Exploration Manager Peru
Mr. Leon worked as a Senior geologist on Lumina Copper's Taca Taca project in northern Argentina from 2011-12, where he helped manage a large drilling campaign which resulted in a major copper-gold porphyry discovery and later, the purchase of Lumina by First Quantum Minerals for US$470M. Thereafter, Eduardo held a variety of senior technical positions with companies working in Peru, Mexico, El Salvador, Nicaragua and Brazil. Most recently, from 2017-19, he served as Exploration Manager in Peru for Auryn Resources, where he contributed to the development of the Sombrero and Curibaya projects. Eduardo holds a degree in Geology from San Marcos University in Lima, Peru and has 16 years of exploration experience.
David Cass, Director
Mr. Cass is a geologist with over 25 years of international experience in mineral exploration and mining for precious and base metals, with most of this experience focused in Latin America. Mr. Cass spent 15 years of his career with major international mining company Anglo American plc, where he held positions of increasing responsibility in jurisdictions, including South and Central America, Mexico, Canada, Turkey, Iran, and Eastern Europe. Mr. Cass' time at Anglo also includes four years as Senior Geologist in Peru, and six years as Exploration Manager for North America, where he was responsible for Anglo's exploration programs throughout Canada, Central America, Mexico, mainland USA, and Alaska. More recently, Mr. Cass has worked in executive roles for several junior exploration companies exploring in Canada, Mexico, Central America, Colombia, Guatemala, Ecuador, and Peru. Currently, Mr. Cass is Vice President of Exploration for Bluestone Resources Inc. and is a board and audit committee member for several junior companies. Mr. Cass is a practicing member (P.Geo.) of the Engineers and Geoscientists of British Columbia and Fellow of the Society of Economic Geologists.
Ryan King, Director
Mr. King brings an established approach to business in the natural resource sector, with specific and targeted applications for delivering shareholder value in the mining industry. Mr. King has over 15 years of experience in increasingly senior capacities in capital markets in the resource sector and was responsible for leading the investor relations activities for Newmarket Gold, as the company completed a $2 billion transformational merger with Kirkland Lake Gold. Before joining Newmarket Gold, Mr. King was involved in starting Terrane Metals which acquired the Mount Milligan Copper-Gold Project in British Columbia. From 2006 through to 2010, Mr. King was involved in financing, corporate development, all investor relation activities, and assisting with the acquisition of Terrane Metals in 2010 by Thompson Creek for $800 million. During his career, Mr. King has assisted in raising $250 million for previous companies. Mr. King holds a Bachelor of Commerce from Royal Roads University in British Columbia, Canada. He currently sits on the board of Pinecrest Resources, Edgewater Exploration, and is the Vice President of Calibre Mining.
Robert Kopple, Director
Mr. Kopple is an experienced investor, businessman, and lawyer. He is involved in a broad range of corporate financing activities with public companies. He is an experienced lawyer, and a senior partner in a law firm based in Los Angeles specializing in estate planning, tax law, and business transactions. He is an experienced investor with diverse interests in real estate, and several operating companies in mining, health care, and technology. He is a significant investor in Centenera Mining.
Hendrik van Alphen, Director
Mr. Van Alphen has been in the mining business for over 36 years, first as an exploration drilling contractor, then as President of Pacific Rim Mining Corp. Mr. Van Alphen laid the foundation for Pacific Rim becoming a successful South American-based resource company and was instrumental in the company's entrance into South America. He has been a director of Cardero Resource Corp. ("Cardero") since 1999, was the Chief Executive Officer of Cardero from May 14, 200 to November 9, 2011, President of Cardero from April 10, 2000 to June 1, 2011, Managing Director of Cardero from November 9, 2011 to March 19, 2013 and Chief Executive Officer and President of Cardero again from March 19, 2013 to August 15, 2017. He is currently CEO and a Director of Wealth Minerals Ltd and is presently also a director of Blackrock Gold Corp., Ethos Gold Corp., Gelum Capital Ltd. (formerly Jagercor Energy Corp.) and Centenera Mining Corporation, all public natural resource companies listed on the TSX Venture Exchange ("TSXV").
---
*Disclaimer: This profile is sponsored by Latin Metals Inc. (TSXV:LMS; OTCQB:LMSQF). This profile provides information which was sourced by the Investing News Network (INN) and approved by Latin Metals Inc., in order to help investors learn more about the company. Latin Metals Inc. is a client of INN. The company's campaign fees pay for INN to create and update this profile.
INN does not provide investment advice and the information on this profile should not be considered a recommendation to buy or sell any security. INN does not endorse or recommend the business, products, services, or securities of any company profiled.
The information contained here is for information purposes only and is not to be construed as an offer or solicitation for the sale or purchase of securities. Readers should conduct their own research for all information publicly available concerning the company. Prior to making any investment decision, it is recommended that readers consult directly with Latin Metals Inc. and seek advice from a qualified investment advisor.