KWESST
Bold Innovations in Military Defense Software and Equipment
Overview
KWESST (TSXV:FMV.P) is a technology company focused on developing intelligent tactical systems with military applications. The company's goal is to become an industry-leading software and equipment company, targeting the modern needs of militaries and homeland security specialists.
KWESST is currently working to develop products designed for large operational requirements in the military, including systems designed for future drone and tactical counter-drone technologies. The company's products are based on its proprietary Micro Integrated Systems Technology ("MIST"), a collection of sensors, optics, ballistics and software capable of enabling additional mission capabilities.
KWESST's MIST platform has the potential to be applied to situational awareness systems, drone threat prevention systems, tactical laser systems and firearm tracking technology.
KWESST's Company Highlights
Aiming to become a leading developer of software and equipment for military and security uses
Proprietary Micro Integrated Systems Technology ("MIST") system has the power to enable new mission capabilities
Tactical and Situational Awareness System (TASCS) software package can be integrated into existing small weapons systems
DroneBullet technology is capable of identifying an enemy drone and sending a miniature surface-to-air missile in order to mitigate the threat
Tactical Laser Defense system is capable of jamming opposing optimal weapons systems or interfering with the eyesight of enemy combatants
Shot Counter can also be added on to existing weapons, allowing militaries to track and optimize shots fired from a particular firearm
Management team has a long track record of success, including experience in the global defense and security market
KWESST's MIST System
KWESST's proprietary Micro Integrated Systems Technology ("MIST") is an integrated system of sensors, optics, ballistics and software that enables new capabilities for soldiers in a number of unique situations including targeting, drone combat, laser defense and weapons optimization.
Tactical and Situational Awareness System "TASCS"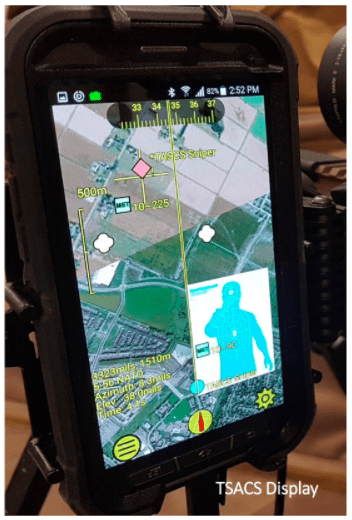 KWESST's Tactical and Situational Awareness System (TASCS) is a software package that can be integrated or added on to small weapons systems commonly carried by soldiers to enable precise networked surveillance and targeting on a wide range of technical platforms. The technology has the potential to provide targets beyond traditional line-of-sight targeting systems, proving the potential for soldiers to identify targets they cannot see directly. KWESST's TASCS software can be used as an add-on for drones and counter-drone original equipment manufacturers (OEMs) as well.
Using TASCS, operators have the capability to "mark" areas or persons of interest which can then be shared with other reconnaissance technology such as drones or scoping imagery to confirm the areas or persons of interest. In December of 2019, KWESST signed a development contract to incorporate TASCS into a networked soldier Heads Up Display (HUD) system.
Drone Threat & Counter Solution – DroneBullet TM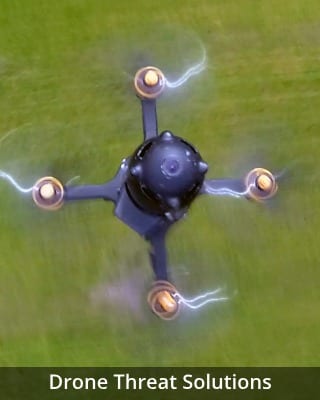 KWESST's patented drone threat and counter-drone solution DroneBullet ™ is capable of autonomously tracking and neutralizing an enemy drone from any detection source. The technology can be applied as an add-on to existing drone and counter-drone OEMs.
KWESST's counter-drone technology DroneBullet is a kinetic and integrated counter-drone system capable of launching a miniature ground-to-air missile designed to intercept enemy drones or aerial vehicles.
Tactical Laser Defeat System
KWESST's Tactical Laser Defeat System is designed to provide an effective countermeasure for NATO forces, allowing soldiers to emit a high-powered laser that is capable of destroying optical devices or blinding enemy soldiers.
Shot Counter
KWESST's shot counter technology is a software platform with a sensor that enables soldiers to track the shots fired from that specific firearm in order to improve operational performance and conduct routine maintenance. KWESST intends to offer its world-first shot counter technology through a recurring software-as-a-service (SaaS) business model.
KWESST's Management Team
Jeff MacLeod—Founder, President, CEO and board member
Former Canadian RCEME officer, served as System Engineer for three Major Army Crown Projects before moving to the private sector. Nineteen years experience as General Manager of Diemaco / Colt Canada. Expert in the Small Arms and Soldier Systems field as well as all aspects of manufacturing. Formed KWESST in 2017 to pursue opportunities in the networking and digitization of legacy and future weapons systems.
David Luxton—Executive Chairman
Serial entrepreneur in defence and security industry. Former Canadian infantry officer and senior official with the Canadian and British governments before leading the
global build-out of successive defence and security companies. Founded Simunition, the world leader in simulated munitions for close-quarters combat training of military and police. Led the build-out of AllenVanguard from $5M to $300M, where he remains Chairman. Former Executive Chairman of United Tactical Systems.
Paul Kania—Chief Financial Officer
A financial professional with broad experience providing CFO, Controller and advisory services to public and private companies in various sectors in both Canada and the U.S. Paul's early career was as an auditor with MNP LLP and Berdon LLP. He went on to work in Corporate Finance with Brookfield Asset Management, New York. A Certified Public Accountant (CPA) with an HBA in Economics and Philosophy, University of Toronto. Accounting and Finance certificate from Ryerson.
Paul Fortin—Director
Paul has held senior business development positions within two of Canada's largest law firms – Gowlings WLG and more recently Borden Ladner Gervais LLP where he was responsible for the firm's defence and security as well as international expansion strategies which encompassed Asia Pacific, United Kingdom, and the United States. His network includes exceptionally strong ties to the defence community and diplomatic defense attaché network, notably with the USA (Air Force, Army, Navy, USMC), Five Eyes, Korea, Ukraine, Israel, NATO, and Middle Eastern (Gulf States).
Paul Mangano—Director
Paul is a 34-year veteran of the high technology sector. He has an MBA in High Technology from Northeastern University and a BA in Economics from Harvard. In 2015, he established Surculus Advisors, a management consulting firm providing advice, leadership, to SME companies in the high-tech sector including aerospace and defence. Prior to forming Surculus Advisors, Paul was a Division President at L-3 Communications (NYSE: LLL). Paul worked as SVP, Business Development at VT Griffin, and President & COO of Proterion Corporation.
Warren Downing—Director of Innovation
Fifteen years in the Royal Australian Air Force. Transitioned to an industry where he has built upon his military experience with 20 + years of Systems Engineering and Program Management with Defense and communications companies such as CAE Inc, Lockheed Martin, General Dynamics, DRS Technologies and Colt Canada.
Jeffrey M. Dunn—Senior Advisor
Mr. Dunn's career includes being Chief Operating Officer for ARTEMIS, Inc., the Naval Service Lead for Rapid Prototyping at Booz Allen Hamilton, and Director Strategic Development at General Atomics Aeronautical Systems. He is the recipient of several medals and awards during a twenty-year career as a U.S. Marine AV-88 Harrier pilot and mission commander.
---
*Disclaimer: This profile is sponsored by KWESST (TSXV:FMV.P). This profile provides information which was sourced by the Investing News Network (INN) and approved by KWESST, in order to help investors learn more about the company. KWESST is a client of INN. The company's campaign fees pay for INN to create and update this profile.
INN does not provide investment advice and the information on this profile should not be considered a recommendation to buy or sell any security. INN does not endorse or recommend the business, products, services or securities of any company profiled.
The information contained here is for information purposes only and is not to be construed as an offer or solicitation for the sale or purchase of securities. Readers should conduct their own research for all information publicly available concerning the company. Prior to making any investment decision, it is recommended that readers consult directly with KWESST and seek advice from a qualified investment advisor.