Golden Arrow Resources
Delivering Value with a Track Record of Discovery
Overview
Golden Arrow Resources (TSXV:GRG) is a Canadian exploration company focused on identifying, acquiring and advancing precious metals and base metal projects. The company has a proven track record of exploration success, creating value through significant precious metals and base metals discoveries.
Golden Arrow Resources is actively exploring a portfolio of projects that includes its new epithermal Flecha de Oro project in Argentina, its district-scale frontier Tierra Dora gold project in Paraguay, its Rosales base-metal project in the heart of Chile and more than 180,000 hectares of properties in Argentina.
Golden Arrow Resources is managed by the Grosso Group, which has pioneered mining exploration in Argentina and helped contribute to operational policies in the country, specifically those regarding environmental compliance and community relations. The Grosso Group has 27 years of experience with 100-percent acceptance from local governments and stakeholders.

Golden Arrow Resources intends to pursue a two-prong strategy that informs its operations. Firstly, the company intends to continue to expand its precious metals and base metals properties, especially those with economic mineralization. Secondly, Golden Arrow intends to follow a five-step development plan in order to advance its discoveries to the preliminary economic assessment (PEA) or pre-feasibility study (PFS) stage.
Golden Arrow Resources' Company Highlights
Focused on epithermal gold and district-scale opportunities across South America, including projects in Argentina, Chile and Paraguay
Pursuing a five-step development pipeline in order to advance projects to the PEA or PFS stage
Managed by Grosso Group, a company with 27 years of experience in the mining and exploration industry in Argentina
Rock chip assays at Tierra Dorada have returned between 3.3 and 15.1 g/t gold from a 2.5-kilometer trend
Sampling at Flecha de Oro has returned samples including five meters grading 13.1 g/t gold and 0.2 meters grading 11.2 g/t gold
Rosales Copper project is located within the Atacama region of Chile, which hosts multiple large precious metals and base metal mines.
Executive Chairman, CEO and President Joseph Grosso brings extensive industry experience, was named Argentina's 'Mining Man of The Year' in 2005
Golden Arrow Resources' Tierra Dorada Project
Gold Arrow Resources' Tierra Dorada project is a district-scale high-grade gold project comprising 640-square kilometers made up of two blocks in southeastern Paraguay. The two block claims that make up the Tierra Dorada project are road-accessible and located only six kilometers apart.
The project is relatively under-explored with geological characteristics that resemble those found at orogenic-type gold deposits. Golden Arrow has established multiple drill targets at Tierra Dorada, specifically in areas with flat topography and sparse outcrop.
Exploration
Due diligence sampling conducted by Golden Arrow at the Tierra Dorada project including rock chip assays returned between 3.3 and 15.1 g/t gold from a 2.5-kilometer trend of sub-outcropping quartz veins. Visible gold was also observed on the property.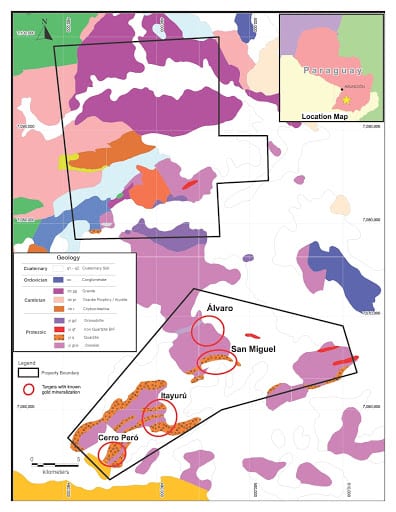 Historical exploration at Tierra Dorada has focused on the southern property block, revealing four main drill targets, San Miguel, Alvaro, Itayuru and Cerro Pero.
San Miguel, the most advanced of the four targets, includes two parallel northeast trends approximately three kilometers in length. Historical exploration has been conducted on the property including soil and rock sampling.
Historical highlights from the San Miguel target include:
6.1 meters @ 1.12 g/t gold, including 1.5 meters @ 3.32 g/t gold in SM-H3 starting at 12.2 meters depth
3.05 meters @ 2.87 g/t gold, including 1.5 meters @ 3.74 g/t gold in SM-H4 starting at 19.8 meters depth
4.57 meters @ 1.72 g/t gold, including 1.5 meters @ 2.85 g/t gold in SM-H5 starting at 9.2 meters depth
3.05 meters @ 1.35g/t gold, including 1.5 meters @3.6 g/t goldin SMH6 starting at 27.5 meters depth
In 2019 Golden Arrow Resources began its initial exploration of the Tierra Dorada project, including a trenching program that returned channel samples from eight trenches at the Alvaro prospect. Highlights from trench one included assays of 89.5 g/t gold and 61 g/t silver over 0.93 meters, including 143.40 g/t gold and 95.8 g/t silver over 0.58 meters.
Moving forward, Golden Arrow Resources intends to continue to explore the four main showings at the Alvaro target. The company has contacted Quantec Geoscience to perform an IP Gradient array survey at the Alvaro target area as part of Golden Arrow's 2020 exploration program. The company continues to conduct regional mapping, stream and rock sampling at both the north and south property blocks of the project.
Golden Arrow Resources' Flecha de Oro Project
Golden Arrow Resources' Flecha de Oro project is made up of two properties in Argentina's Rio Negro Province, the Puzzle and La Esperanza exploration properties. The project was acquired in December 2019 through a definitive option agreement.
The Puzzle and La Esperanza properties, which are 1,952 hectares and 9,968 hectares respectively, are road-accessible and reside approximately 950 meters above sea level, allowing for year-round exploration. Due diligence sampling at the Esperanza property has returned samples including five meters grading 13.1 g/t gold and 0.2 meters grading 11.2 g/t gold from chip samples across two parallel quartz veins located 600 meters apart.
Modern Exploration
Golden Arrow Resources conducted a 2019 exploration program at the Flecha de Oro project, including detailed channel sampling on multiple veins at La Esperanza. Highlights from the initial sampling program include 24.0 g/t gold over 2 meters, 4.16 g/t gold over 2 meters and 4.21 g/t gold over 1 meter. Silver and base metal mineralization was also discovered on the property, with highlights including 99 g/t silver and 2.8 percent copper over 2 meters.
In March 2020 Golden Arrow Resources announced the additional results from its 2019 exploration program at Flecha de Oro, including results from both Puzzle and Esperanza. Sampling and mapping conducted at the Esperanza property identified visible high-grade gold hosted in epithermal quartz veins, including four chip samples that returned 18.00 g/t, 5.05 g/t, 4.12 g/t and 4.10 g/t gold. At the Puzzle property, Golden Arrow Resources continued to explore a 2.3-kilometer area of mineralization that had previously shown gold-mineralized quartz veins and adjacent stockwork.
Additional exploration work conducted at Flecha de Oro, including mapping and vein sampling, has delineated a new high-grade gold target on the Esperanza property. The new target includes a series of sub-parallel quartz veins in an apparent structural corridor that remains open in both directions and along strike. Highlights from 2020 sampling work at Esperanza included 24.4 g/t gold and 13.6 g/t silver from a float/boulder sample, 5.23 g/t gold and 32.3 g/t silver over 0.30 meters from a vein chip sample, and 4.3 g/t gold and 2.3 g/t silver over 0.30 meters from a vein chip sample.
In July 2020 Golden Arrow Resources expanded the Flecha de Oro project by entering into an option agreement for a new area called Maquinchao, which includes an additional 2000 hectares of property. The property appears to host a high-sulfidation epithermal gold-copper-silver system. Due diligence sampling including 10 rock chip samples from outcrops returned values up to 11.0 g/t gold, 0.63 percent copper and 43 g/t silver.
Golden Arrow Resources' Rosales Copper Project
The Rosales Copper project is made up of 1,450 hectares within the Atacama region of Chile, which hosts multiple large precious metals and base metal mines. The Rosales Project is adjacent to claims that host the currently operating small-scale underground Margarita mine, which lies along a structural trend that continues to the southwest onto the Rosales project.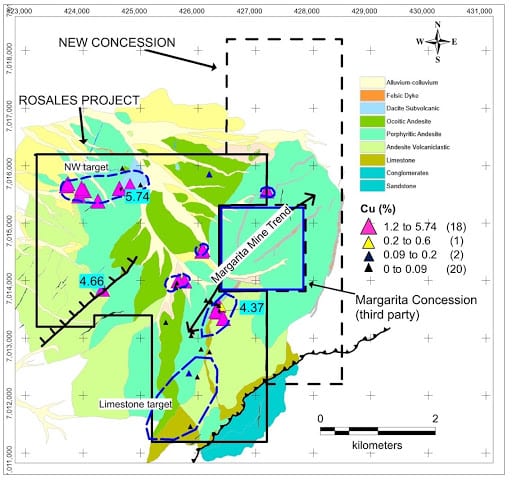 Rosales is located less than 90 kilometers from the mining center of Copiapo, which is home to world-class exploration and mining infrastructure. The Rosales project is accessible by a road that connects to the city.
Exploration
An initial reconnaissance program at Rosales identified two general areas of prospective mineralization, The Margarita Mine trend (MMT) and the NW Target. The MMT is a 3.5-kilometer-long structural corridor defined by a felsic dyke. Five rock chip samples were taken from the Rosales project, averaging 2.53 percent copper with the highest value returning 4.37 percent copper.
The NW Target is located 2.7 kilometers to the northwest of MMT. The area of mineralization includes outcrops with veinlets and fractures hosting quartz-chalcocite-copper oxides within an area measuring 1,500 by 400 meters. Eight chip samples have been collected from trenches and pits throughout the target area averaging 3.19 percent copper and 13.9 g/t silver with the highest sample returning 5.74 percent copper and 37.1 g/t silver.
Golden Arrow Resources' Management Team
Joseph Grosso, Executive Chairman, CEO & President
Mr. Grosso became one of the early pioneers of the mining sector in Argentina in 1993 when mining was opened to foreign investment and was named Argentina's 'Mining Man of The Year' in 2005. His knowledge of Argentina was instrumental in attracting a premier team which led to the acquisition of key properties in Golden Arrow's portfolio. He has successfully formed strategic alliances and negotiated with mining industry majors such as Barrick, Teck, Newmont, Viceroy (now Yamana Gold) and Vale S.A., and government officials at all levels. Mr. Grosso's specialty is financing, negotiations, corporate and marketing strategy, and he was an early and passionate adopter of best practices in environmental protection and socio-economic development through mineral exploration. He is the founder and president of Grosso Group Management Ltd.
Darren C. Urquhart, Chief Financial Officer
Mr. Urquhart is a chartered professional accountant with twenty years of experience working in public practice and industry. Mr. Urquhart operates his own public practice accounting firm offering chief financial officer and accounting services to TSX Venture Exchange listed companies in Vancouver. He has also served as director for some of his corporate clients. Mr. Urquhart began his career working as an audit accountant with Grant Thornton LLP, then later worked as a senior tax accountant with Lohn Caulder Chartered Accountants. Mr. Urquhart obtained his chartered accountant designation in 2001 and is a member of the Chartered Professional Accountants of British Columbia. In 1995, Mr. Urquhart graduated from the University of British Columbia with a Bachelor's degree in Applied Science in Electrical Engineering.
Brian McEwen, VP of Exploration and Development
Mr. McEwen is a professional geologist with more than 30 years of exploration and production experience in open-pit and underground mining projects and operations. The extent of his experience is global in managing numerous projects in Canada, the US, Europe, Asia, Africa, and throughout Latin America. Mr. McEwen's previous roles include more than a decade with MRDI (AMEC Peru) where he was responsible for project management, economic resource and reserve calculations for various precious and base metal companies worldwide, including BHP Billiton, CM Antamina, Teck, Hochschild, and Phelps Dodge among others.
Nikolaos Cacos, Director and Vice President of Corporate Development
Mr. Cacos brings over 25 years of management and advisory expertise in the mineral exploration industry. He has worked with Grosso Group since inception and serves as a senior-level executive for all the member companies. Mr. Cacos' career includes administration and strategic planning for public companies. He currently serves as an officer and director of a number of TSX Venture Exchange-listed companies. He holds a Master of International Management degree from Heidelberg, Germany, and a Bachelor of Science degree from the University of British Columbia.
Connie Norman, Corporate Secretary
Ms. Norman is a senior corporate officer with over 18 years of experience within the public company sector providing Corporate Secretarial and Regulatory Compliance services. While her main focus has been on TSX Venture listed issuers, she has also worked with companies listed on the TSX and HKEx.
---
*Disclaimer: This profile is sponsored by Golden Arrow Resources (TSXV:GRG). This profile provides information which was sourced by the Investing News Network (INN) and approved by Golden Arrow Resources, in order to help investors learn more about the company. Golden Arrow Resources is a client of INN. The company's campaign fees pay for INN to create and update this profile.
INN does not provide investment advice and the information on this profile should not be considered a recommendation to buy or sell any security. INN does not endorse or recommend the business, products, services, or securities of any company profiled.
The information contained here is for information purposes only and is not to be construed as an offer or solicitation for the sale or purchase of securities. Readers should conduct their own research for all information publicly available concerning the company. Prior to making any investment decision, it is recommended that readers consult directly with Golden Arrow Resources and seek advice from a qualified investment advisor.