Getchell Gold
Developing gold and copper projects in the top mining jurisdiction of Nevada.
Overview
Getchell Gold Corp. (CSE:GTCH, OTCQB:GGLDF) is a mineral exploration company advancing its growing portfolio of gold and copper projects in the premier mining jurisdiction of Nevada.
Getchell Gold's project portfolio currently includes the Company's flagship Fondaway Canyon gold project as well as the Star Point gold-copper, Dixie Comstock gold and Hot Springs Peak gold projects.
Getchell Gold and its projects benefit from Nevada's prominence as one of the top mining jurisdictions in the world due to the state's mineral-rich geology, clear and consistent permitting process, low-cost drilling, excellent access to infrastructure and well-established local labor pool. Nevada boasts 23 major gold mines and is ranked fourth in the world for gold production, producing 5.5 million ounces of gold annually.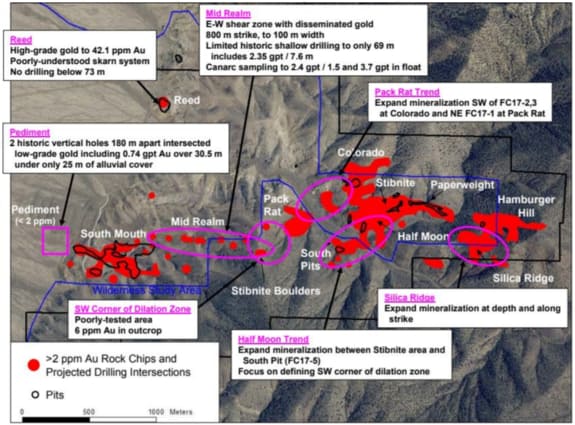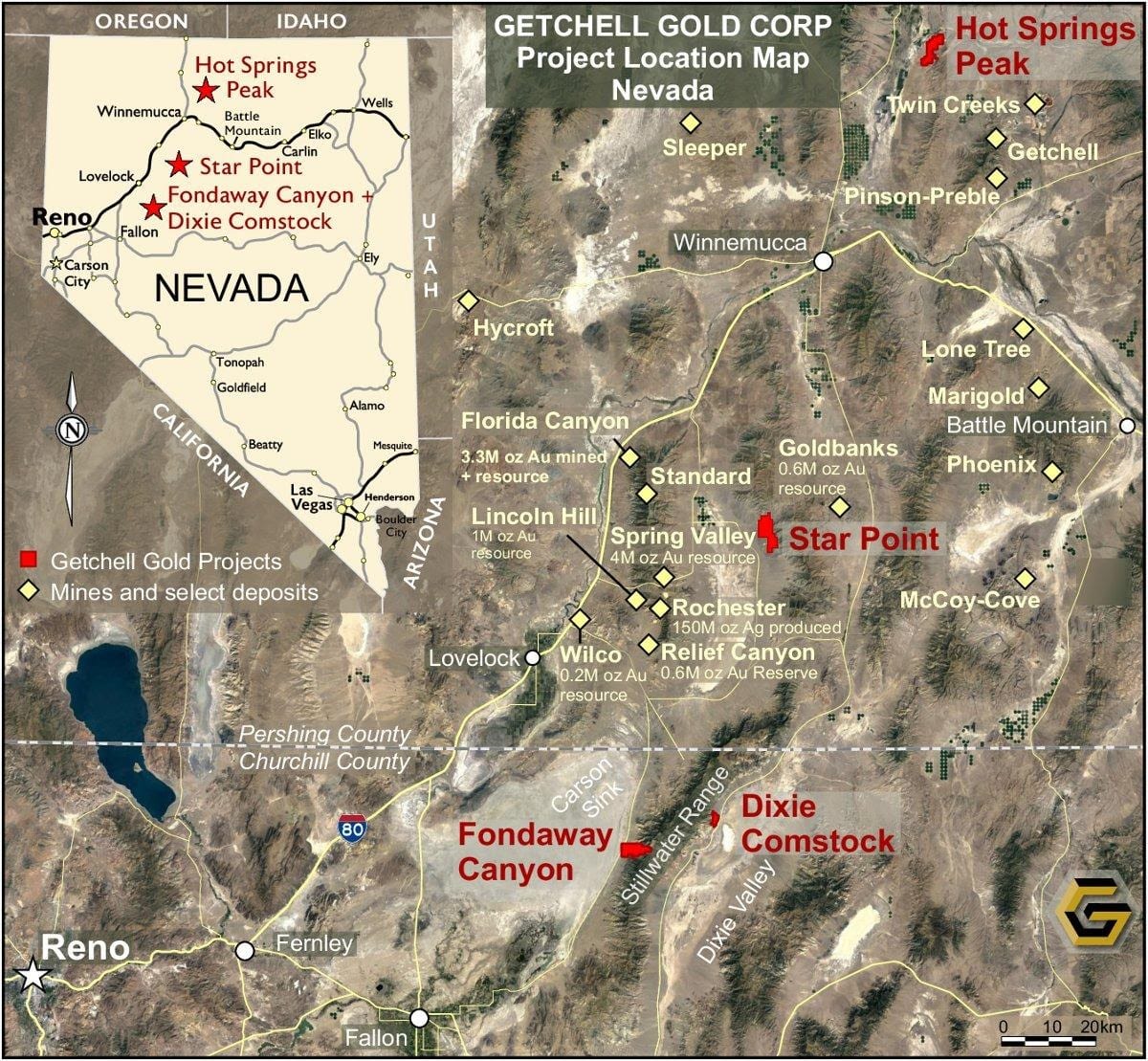 Getchell Gold is managed by a team of mining professionals and resource-based capital market specialists. Bill Wagener, CEO, is a seasoned mining executive with over 40 years of international mining and exploration experience in a variety of commodities. Independent Director Mike Sieb, a very experienced geologist and mining executive, is taking an active role in directing the Company's exploration activities.
Getchell Gold's Company Highlights
Recent, low-cost acquisition of two advanced stage gold projects with historic resource estimates and past mining operations
Cost-effective plan to add ounces through re-analysis of large legacy dataset amassed over multiple exploration and mining campaigns, and construct a new mineralization 3D model
Work towards developing an economic assessment of the Company's flagship Nevada-based assets.
Getchell Gold's Fondaway Canyon Gold Project
The western extent of Fondaway Canyon was the site of major activity, tungsten exploration and mining, from 1956 through to 1976 until gold was discovered farther up the canyon to the east in 1977. Since then there have been various operators conducting multiple exploration and drill campaigns (>600 drill holes), at least two periods of underground exploratory development and two periods of small-scale open-pit mining (~200,000 tons of oxide ore). The most recent exploration occurred in 2017, when Canarc Resource Corp. ("Canarc") drilled 7 holes collared across the project area.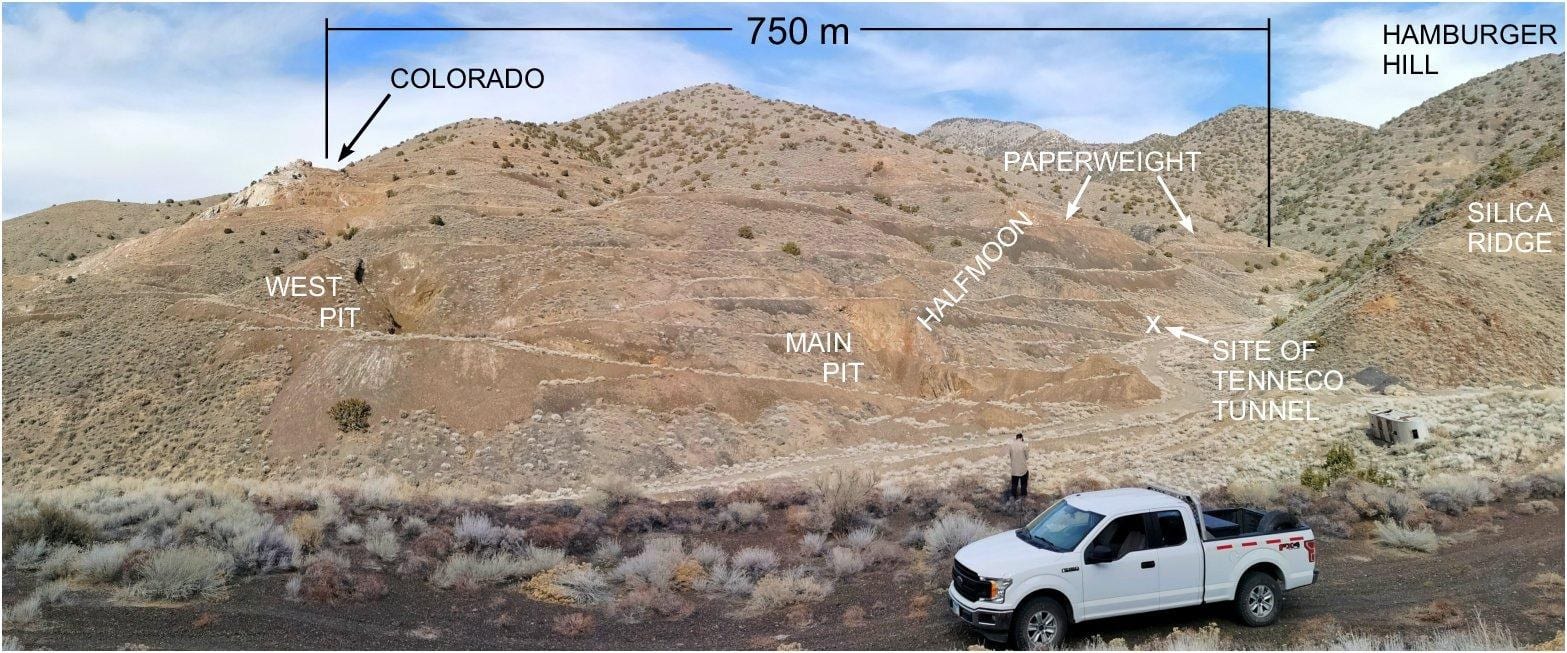 Prior to the 2017 drill program, Canarc commissioned a Technical Report authored by Techbase International Ltd. reporting a historical Indicated resource estimate of 409,000 gold ounces contained in 2,050,000 tonnes grading 6.18 g/t and Inferred resource estimate of 660,000 gold ounces contained in 3,200,000 tonnes grading 6.4 g/t, using a 1.8 m width cut-off and a cut-off grade of 3.43 g/t gold. Of note, the historical resource estimate does not include the 7 holes Canarc drilled in 2017, which all intersected multi-gram mineralization both inside and outside of the area of the historical estimate.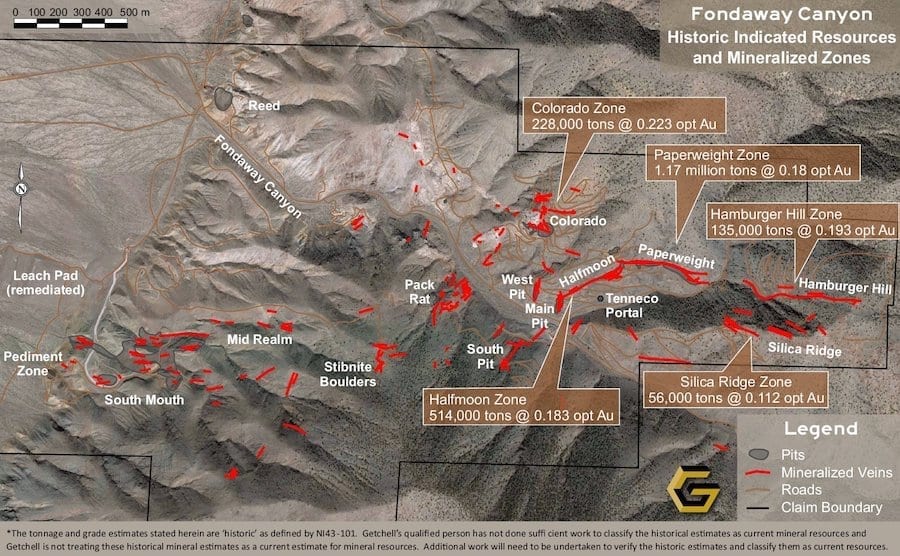 This historic resource estimate was completed by Techbase International Ltd of Reno, Nevada, and it is contained within a NI 43-101 report dated April 3, 2017 that was commissioned by Canarc Resource Corp of Vancouver, B.C., Canada. The resource estimate was compiled only from drill holes that could be validated (591 holes @ 49,086 m), a sufficient amount to deem the historic resource as reliable. Using Techbase software, a method of polygons was used along each vein. With a minimum 0.10 opt (3.43 g/t) gold and 1.8 m horizontal vein width used as cut-off parameters, twelve veins had sufficient composited intercepts within the sulfide mineralization for the estimate. No capping or cutting of grades was applied. The historical resource estimate used classifications in accordance with NI 43-101 standards, namely, "indicated" and "inferred". A review and/or recalculation of the historic resource is required by an independent Qualified Person to confirm these as current resources as defined by NI 43-101. A qualified person for the Company has not done sufficient work to classify the historical estimate as current mineral resources; and the issuer is not treating the historical estimate as current mineral resources.
Re-evaluating the historic resource estimates at a variety of cutoff grades and mining widths could add ounces to Fondaway Canyon. This re-evaluation is expected to also provide direction for the development of a comprehensive exploration program.
The historical 2017 technical report also reported on significant metallurgical testing that included a sizable bulk sampling program. Using an oxidize pre-treatment followed by CIL leaching yielded gold recoveries of 86 percent to 95 percent. Using a two-product flotation circuit, producing a carbon concentrate, then a sulfide concentrate, followed by CIL leaching of the flotation tails, yielded gold recoveries from 93 percent to 95 percent.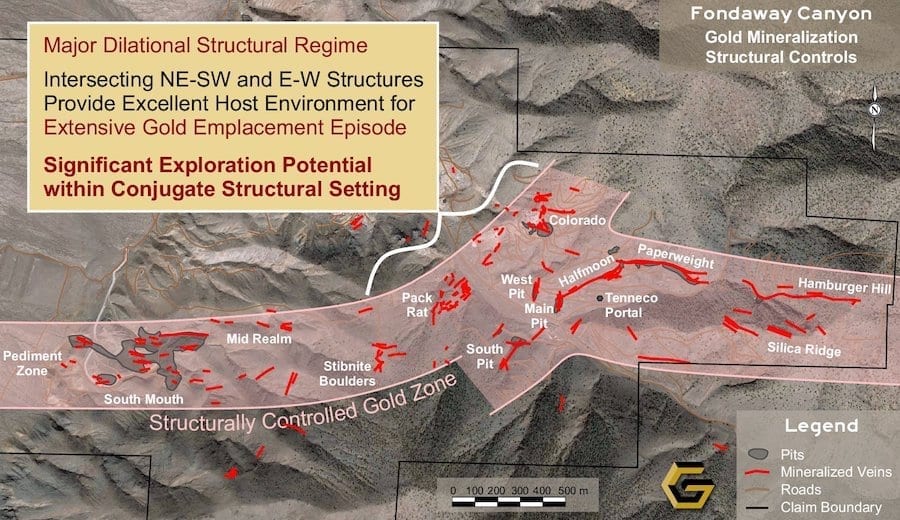 Fondaway Canyon hosts multiple untested exploration targets, including near-surface oxide gold along favorable structural and host rock targets and deeper extensions of the sulfide zones. One of the most significant opportunities includes a lower grade halo around the resource shell unaccounted for in the historical resource estimate. In addition, there is significant exploration upside along trend and under-explored infill areas of the known gold occurrences, and all of the mineralized zones remain open to depth.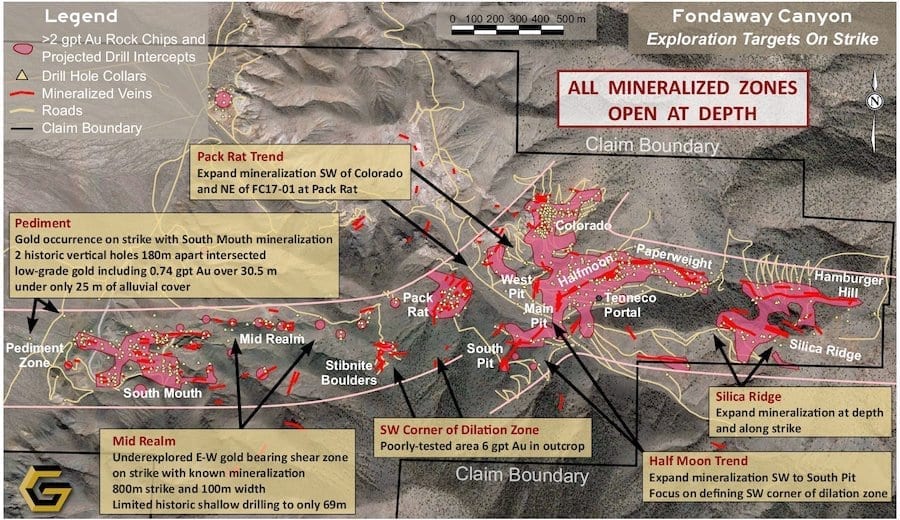 Getchell Gold's Complementary Nevada Projects
Star Point Gold-Copper Project
The Star Point property is an early-stage gold-copper project covering 1,600 hectares in Pershing County, Nevada. Located on the West Central Rift of the Northern Nevada Rift which hosts the prolific Sleeper deposit, the Star Point property has large scale mineralization potential. The project contains three surface mineralized project areas named Star Point, Star South and HS Canyon.
The property has four identified mineralized targets, including known copper mineralization with possible mineralized porphyry connection to concealed intrusion, Phoenix-style intrusive copper-related and potential skarn-hosted gold, potential Carlin-style sediment-hosted gold identified by sampling and geophysics and a potential gold target under pediment identified by geophysics. Exploration of these four targets to date includes mapping, sampling and geophysics.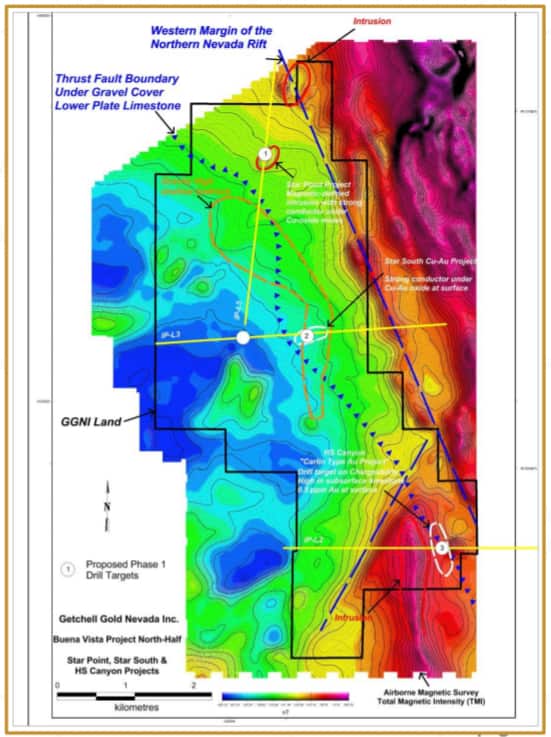 Star Point is the site of a historic, near-surface, mining operation underlain by a magnetically defined intrusion. The IP-Resistivity survey over the intrusion returned chargeability and resistivity highs that have been interpreted as potential copper sulfide mineralization, possibly intrusion-related. Surface sampling returned grades up to 3.23 percent copper.
The Star South is a historic artisanal shallow mining area that contains surface copper-gold oxide mineralization along northeast-trending faults and along the thrust fault boundary at the surface. An IP-Resistivity survey returned elevated chargeability and a resistivity high indicating the presence of a strong conductor. Surface sampling returned grades up to 2.65 percent copper. A target to the west of Star South in the pediment was identified by geophysics which indicated that there is a shallow strong chargeability for intrusion-related mineralization at a nearby magnetic high
The HS Canyon is a new target on the BVP property defined by the IP/Resistivity survey as a downward continuation of surface Carlin-style alteration and gold mineralization. During mapping, 0.5 g/t gold mineralization was discovered.
Dixie Comstock Gold Property
The Dixie Comstock gold project covers 26 unpatented lode claims in Churchill County, Nevada. The project hosts a low-sulfidation epithermal system localized along an east-dipping range-front normal fault (Dixie Comstock Mine Fault) on the east flank of the Stillwater Range Mineralization.
The original gold discovery occurred in April 1934. By 1940 a 200-foot decline shaft and a 100-foot vertical shaft with four levels at 38ft, 57ft, 73ft and 88ft had been developed. A 40-ton amalgamating mill with a flotation circuit was constructed to treat the ore at site.
The majority of the historic mining occurred prior to 1942 when the War Production Board issued a limitation work order under which the Dixie Comstock Mine was shut down after producing 17,880 tons of gold-silver ore. The ratio of gold:silver was reported to be 2:3, with a "gold equivalent" grade of 0.793 oz/ton. In subsequent years, sporadic small-scale mining occurred, but the majority of activities focused on further delineation of the gold mineralization with 180 holes drilled in close vicinity to the mine workings over multiple drill campaigns and operators.

A historical resource estimate was conducted for the project, but Getchell is not relying on this estimate and a qualified person for Getchell Gold Corp. has not done sufficient work to confirm the historic resources.
Hot Springs Peak Gold Project
The Hot Springs Peak (HSP) property is an early-stage gold exploration project in Humboldt County, Nevada. The HSP gold project has seen limited exploration, but there are indications of a Carlin-style alteration system. The property is located within the Northern Nevada Rift, which is home to numerous mines and deposits and is at a structural intersection similar to the Barrick and Newmont's Getchell Gold Mine.
Drilling by Getchell Gold in the summer of 2019 had positive results including in hole HSP-RC5 which intersected a 26-meter gold-arsenic zone. The zone averages 0.133 g/t gold with one interval running 0.69 g/t gold.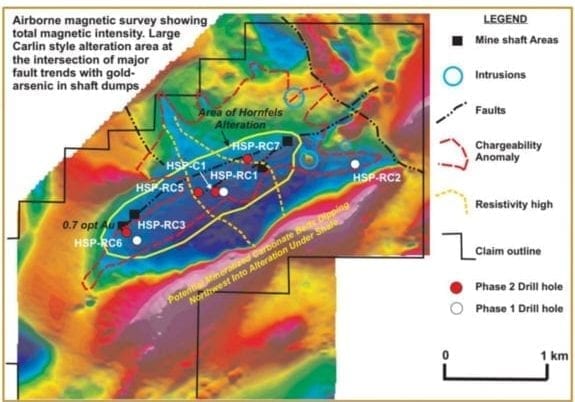 Getchell Gold's Management Team
William Wagener — Chairman of the Board and CEO
William Wagener is an internationally experienced mining executive who has been involved in the exploration, development and operation of resource projects across the globe in a variety of commodities. He has held numerous executive positions in publicly traded resource companies. Wagener received a Bachelor of Science in Mining Engineering from the University of Missouri – Rolla.
Mike Sieb — Independent Director
Mike Sieb has been a director and officer of numerous publicly traded companies over his 30-year career with his expertise extending across multiple commodities and jurisdictions. He is currently President of Explorex Resources Inc., focused on the acquisition and development of international cobalt projects and other elements critical to the battery sector; and he is Senior Project Manager for the development stage Mariana Lithium Brine Project in Argentina. Mike Sieb holds an MBA and a Bachelor of Science degree in Geology.
---
*Disclaimer: This profile is sponsored by Getchell Gold Corp. (CSE:GTCH, OTCQB:GGLDF). This profile provides information which was sourced by the Investing News Network (INN) and approved by Getchell Gold Corp., in order to help investors learn more about the company. Getchell Gold Corp. is a client of INN. The company's campaign fees pay for INN to create and update this profile.
INN does not provide investment advice and the information on this profile should not be considered a recommendation to buy or sell any security. INN does not endorse or recommend the business, products, services or securities of any company profiled.
The information contained here is for information purposes only and is not to be construed as an offer or solicitation for the sale or purchase of securities. Readers should conduct their own research for all information publicly available concerning the company. Prior to making any investment decision, it is recommended that readers consult directly with Getchell Gold Corp. and seek advice from a qualified investment advisor.