Fortune Minerals
North America's Next Vertically Integrated Cobalt Chemicals Supplier
Overview
Fortune Minerals Limited (TSX:FT,OTCQB:FTMDF) is developing its wholly owned, vertically-integrated, NICO primary cobalt project in Canada to produce cobalt chemicals for the rapidly expanding lithium-ion battery industry, together with gold, bismuth and copper by-products. NICO is comprised of a planned mine and concentrator in the Northwest Territories and refinery in southern Canada where concentrates from the mine are expected to be processed to energy– and eco-metals for the growing green economy, and a significant (greater than 1 million ounce) gold component that is highly liquid and countercyclical.
NICO is expected to be able to demonstrate supply chain transparency and custody control of ethically-produced cobalt from ores through to the production of value-added chemicals. The company also intends to reduce the geographic concentration of supply from the Democratic Republic of Congo (DRC) and China, which are risks to the global supply chain.
Fortune Minerals' Company Highlights
Building a reliable vertically-integrated North American project to produce cobalt chemicals for the rapidly expanding lithium-ion battery industry.
Approximately 1,600 tonnes of average annual cobalt production.
More than 1 million ounces of gold and 12 percent of global bismuth reserves as by-products.
One of the few advanced-stage cobalt projects outside of the DRC.
Primary cobalt production that is independent of nickel and copper mining.
Positive feasibility study, test mining and pilot plants validate the deposit and process technology.
Environmental assessment for the mine site already completed.
High concentration ratio using simple flotation to capture the valuable metals in sulphide concentrates at the mine site representing only approximately four percent of the original ore for low cost transportation and downstream processing.
Strong relationships with Indigenous and local communities.
Federal, Northwest Territories and Tlicho governments support the $213 million Tlicho All-Season Road, which is currently under construction and expected to be completed in 2021.
Pursuing strategic partnerships and off-take with globally recognized firms.
Value-added processing at the proposed refinery.
Potential for additional business at the refinery from toll processing of concentrates from other mines and diversification into the metals recycling business.
Fortune Minerals has the option to purchase an alternative site for its proposed refinery.
The company is also investigating a brownfield site that could materially reduce capital costs for the development of the project.
De-risking the NICO Project
Fortune Minerals has expended approximately $130 million to date preparing technical, environmental and social studies to support the development of the NICO cobalt-gold-bismuth-copper project. Environmental assessment approval and the major mine permits have been received for the planned facilities in the Northwest Territories.
A positive feasibility study was completed in 2014 that identified mineral reserves of 33.1 million tonnes containing 82.3 million pounds (37,341 tonnes) of cobalt, 1.1 million ounces of gold, 102.1 million pounds (46,325 tonnes) of bismuth and 27.2 million pounds (12,296 tonnes) of copper. This should support a 21-year mine life at a production rate of 4,650 tonnes of ore per day.
Although NICO is planned to be mined primarily by open pit methods, underground test mining was carried out to verify the deposit geometry, grades and mining conditions. Large samples of ore were also collected for pilot plant testing, validating the process flow sheet, metal recoveries and producing samples of cobalt sulphate heptahydrate that meets the specifications required by lithium-ion battery producers.
The company has received feedback from potential international strategic partners interested in securing a supply of cobalt from Canada. Fortune Minerals is working to arrange the project financing for the construction of the NICO project through a combination of strategic partnerships, debt and equity and has executed confidentiality agreements with a number of financial institutions and potential partners.
The cobalt market
The cobalt market has had more than 20-year, six percent compounded annual growth (CAGR) and consumption is now more than 135,000 tonnes of refined cobalt units per year. The cobalt market is expected to transition into deficit in the early 2020s as current producers, primarily in the DRC, cannot meet future projected demand.
Most of the growth is to the demand for cathode materials for lithium-ion rechargeable batteries, which are used in portable electronic devices, electric vehicle (EVs) and stationary storage cells to make electricity use more efficient. Batteries are responsible for more than 50 percent of global cobalt demand, up from one percent from a smaller market in the mid-1990s. Cobalt is also used in superalloys for the aerospace industry, cemented carbides, cutting tools, permanent magnets, surgical implants, catalysts, pigments and agricultural products. The 20-year inflation adjusted price of cobalt is approximately US$25 per pound.
Demand for cobalt is expected to accelerate, particularly after 2020 from the increasing adoption of EVs and energy stationary storage cells, which make electrical grids more efficient with off-peak charging, and integration with renewable energy generation from wind and solar. Since 2014, more than 100 battery megafactories (production greater than 1 gigawatt-hour) have been announced or are under construction, producing more than 1,500 gigawatt hours of energy. The CATL facility in China, which is expected to produce 100 gigawatt-hours, is estimated to require up to 23,000 tonnes of cobalt per year.
With EV adoption accelerating and penetration forecast at between 12 percent and 25 percent by 2025, analysts project that cobalt production will need to more than double to meet the expected demand. Benchmark Mineral Intelligence estimates that cobalt mine production will need to increase to approximately 400,000 tonnes per year by 2030, up from the 135,000-tonne current production level. A number of countries, particularly in Europe, have announced future bans on cars with internal combustion engines and stricter emission standards are helping fuel the transformation to electric mobility.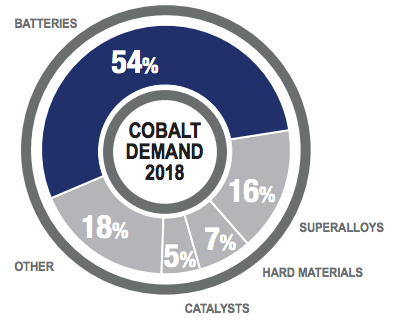 Cobalt is generally considered to be the bottleneck in the supply chain for the increased demand for lithium-ion batteries. This is primarily due to the geographic concentration of cobalt supply in countries with political or policy risks. Approximately 70 percent of mine production is currently sourced from the politically unstable DRC, and China controls about 50 percent of DRC mine production, more than 60 percent of refined cobalt production and 80 percent of refined cobalt chemical supply. China could use this dominant position to restrict supply to other countries.
In addition, about 98 percent of non-artisanal cobalt supply is produced as a by-product of nickel or copper mining where the primary metals determine production criteria. Responsible sourcing has also become an issue with some DRC mine operations due to the use of child labour, conflict mineral issues, poor environmental practices and supply chain transparency that can contravene US Dodd-Frank and European Union Conflict Mineral legislation. There is also increasing pressure from the Responsible Business Alliance (RBA), of which most of the major electronics companies in the world are members and have concerns about ethical raw material procurement that can damage their brands.
The NICO project could be a reliable Canadian vertically-integrated producer of cobalt sulphate to the lithium-ion battery industry, with supply chain transparency and custody control of metal from ores through to the production of cobalt chemicals. NICO is also a primary cobalt deposit with approximately 50 percent of its projected revenues coming from cobalt, 40 percent from gold and 10 percent from bismuth at prevailing metal prices. NICO would be a supplier of cobalt that is independent of the DRC and China, copper and nickel mining, and mitigate electronics and auto company concerns about raw material procurement.
NICO Project
Excellent infrastructure in place and under development
The NICO cobalt-gold-bismuth-copper deposit is an IOCG or Olympic-Dam type deposit situated on 5,140 hectares of mining leases located 160 kilometers northwest of the city of Yellowknife in Canada's Northwest Territories. The proposed mine is 85 kilometers north of the highway to Edmonton, Alberta, 50 kilometers from the community of Whati and 25 kilometers from the Snare hydro complex and electrical grid servicing Yellowknife.
The federal, Northwest Territories and Tlicho (Indigenous) governments are collaborating on the construction of the $213 million Tlicho Road to the community of Whati, located 50 kilometers south of NICO. The Canadian government is funding 25 percent of the cost and the Government of the Northwest Territories is funding the remaining 75 percent, using a private public partnership (P3) structure with Kiewit Construction, the Tlicho government, Hatch and Thurber Engineering. This consortium has designed, financed and is building, operating and maintaining the Tlicho Road over a 28-year contract and is expected to be repaid with interest. Construction of this road began in September 2019 and it is expected to be completed in 2021.
Fortune Minerals already has environmental assessment approval to build a 50-kilometer spur road from Whati to the mine site and is included as part of the 2014 feasibility study for the project. Fortune Minerals plans to align the construction schedule for the NICO project with the availability of the all-weather road. The road is a critical enabler for the project, allowing for the trucking of metal concentrates to the railhead at Hay River, Northwest Territories for rail transport to the refinery in southern Canada or ports for export.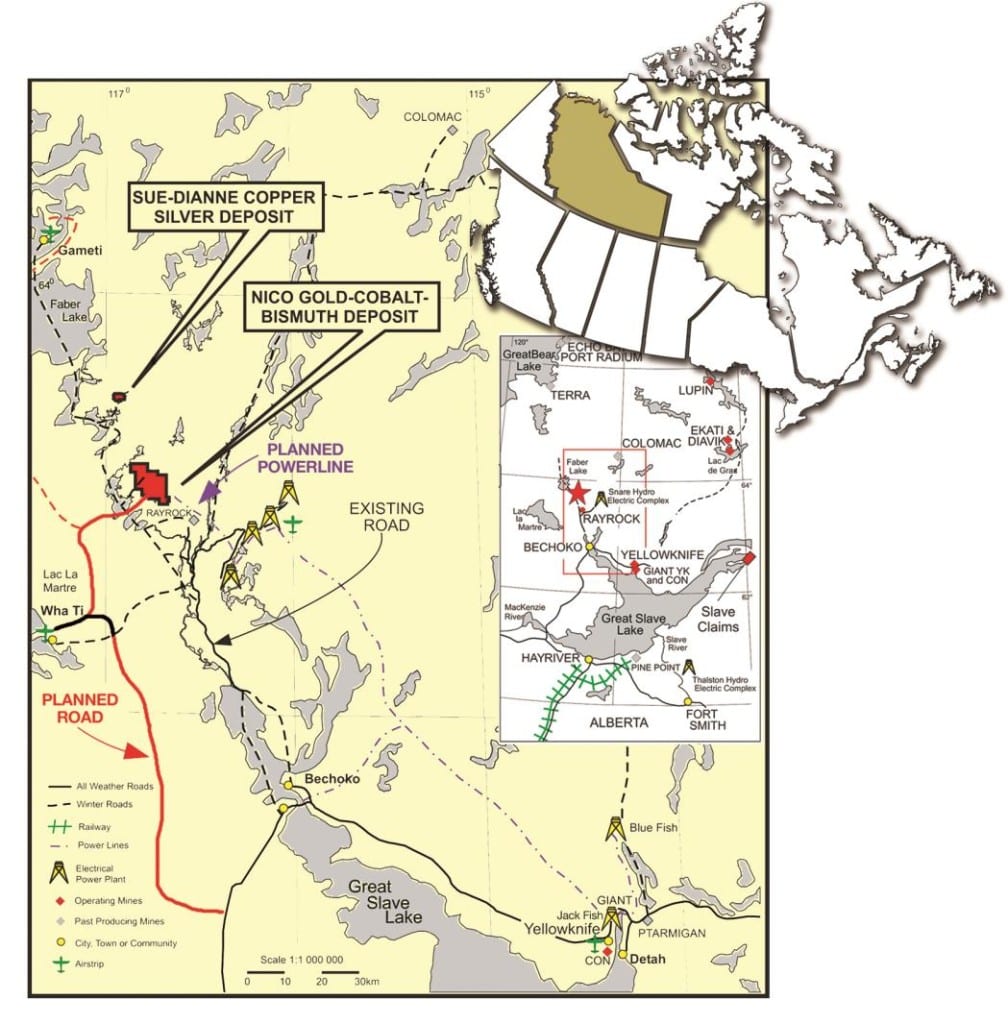 Large, well-defined polymetallic deposit
NICO is an iron-oxide-copper-gold (IOCG)-type deposit, a class with world class analogues, including Olympic Dam in Australia, Salobo and Sossego in Brazil and the Candelaria deposits in Chile. NICO hosts open pit and underground proven and probable minerals reserves totaling 33.1 million tonnes, containing 82.3 million pounds (37,341 tonnes) of cobalt, 1.1 million ounces of gold, 102.1 million pounds (46,325 tonnes) of bismuth and 27.2 million pounds (12,296 tonnes) of copper to support a 21-year mine life at a production rate of 4,650 tonnes of ore per day.
The reserve estimate is based on a robust database that includes 327 drill holes and surface trenches and the deposit geometry and grades have been validated by underground test mining in 2006 and 2007. The company believes there is significant exploration potential to extend the orebody through additional drilling, and also identify new deposits on the property and surrounding area.
Two large combined gravity, magnetic and magnetotelluric anomalies have been identified on the NICO project, including one that is larger than the NICO deposit and is centred north and below the known deposit. The company also owns the nearby 9 million tonne Sue-Dianne copper-silver-gold satellite deposit, which is indicative of the district-scale IOCG exploration potential of the area.
Nico Mineral Reserves
| Underground Mineral Reserves | Tonnes (000s) | Au (g/t) | Co (%) | Bi (%) | Cu (%) |
| --- | --- | --- | --- | --- | --- |
| Proven | 282 | 4.93 | 0.14 | 0.27 | 0.03 |
| Probable | 295 | 5.00 | 0.07 | 0.07 | 0.01 |
| Total | 577 | 4.96 | 0.10 | 0.17 | 0.02 |
| Open Pit Mineral Reserves | Tonnes (000s) | Au (g/t) | Co (%) | Bi (%) | Cu (%) |
| --- | --- | --- | --- | --- | --- |
| Proven | 20,453 | 0.92 | 0.11 | 0.15 | 0.04 |
| Probable | 12,047 | 1.03 | 0.11 | 0.13 | 0.04 |
| Total | 32,500 | 0.96 | 0.11 | 0.14 | 0.04 |
| Combined Mineral Reserves | Tonnes (000s) | Au (g/t) | Co (%) | Bi (%) | Cu (%) |
| --- | --- | --- | --- | --- | --- |
| Proven | 20,735 | 0.97 | 0.11 | 0.15 | 0.04 |
| Probable | 12,342 | 1.13 | 0.11 | 0.13 | 0.04 |
| Total | 33,077 | 1.03 | 0.11 | 0.14 | 0.04 |
| Metal Contained | | 1.11 Moz | 82.3 Mlb | 102.1 Mlb | 27.2 Mlb |
De-risked project with positive bankable feasibility study and updated feasibility underway
Fortune Minerals has spent approximately $130 million advancing the NICO project and de-risking the development since it was discovered in 1996. Work has included exploration and delineation drilling, geotechnical studies, metallurgical test work, front-end engineering and design (FEED) and feasibility studies, underground test mining, and several pilot plants to verify the process methods, plant recoveries and to produce samples of the products the company expects to produce.
Approximately $20 million was spent conducting underground test mining and pre-production development work already completed includes two kilometers comprised of a decline ramp, ventilation raise and crosscuts through the orebody on two levels. This work can be leveraged for potential future underground operations, which the company is contemplating during the first two years of the mine life. Most of the deposit is otherwise planned to be mined using open pit methods.
Metallurgical test work and pilot plant tests have verified the NICO process methods and have produced samples of cobalt sulphate and other products that meet the specifications of the lithium-ion rechargeable battery industry. One of the most important economic attributes of the NICO project is a high concentration ratio that allows the ores to be reduced to less than four percent of their original mass by simple flotation to produce bulk and selective sulfide concentrates containing the recoverable metals. Reducing the amount of material for downstream processing significantly reduces transportation and treatment costs at the refinery. This is a significant advantage over nickel-cobalt laterite deposits that need to process whole ores using similar process technology.
Feasibility Study Highlights
Highlights from the 2014 feasibility study are as follows:
| | |
| --- | --- |
| Mine Type | Open Pit & minor Underground for 2 years |
| Strip Ratio | Waste to Ore 3.0 : 1 |
| Processing Rate (tonnes/day) | 4,650 tpd Mill; 180 tpd Refinery |
| Mine Life | 21 years (potential for additional 3.2) |
| Economics | Base case | 6-yr trailing cycle |
| --- | --- | --- |
| Levered Pre-Tax NPV (7%) | C$254 million | C$543 million |
| Levered Post-Tax NPV (7%) | C$224 million | C$505 million |
| Levered Pre-Tax IRR | 15.6% | 23.6% |
| Levered Post-Tax IRR | 15.1% | 23.2% |
| Capital Costs | C$589 million + Working Capital | |
| LOM Average Base case Revenue/yr | C$196 million | |
| LOM Average Operating Cost/yr | C$98 million | |
| Cobalt Operating Cost (net of credits) | Negative US$5.03/lb at Base Case | |
Products validated through third-party testing
Third-party verification of total metal recoveries from the pilot plant tests are:
Gold Recovery Ranges from 56 to 85 percent, with an average ~73.7 percent
Cobalt Recovery ~84 percent
Bismuth Recovery ~72 percent
Copper Recovery ~41 percent
*The 2014 feasibility study reflected in the Micon Technical Report uses base case price assumptions are US$1,350 per troy ounce for gold, US$16 per pound for cobalt (US$19.04 per pound in sulphate), US$10.50 per pound for bismuth (US$12.64 per pound bismuth in average production of ingot, needles and oxide) and US$2.38 per pound for copper at an exchange rate of C$1=US$0.88; Cycle price sensitivity analysis uses US$1,200 to US$1,900 per ounce gold, US$ 12-30 per pound cobalt, US$7 to US$19 per pound bismuth and US$3 to US $4.50 per pound copper
Early in 2016 Fortune Minerals announced that SGS Canada Inc. had produced a premium battery-grade high purity cobalt sulphate heptahydrate from material produced in its earlier pilot plant. The sample meet the chemical specifications received from several large manufacturers of lithium-ion batteries, and samples were provided to a potential off-take customer for testing.
Well-positioned to become a reliable North American source of critical metals
The NICO project includes a proposed refinery in southern Canada. Lower cost electricity is available in southern Canada and the refinery is planned to be located close to sources of reagents and other services as well as a skilled pool of chemical plant workers and engineers.
NICO concentrates are expected to be processed in the refinery to value-added metals and chemicals. The bismuth concentrate is expected to be leached in acid to recover bismuth, and then precipitated as an oxychloride for smelting in a rotary furnace into bismuth ingots, or calcined to an oxide. The bismuth leach residue is to be blended with the cobalt concentrate for processing by high pressure acid leach (HPAL) in an autoclave, and then precipitation of a high-quality cobalt sulphate heptahydrate after copper and other impurities have been removed by sequential neutralization and ion exchange.
Copper is recovered by cementation onto iron and then would be sold to smelters for further refining. Gold is recovered by cyanidation of the combined autoclave leach residue, precipitation by Merrill-Crowe methods, and then smelted in a furnace to doré bars. Fortune Minerals believes there are also future revenue-generating opportunities at the refinery with custom processing of materials sourced from other mines as well as diversification into the battery and metals recycling business.

Permits granted and refinery sites identified
The mine and processing plant has received its environmental assessment approval, a land use permit and Class A water license approvals. The 2014 feasibility study had estimated capital costs for the entire project to be $589 million, but this is based on 2013 estimates and is now out of date from expected escalation and changes to the development plan.
Fortune Minerals completed an environmental assessment for the lands that it previously owned in Corman Park, Saskatchewan. However, the municipality rejected the requisite zoning change that was required to build and operate the refinery at this location. The company has an option to purchase another site in Saskatchewan and is also looking at alternative sites in other jurisdictions where it could build the proposed refinery, including a brownfield site that is scheduled to close and could materially reduce the capital cost for the planned facility development.
Fortune Minerals is also looking at a lower capital cost start-up option of selling metal concentrates and gold doré directly from the proposed mine in order to defer construction of a refinery.
NICO Project Construction
Fortune Minerals is working to secure a strategic project equity partner(s) tied to off-take to finance the NICO development. Construction is anticipated to take approximately two to three years to complete.
Fortune Minerals' Board and Management Team
Mahendra Naik, B.Comm., CPA, CA – Chairman and Director
Mahendra Naik is a Chartered Accountant and was one the founding directors and key executives in starting IAMGOLD Corporation, a TSX and NYSE-listed gold mining company. As Chief Financial Officer from 1990 to 1999, he was involved in the negotiations of the Sadiola and Yatela mine joint ventures with Anglo American and the US$400 million in project debt financings for the development of the mines. In addition, he was involved in more than $150 million in equity financings, including the IPO for IAMGOLD. He is currently the Chief Executive Officer of FinSec Services Inc., a private business advisory company and a director and member of the audit and compensation committees for IAMGOLD. In addition, he is a Director and member of audit, compensation and risk and control committees of FirstGlobalData Limited, Goldmoney Network Limited and Jameson Bank.
Robin E. Goad, M.Sc., P.Geo.—President, CEO and Director
Robin Goad is a professional geologist with more than 30 years of experience in the mining and exploration industries in Canada and internationally, and has a particular expertise of working in Canada's far north. Mr. Goad led the team responsible for discovery of the NICO deposit and managed the work programs transitioning the project to the development phase. Prior to founding Fortune in 1988, Goad worked for large companies including Noranda and Teck, and as a consultant to the resource industry. He is a director of the NWT & Nunavut Chamber of Mines and has served as President and director of other TSX listed mineral exploration and development companies.
David Massola, B.Sc. (Acc.)—Vice President Finance and CFO
Dave Massola is an executive with three decades of international mining experience in a broad range of financial and business aspects, including strategic planning, mergers and acquisitions, capital raising, taxation, treasury and risk management. This includes 20 years with BHP-Billiton at the Escondida Copper Mine in Chile, the Island Copper Mine in British Columbia and the Ekati Diamond Mine in the NWT. As Vice President and CFO of De Beers Canada, he contributed to the development of two diamond mines in northern Canada. Subsequently as Senior Vice President of Finance and CFO of GlobeStar Mining, he was a key employee in the financing, construction and operations of GlobeStar's Cerro de Maimón Mine in the Dominican Republic and negotiated its subsequent sale. He was also the President and CEO of Continental Nickel Ltd., while it was developing a mine in Tanzania, and led negotiations for its subsequent takeover.
Glen Koropchuk, B.Sc., M.Sc., Calgary, Alberta—Technical Director and COO
Glen is a mining engineer with approximately 30 years of global, multiple commodity, operations, project development and corporate social investment experience predominantly with Anglo American & De Beers. Prior to his retirement from De Beers Canada in 2016, Mr. Koropchuk was COO and responsible for delivering safe, operational excellence from the Snap Lake and Victor diamond mines in Canada's north. Notably, he also led the permitting, Aboriginal engagement, and project management for the Gahcho Kue diamond mine in the Northwest Territories that was finished on budget, on time, and was recognized as the world's largest new diamond mine at its opening ceremony in 2016.
David A. Knight, B.A., LL.B. – Corporate Secretary
David is a partner with Weir Foulds LLP, a Canadian legal practice with extensive expertise in the resource sector. David specializes in securities law, including public and private financings, mergers and acquisitions, stock exchange listings and regulatory compliance and acts for investment dealers and issuers. David is a member of the Law Society of Upper Canada.
Richard Schryer, Ph.D. — Vice President of Regulatory and Environmental Affairs
Rick Schryer is an aquatic scientist with more than 25 years of experience in mine permitting, environmental assessments, environmental studies and monitoring. Prior to Fortune, he worked with Golder Associates and was involved with the permitting and environmental assessments for the Diavik and Snap Lake diamond mines in the Northwest Territories as well as projects in southern Canada
John McVey , M.A.Sc., P.Eng, ICD.D – Director
John is the CEO and an Executive Director of the Procon Group of Companies. His engineering and construction industry career spans more than 35 years in the mining, energy and power industries in Canada as well as internationally. John joined Procon as CEO in 2015 and is leading the growth and diversification of this full-service mine development and civil infrastructure contractor across Canada and in select other countries. Prior to Procon, John held executive and senior management positions with Bechtel, SNC-Lavalin and Kilborn Engineering. John McVey has B.A.Sc. and M.A.Sc. degrees in Chemical Engineering from the University of Waterloo and is a licensed Professional Engineer in Ontario and Alberta. He has completed the Queen's Executive Development Program and the Institute of Corporate Directors, Directors Education Program, obtaining the ICD.D designation from the Institute.
Edward Yurkowski — Director
Ed Yurkowski served as CEO of Procon, a provider of mining services through Procon Mining & Tunnelling Ltd before retiring from that position in 2014. Ed Yurkowski has been involved in the mining and civil contracting industries since 1966, including ownership and management of two large mining construction contracting companies. He received his Bachelor of Science in Civil Engineering in 1971 from the University of Saskatchewan and currently serves as a director of a number of other TSX and TSX Venture Exchange listed companies, including Imperial Metals Corp., Golden Band Resources Inc., BC Moly Ltd. and Copper Lake Resources Ltd.
David Ramsay, B.A. — Director
David Ramsay is a consultant with extensive elected public office experience in the Northwest Territories. This included prominent cabinet positions in the Legislative Assembly, including Minister of Industry, Tourism and Investment (that includes the mining industry portfolio), Minister of Justice, Attorney General, Minister of Transportation and the Minister Responsible for the Public Utilities Board for the Government of the Northwest Territories. In addition to serving in Cabinet, David was previously Preident and Vice President of the Pacific Northwest Economic Region (PNWER), a public / private partnership of Alaska, Idaho, Oregon, Montana, Washington, British Columbia, Alberta, Saskatchewan, Yukon and the Northwest Territories whose mandate is to increase the economic well-being and quality of life for all citizens of the region. As a long-term resident of the Northwest Territories, David has been involved with numerous businesses. He was first elected to public office in 1997 and served five years as a Yellowknife City Councillor before his election to the Legislative Assembly.
Carl L. Clouter — Director
Carl Clouter is a former commercial pilot and owner of a charter airline in the Northwest Territories. He has been active in mineral exploration in conjunction with more than 35 years of flying in Canada. He previously served as a Sentencing Justice of the Peace and a member of the board for the mineral development assistance program for the Government of the Northwest Territories.
Troy D. Nazarawicz, CIM, CPIR – Investor Relations Manager
Troy Nazarewicz has 17 years of experience as an investment advisor and portfolio manager with MacDougall, MacDougall & MacTier Inc. He also worked as a Business Development Manager with a design and marketing firm.
Dustin Reinders, B.Sc., P.Eng.—Projects Engineer
Dustin Reinders is a mining engineer with more than 7 years of experience in the mining industry and earthworks construction performing engineering and management roles. He has previously worked for Northgate Minerals at the Kemess South mine and with North American Construction Group at various mine sites in Fort McMurray. Reindeers is a graduate of the University of Alberta with a Bachelor of Science degree in 2010 in Mining Engineering.
Patricia Penney, B.Comm. (Hon. Accounting), CPA, CA – Controller
Patricia Penney is a Chartered Accountant with 15 years of accounting and audit experience. Prior to Fortune, she was a Senior Manager with Caceis Canada Ltd., an alternative fund administrator.
Sherry Tunks – Supply Chain Manager
Sherry Tunks has 15 years of supply chain experience within the mining, automotive supply and manufacturing industries and is responsible for purchasing and supply chain management for the company.
---
*Disclaimer: This profile is sponsored by Fortune Minerals Limited (TSX:FT,OTCQB:FTMDF). This profile provides information which was sourced by the Investing News Network (INN) and approved by Fortune Minerals Limited (TSX:FT,OTCQB:FTMDF), in order to help investors learn more about the company. Fortune Minerals Limited (TSX:FT,OTCQB:FTMDF) is a client of INN. The company's campaign fees pay for INN to create and update this profile.
INN does not provide investment advice and the information on this profile should not be considered a recommendation to buy or sell any security. INN does not endorse or recommend the business, products, services or securities of any company profiled.
The information contained here is for information purposes only and is not to be construed as an offer or solicitation for the sale or purchase of securities. Readers should conduct their own research for all information publicly available concerning the company. Prior to making any investment decision, it is recommended that readers consult directly with Fortune Minerals Limited (TSX:FT,OTCQB:FTMDF) and seek advice from a qualified investment advisor.