First Cobalt Corp
Vertically-Integrated Solution for Cobalt Production in North America
Overview
First Cobalt Corp. (TSXV:FCC,OTCQX:FTSSF) is a vertically-integrated North American cobalt company with three significant assets: the First Cobalt refinery in Canada, the Iron Creek project in Idaho, US and the Cobalt Camp properties in Ontario, Canada. The company is focused on developing a supply of battery-grade cobalt in North America for the rapidly growing electric vehicle (EV) market.
The First Cobalt Corp refinery is the only permitted primary cobalt refinery in North America. The facility is a hydrometallurgical cobalt refinery located five hours north of Toronto and approximately 600 kilometers from the US border. The First Cobalt refinery has the potential to produce either a cobalt sulfate for the lithium-ion battery market or cobalt metal for the North American aerospace industry or other industrial and military applications.
The company recently announced a definitive agreement with Glencore (LSE:GLEN) that could see the refinery reactivated in 2020. The parties have agreed on the framework for a non-dilutive, fully funded, phased approach to recommission the refinery, subject to a number of conditions precedent, to supply refined cobalt for the North American market. Phase 1 entails a US$5 million loan from Glencore to support additional metallurgical testing, engineering, cost estimating, fieldwork and permitting associated with the recommissioning of the First Cobalt refinery, including a definitive feasibility study for a 55 tonnes per day refinery expansion.Phase 2 envisions commissioning the refinery at a feed rate of 12 tons per day in 2020 to produce a battery grade cobalt sulfate for prequalification for the EV supply chain. Phase 3 involves an expansion of the refinery to 55 tons per day feed rate by 2021, using the current site infrastructure and buildings. To date, First Cobalt and Glencore have awarded key contracts to expand the production output of the refinery. In May 2020 First Cobalt announced the results of an independent feasibility study outlining the potential for the company's refinery to produce approximately 25,000 tonnes of batter-grade cobalt from third-party feed.
First Cobalt Corp's Iron Creek project, which covers 2,600 acres in the Idaho Cobalt belt, is one of the few prospective cobalt projects in the US. The Iron Creek property has mining patents and significant infrastructure in place, including three underground adits that total 600-meters. First Cobalt has released a maiden resource estimate for the property outlining an inferred resource of 45 million pounds of cobalt and 175 million pounds of copper for 62.9 million pounds of cobalt equivalent. First Cobalt plans to release an updated resource in 2019. In April 2020, First Cobalt Corp increased the size of its land position in Idaho by 50 percent, adding 43 new claims to expand the total area from 1,700 acres to over 2,600 acres. The expanded property now contains the Iron Creek cobalt-copper deposit, the Ruby target and several other surface exposures of cobalt-copper mineralization.
First Cobalt Corp's Cobalt Camp Projects were consolidated through various acquisitions and currently encompasses over 10,000-hectares of land and 50 past-producing silver and cobalt mines near Cobalt, Ontario. The property has been split into three sections: Cobalt North, Cobalt Central and Cobalt South. First Cobalt's 2018 exploration program focused on areas with known historical exploration for cobalt and silver from these three areas, though there is a lot of land that remains unexplored.
First Cobalt's management team is comprised of individuals that have experience in building and operating large mining operations, as well as raising capital for their projects. By the end of 2018, the team had completed three acquisitions: US Cobalt, CobalTech and Cobalt One to create one of the largest pure-play cobalt exploration companies in North America. First Cobalt also embraces innovation and has partnered with numerous local organizations and universities to help advance their projects.
In early 2019, former Idaho Governor Butch Otter joined First Cobalt as a Director. He was the longest-serving governor of the state of Idaho. Before becoming active in politics, he spent over 30 years as a business leader for multinational corporations in Idaho. He is a strong advocate for the state of Idaho and continues to work towards advancing the interests of the state and the US and plans to do this with First Cobalt.
First Cobalt Corp's Company Highlights
North American, vertically integrated and well-situated to provide battery-grade cobalt for the EV market.
Near-term cash flow potential through an MOU with Glencore to restart the First Cobalt refinery, with Glencore providing a long-term supply of feed material and required capital
2020 Feasibility Study outlined the potential to produce 25,000 tonnes of batter-grade cobalt sulfate from third-party feed
2,600-acre Iron Creek project includes the Iron Creek cobalt-copper deposit and Ruby deposit
Maiden resource estimate for Iron Creek contains 45 million pounds of cobalt, 175 million pounds of copper for 62.9 million pounds of cobalt equivalent. Strike length of approximately 900 meters remains open along strike and down dip. Updated resource development underway.
Over 10,000 hectares of prospective land with 50 past-producing mines and several high-grade cobalt drill intercepts in Ontario at the Greater Cobalt project.
Management has over 100 years of combined experience in mining and capital markets experience.
The Cobalt Market
Cobalt has been declared a critical metal by the US Department of the Interior due to its rising demand in the EV sector. Global EV sales are expected to increase from $1.6 million in 2018 to approximately $2 million in 2019, which could result in increased demand for cobalt as it is an integral component in lithium-ion batteries. Approximately 60 percent of the world's cobalt supply is located in the politically-unstable Democratic Republic of Congo, which can cause concerns for the EV sector as more end-users are looking for ethically-sourced cobalt.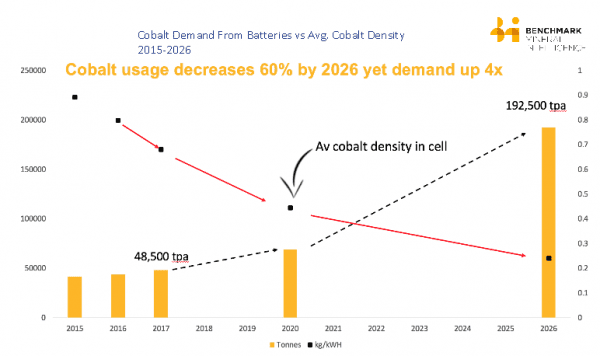 Many companies are looking for politically-stable jurisdictions to fulfill the increased demand for cobalt. Mining companies such as First Cobalt are re-examining areas that have undergone previous exploration in North America, including Idaho and Ontario. North America is also home to the Tesla (NASDAQ:TSLA) gigafactory, the Apple (NASDAQ:AAPL) and Google (NASDAQ:GOOGL) headquarters and various car manufacturers, making it an ideal place for cobalt mining operations to establish themselves.
First Cobalt Corp's Iron Creek Project
In September 2018, First Cobalt obtained a 100 percent interest in the Iron Creek cobalt property in Lemhi County, Idaho, which is home to the prolific Idaho Cobalt belt. The property has significant infrastructure already in place, including an underground development that consists of 600-meters of drifting from three adits, and is accessible by an all-weather road that connects to Highway 93. In April 2020 First Cobalt Corp increased the size of its land position in Idaho by 50 percent, adding 43 new claims to expand the total area from 1,700 acres to over 2,600 acres. Geological models at Iron Creek indicate stratabound mineralization is open along strike and down-dip, revealing further potential nearby including the continuity of host rocks beyond Iron Creek within the new claim area.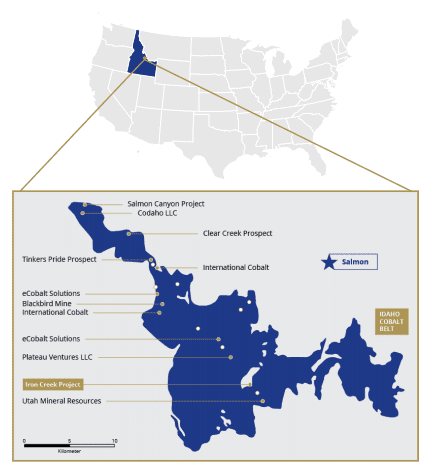 Exploration
A substantial amount of historical exploration has been conducted on the property, including approximately 30,000-feet of diamond drilling and 1,500-feet of underground mining.
In 2017, a previous operator completed a 40-hole drill program on the property and determined that the mineralization is open to the west and east, as well as down-dip. Additionally, their assay results confirmed the historic mineralization and suggest that broader zones of cobalt mineralization are also present.
First Cobalt's 2018 work program was designed to prepare for the company's updated resource estimate. In late 2018, the company completed the 30,000-meter drill program, which included both infill drilling to convert a portion of the inferred resource into the measured and indicated category and extensional drilling to support a second resource estimate to be released in mid-2019.
The company has identified two zones of mineralization, the No Name and Waite zones, which are roughly parallel and dip roughly 75 degrees to the north, remaining open at depth. Additional mineralization has been encountered during drilling and some holes are intended to confirm the potential for additional mineralized zones beyond No Name and Waite. The No Name zone and the Waite zone have true widths between 10 meters and 30 meters. Mineralization also occurs between the No Name and Waite zones as one to five-meter pods.
First Cobalt drilling identified several high-grade intercepts, including 0.52 percent cobalt and 1.10 percent copper over 4.6 meters in the Waite zone, within broad zones of lower-grade cobalt-copper that could be suitable for bulk mining methods.
During the second phase of drilling, First Cobalt determined that the mineralization between the Waite and No Name zones is continuous and has a strike length of approximately 800 meters within a broader envelope that extends 30 to 60 meters across. The company has recovered 1.9 meters grading 0.22 percent cobalt and 3.90 percent copper and 0.5 meters grading 0.47 percent cobalt and 10.37 percent copper in the mineralized section between the two zones.
Overall, First Cobalt was able to extend the mineralization at Iron Creek to almost 900 meters, which nearly doubles the strike from the 2018 inferred resource estimate. Further exploration at the No Name zone has traced mineralization 300 meters downdip in the central area of the deposit and 400 meters to the west. First Cobalt has also intercepted mineralization 150 meters below the deepest previous intercept. The zone remains open at depth.
Resource estimate
In September 2018, First Cobalt released a maiden resource estimate for the property. The report outlined an inferred resource of 26.9 million tonnes grading 0.11 percent cobalt equivalent for a combined open pit and pit constrained scenario, or 0.08 percent cobalt and 0.3 percent copper in a pit constrained base case scenario.
The resource is considered to be open along strike and at depth, with true widths between 10 and 30 meters. Preliminary metallurgical testing has shown that simple flotation methods are applicable with recoveries of 96 percent for cobalt and 95 percent for copper in rougher flotation.
"The initial resource estimate and the pace of progress at Iron Creek have exceeded our expectations," said First Cobalt President and CEO Trent Mell. "We have delineated a sizeable primary cobalt deposit on patented property and mineralization continues to expand to the east, west and at depth. The mineralogy is simple and initial metallurgical test work is very encouraging with high metal recoveries. Cobalt is associated with pyrite rather than minerals containing arsenic, which may offer processing and offtake advantages."
Moving forward
Moving forward, First Cobalt plans to release an updated resource estimate based on phase two drilling in mid-2019. First Cobalt has also initiated permitting and environmental baseline studies to develop a PEA for the project.
The First Cobalt Corp Refinery
The First Cobalt refinery is the only permitted hydrometallurgical cobalt-silver-nickel refinery in North America capable of producing battery materials and is located approximately five kilometers east of Cobalt, Ontario. The facility rests on 40-acres of land, which can be expanded to 120-acres, and includes two settling ponds and an autoclave pond. The facility was commissioned in 1996 and last operated in 2015.
The facility is fully permitted to process feed containing elevated concentrations of arsenic, which is commonly found alongside cobalt in material throughout North America. The refinery's ability to process material containing elevated arsenic levels while producing cobalt battery materials could de-risk multiple North American cobalt projects.
The refinery hosts three circuits: a pressure oxidation circuit, a solvent extraction circuit and a Merrill Crowe circuit. When refining feeding contains arsenic, the material is initially treated in the pressure oxidation circuit, where the arsenic is combined with iron to create scorodite. The stable scorodite can then be disposed of in the autoclave pond.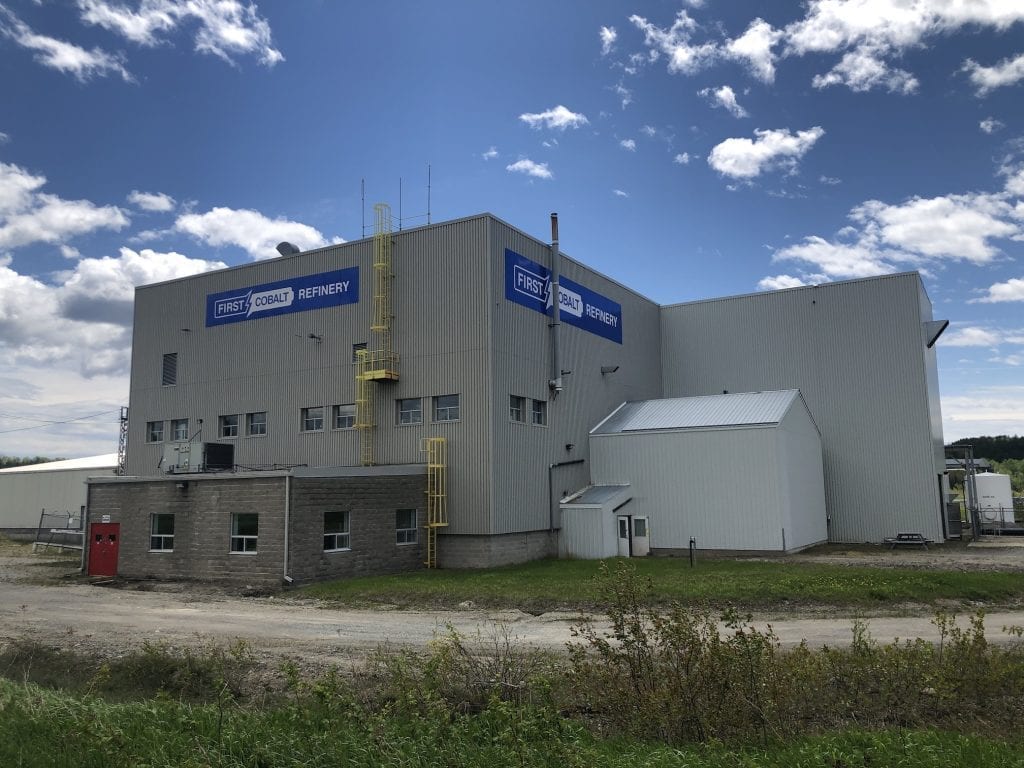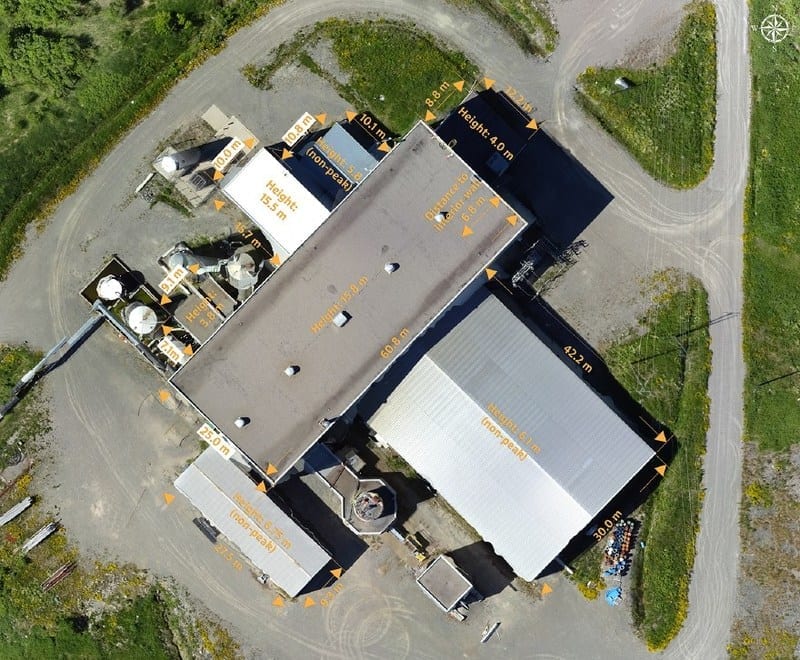 In 2012, a report prepared for a previous owner estimated that the replacement value for the existing facility at US$78 million. The estimate did not include the additional capital that would be needed to install power lines and the work needed for the tailings facility and roads. The facility has been on care and maintenance since 2015. In October 2018, First Cobalt announced the results of three studies aimed at supporting the restart of the First Cobalt refinery. These three independent studies were tasked with estimating the capital requirements, operating costs, permit renewal timelines, potential feedstock options and offtake opportunities using a 24 tonnes per day base case scenario.
2020 Feasibility Study
In May 2020 First Cobalt announced the results of an independent feasibility study conducted on its cobalt refinery. The study considered expanding the existing facility, adapting it to produce cobalt sulfate. The feasibility study demonstrates the potential for the refinery to become a viable and competitive aspect of the North American cobalt supply chain, with the ability to produce 25,000 tonnes of battery sulfate annually using third party feed. An initial capital estimate of $56 million would be necessary under this framework, with an operating cost of $2.72 per pound of cobalt produced. This rate of production has the potential to provide five percent of the total global refined cobalt market and would represent the lone North American cobalt sulfate supply.
Several EV manufacturers have expressed an interest in purchasing a North American cobalt sulfate product from First Cobalt. First Cobalt has also entered into talks with Glencore regarding potential commercial arrangements, financing and the allocation of project economics.
With these studies in hand, First Cobalt has begun discussions with potential offtake partners. Additional next steps include selecting suitable feedstock for either cobalt sulfate or cobalt metal production. As further studies are underway, the final decision on whether to put the refinery back into production rests on the outcome of these studies and parallel discussions.
Cash flow opportunities
The refinery is well situated with access to road systems, railway lines and power. Restarting the refinery would give First Cobalt the opportunity to generate a steady supply of revenue as they continue to move their Iron Creek and Greater Cobalt projects forward. The refinery will be able to process third-party mine and recycle feed material, mill and refinery residue material and historic muck piles from the 50 historic mines in the area.
First Cobalt Corp has been assessing third-party cobalt hydroxide for upgrade to cobalt sulfate, the material used in lithium-ion batteries, at the refinery to determine if this material is suitable as feedstock using the current refinery flowsheet. Initial results released in early 2019 indicate that the current refinery flowsheet is suitable to receive cobalt hydroxide feed material.
First Cobalt Corp was able to leach 98 percent of the cobalt in the test material using solvent extraction processes. The company has also successfully produced a cobalt sulfate that assayed 20.8 percent cobalt, surpassing the reference-grade for sulfate pricing. The cobalt sulfate product also achieved a 99.9 percent purity.
The results of a recently commissioned Ausenco study that used third party cobalt hydroxide suggests that the annual production at the refinery could reach over 5,000 tonnes per annum, doubling the previous estimate. In its bottlenecking study, Ausenco concluded that the cost to double the production capacity would take up to US$37.5 million to complete and would include removing the autoclave circuit and addressing production constraints.
Due to the positive results from testing cobalt hydroxide and the Ausenco study, First Cobalt has the potential to produce up to 5,000 tonnes of cobalt annually. The company expects to have near-term cash within 18 to 24 months from feedstock selection as they sign offtake agreements with various end-users.
Greater Cobalt Project
The Greater Cobalt project is an assembled land package that First Cobalt has been working on since 2017. The project encompasses over 10,000 hectares of land, which First Cobalt will be exploring. To date, the project has undergone a maiden drill program of 7,000-metres in 2017, which targeted several areas known to be rich in cobalt over the two-kilometer strike length of the Keeley-Frontier vein system, which includes Haileybury and Bellellen. The 2018 drill program includes an additional 13,500-metres of drilling throughout the camp. The property is divided into three exploration regions: Cobalt North, Cobalt Central and Cobalt South.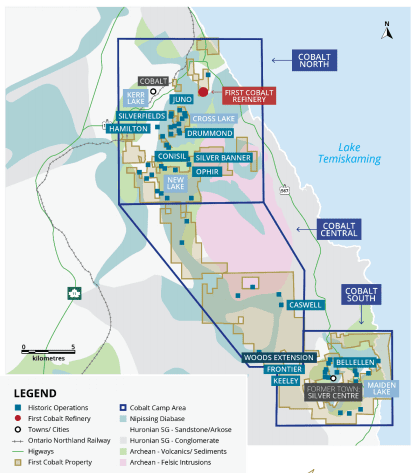 First Cobalt Corp's Management Team
Trent Mell — President, CEO and Director
Trent Mell is a mining executive and capital markets professional with 20 years of operating and transactional experience. He began his mining career with Barrick Gold. He has also worked with nickel-cobalt producer Sherritt International, North American Palladium and AuRico Gold. Trent was President & CEO of Falco Resources, which acquired control over the historic Horne Mine Complex and 13 other former producers in the Rouyn Noranda Mining Camp.
More recently, Mell built a mining team for PearTree Securities to advise issuers and investors on Canadian exploration and development opportunities. In 2016, his team raised $300 million in equity investments and became the largest provider of flow-through capital to the Canadian resource industry.
Mell holds a B.A., a B.C.L. and LL.B. from McGill University (Montreal), an LL.M from Osgoode Hall (Toronto) as well as an MBA from Northwestern University (Chicago) and Schulich School of Business (Toronto).
Ryan Snyder, CPA, CA — CFO
Ryan Snyder spent five years in operations finance with Inmet Mining Corporation, where he led a project to build the life-of-mine model for Cobre Panama, one of the largest copper development projects in the world. He also led the worldwide annual budgeting and quarterly forecasting processes, oversaw operational financial reporting and analysis, and conducted scenario analysis for strategic decision-making. He then joined Enirgi Group Corporation where he oversaw financial planning, asset modeling and corporate governance. Most recently he was with Primero Mining Corp., initially as Director of Finance and Treasurer and later as Chief Financial Officer, where he was part of the team that negotiated the friendly merger of Primero with First Majestic Silver in 2018. Prior to entering the mining industry, Snyder obtained his Chartered Professional Accountant designation with KPMG LLP.
Dr. Frank Santaguida, P.Geo. — VP Exploration
Frank Santaguida is a geoscientist with over 25 years of experience who has worked around the world on a wide range of base and precious metal ore deposits. His extensive experience in world-class base metal mining camps such as the Kidd Creek (Canada), Mt. Isa (Australia), the Central Lapland Greenstone Belt (Finland), and the African Copperbelt (Zambia-DRC).
Santaguida started his career with the Ontario Geological Survey before joining Falconbridge Limited where he held various positions in near-mine to regional grassroots exploration and in operating mines in Canada and Australia. He subsequently joined First Quantum Minerals Limited as Principal Geologist, where he was responsible for global exploration project generation and property evaluations for cobalt, copper, nickel and PGE properties. Notably, Frank was part of the team that discovered new resources at the Frontier Mine as well as new copper and cobalt prospects in the DRC.
Santaguida has a Ph.D. from Carleton University and an M.Sc. from the University of Waterloo.
Peter Campbell, P.Eng. — VP Business Development
Peter Campbell is a professional engineer with 35 years of experience in mining operations, mineral exploration and capital markets. He spent much of his early career in northern Ontario, with more than 10 years working in Sudbury, including with the Ontario Ministry of Labour and an Associate Professorship with Laurentian University teaching Underground Mine Design. His experience as a mine builder brought him to Falconbridge Limited (now Glencore) where he spent over a decade working in senior engineering roles, culminating with Exploration Manager. As Exploration Manager, he was responsible for global exploration activities as well as prospect valuation and risk management.
Campbell moved into the capital markets in 2006 and earned a reputation as an astute mining analyst, eventually becoming Chairman of Jennings Capital, an independent Canadian broker-dealer. During his career a as an analyst, he developed a reputation for being the first to uncover hidden value – he was the first analyst to cover Probe Mines, Integra Gold, and Trelawney Mines, which was eventually sold to IAMGOLD for $350 million dollars, among other companies he covered. He was Chairman of Jennings Capital during their sale to Mackie Research in 2015.
Campbell has an Engineering degree from Queen's University.
Paul Matysek — Chairman
Paul Matysek is a corporate entrepreneur, professional geochemist and geologist with over 30 years of experience in the mining industry. He is currently the Executive Chairman of Lithium X Energy Corp. and has held senior executive and board positions with several natural resource exploration and development companies and is a proven company builder. Matysek was President and CEO of Goldrock Mines Corp., which sold to Fortuna Silver Mines in July 2016. He was previously CEO of Lithium One, which merged with Galaxy Resources of Australia to create an integrated lithium company. He served as CEO of Potash One, which was acquired by K+S Ag for $434 million in a friendly takeover in 2011. He was also the founder and CEO of Energy Metals Corporation, a uranium company that grew from a market capitalization of $10 million to approximately $1.8 billion when sold in 2007.
Henrik Fisker — Director
Henrik Fisker is the Chairman and CEO of Fisker Inc. Through his career in the automotive sector, Fisker has become synonymous with iconic cars and leadership in premium electric vehicle development. Mr. Fisker's vision is behind some of the most emotionally appealing vehicles ever created, including the BMW Z8, the Aston Martin DB9/V8 Vantage, VLF Force 1 to the Fisker Karma and more. Henrik and Fisker Inc. are currently working towards developing the next generation of electric vehicle expertise, tomorrow's technology and compelling design for the advancement of human mobility and comfort.
Garett Macdonald — Director
Garett Macdonald is a mining engineer with extensive experience in project development and mine operations with over 22 years of industry experience. He has managed large technical programs through the concept, feasibility and into construction stages and has senior management and board level experience with several public companies. Garett led JDS Energy & Mining's Eastern Canadian business operations as Vice President of Project Development. He also held roles in mine operations and engineering with senior Canadian mining firms Teck Corporation, Placer Dome and Suncor Energy, as well as the Vice President of Operations for Rainy River Resources prior to $310M sale of Rainy River to New Gold Inc. in 2013.
Macdonald is currently the President & CEO of Maritime Resources and a director of Aurelius Minerals and Gungnir Resources. He holds a Master of Business Administration degree from Western University's Ivey Business School and a Bachelor of Engineering (Mining) from Laurentian University.
Gov. Butch Otter – Director
C.L. "Butch" Otter is an American businessman and politician who served as the 32nd Governor of Idaho, from 2007 to 2019. He was elected in 2006 and re-elected in 2010 and 2014. He served as lieutenant governor for 14 years, from 1987 to 2001, and in US Congress from the first district from 2001 to 2007. When he left office in January 2019, Governor Otter was the longest-serving governor in the US whose time in office had ran consecutively, at 12 years. His election win in 2014 was his tenth consecutive victory.
Before devoting his career full-time to politics, he spent more than 30 years as a business leader including 12 years as President of Simplot International, a potato, livestock and feeding company.
John Pollesel — Director
John Pollesel is currently Senior Vice President, Mining at Finning Canada and has 26 years of experience in mining. He previously served as Chief Operating Officer and Director of Base Metals Operations for Vale SA's North Atlantic operations, where he was responsible for the largest underground mining and metallurgical operations in Canada. Prior to this, he was Vice President and General Manager for Vale's Ontario operations. Pollesel also served as the Chief Financial Officer for Compania Minera Antamina in Peru, responsible for executive management in one of the largest copper/zinc mining and milling operations in the world.
Pollesel holds an MBA from Laurentian University and is a CPA and CMA.
---
*Disclaimer: The profile provides information which was sourced and approved by First Cobalt Corp in order to help investors learn more about the company. First Cobalt Corp is a client of the Investing News Network (INN). The company's campaign fees pay for INN to create and update this profile page, to which links are placed on Investingnews.com and channel newsletters.
The company description, investment highlights and catalysts were sourced by INN and approved by the company. INN does not guarantee the accuracy or thoroughness of the information contained on this page.
INN does not provide investment advice and the information on Investingnews.com profile should not be considered a recommendation to buy or sell any security.
INN does not endorse or recommend the business, products, services or securities of any company profiled.
Readers should conduct their own research for all information publicly available concerning the company.