Energy Fuels
America's Premier Uranium Producer
Overview
Energy Fuels Inc. (TSX:EFR,NYSEMKT:UUUU) is a leading US-based uranium and vanadium producer. Energy Fuels is the largest producer of uranium in the US and holds the largest in-ground uranium resource portfolio of any producer (or near-producer). Additionally, the company became the only primary vanadium producer in North America in 2019.
Energy Fuels is the only uranium producer with both conventional production and in situ uranium recovery (ISR) in the US. With the only conventional uranium mill operating in the country and a large portfolio of high-quality conventional and ISR uranium properties, Energy Fuels is the leading uranium mining company in the US, in terms of current production, scalability and resource portfolio. Energy Fuels offers excellent leverage to rising uranium prices and is well-positioned to capitalize on the growing need for additional domestic and global uranium supplies.
Energy Fuels' response to lower prices has been to consolidate the US uranium space, acquiring a 100 percent stake in high-value assets while liquidating non-core properties. The company also continues to permit and develop its quality portfolio of low-cost producing and near-producing uranium projects. As uranium prices rise, Energy Fuels plans to swiftly scale up production at its low-cost projects, including its currently-producing White Mesa mill in Utah, its currently-producing Nichols Ranch ISR project in Wyoming, its fully-permitted and constructed Alta Mesa ISR project in Texas, its fully-permitted and constructed Canyon mine in Arizona and its fully-permitted and developed La Sal complex in Utah.
Click to watch the full interview with Energy Fuels CEO Mark Chalmers
The company also expects to earn additional revenues through third-party toll processing, production of other valuable minerals (including vanadium and copper), and other business opportunities at its White Mesa mill. Longer-term, the company expects to produce uranium from large-scale conventional projects including the fully-permitted Sheep Mountain project (Wyoming), the advanced-stage Roca Honda project (New Mexico) and the Bullfrog project (Utah). The company also has the potential to produce copper from its Canyon mine in Arizona and vanadium from several of its mines currently on standby in Utah and Colorado.
US uranium miners currently produce less than one percent of annual US reactor demand, which has created serious energy security and national security threat to the US. Therefore, in 2018, upon petition by Energy Fuels, the US government initiated an investigation into the effects of uranium imports were having on national security. In April 2019, a report was delivered to the President, along with recommendations. The President has until mid-July 2019 to act. Energy Fuels has asked the federal government to enact a quota that limits uranium imports into the US, thereby reserving 25 percent of the US nuclear market for domestic producers. If accepted, this proposition could initially increase production from less than1 million pounds to about 12 million pounds per year, potentially resulting in an increase in US uranium prices. A significant portion of this newly produced uranium is likely to come through Energy Fuels.
Energy Fuels' Company Highlights
Energy Fuels is the largest uranium producer in the US.
In Q4-2018, Energy Fuels became the only primary producer of vanadium in North America.
The White Mesa mill: The only conventional uranium and vanadium mill operating in the US (over 8 million pounds of annual capacity), located in Utah.
The Nichols Ranch ISR project: Existing ISR facility in production in Wyoming, licensed to significantly increase output (2 million pounds of annual capacity).
The Alta Mesa ISR project: Significant existing ISR production on standby in Texas (1.5 million pounds of annual capacity).
Current and near-term uranium production: Nichols Ranch, Alta Mesa, Canyon mine, La Sal complex and alternate feed materials at the White Mesa mill, all with a combined licensed capacity of over 11 million pounds of uranium per year.
Significant future scalability: Three large-scale uranium projects with over 50 million pounds of combined measured and indicated resources at the Sheep Mountain (fully-permitted), Roca Honda (advanced-stage permitting) and Bullfrog projects (pre-permitting stage).
Bulk test mining program ongoing at the La Sal complex of uranium and vanadium mines targeting high-grade vanadium resources, with the intent to bring the project back into full production.
Conventional mines on standby expected to resume production in the improving markets: the Daneros mine, the Whirlwind mine and the Tony M mine.
Energy Fuels added as a member of the broad-market Russell 3000® Index in June 2018.
US Uranium and Vanadium Market
The US is home to 98 operating nuclear power reactors in 30 states, and nuclear accounts for approximately 20 percent of the total energy produced in the US, and over 55 percent of the country's carbon-free electricity. There are also two new reactors under construction in Georgia. US nuclear reactors currently consume approximately 45 to 50 million pounds of uranium per year.
In addition to the US commitment to using nuclear power to generate electricity, the current administration has made it clear that they intend to support the nuclear energy sector and domestic mining operations, reinforcing Energy Fuels' position as an important supplier of uranium. The US Department of the Interior has also listed both uranium and vanadium as critical minerals.
Recently, there has been a surge in demand for vanadium, which is used in steel, metal alloys and in vanadium batteries. The demand for vanadium is being driven upwards due to global production cuts, increased demand for high-strength steel and the focus on clean energy initiatives. It is also being driven by China's ban on the importation of certain types of material that they process for the recovery of vanadium and the new vanadium requirements for building materials.
Section 232 Investigation
In July 2018, the US Department of Commerce (DOC) initiated a 232 investigation, looking into the effects of uranium imports on US national security as well as other aspects of the fuel cycle. The DOC handed its report and recommendations to the President on April 14, 2019, and the President has until July 13, 2019, to adjust trade policies based on the recommendations.
In the Petition submitted by Energy Fuels (and Ur-Energy), two trade remedies were proposed: to reserve 25 percent of the US nuclear market for US-based uranium miners and that the US government should be required to buy US uranium. If the investigation is successful, the US uranium industry could be revitalized with little effect on US utilities and consumers. If accepted, the remedies are expected to strengthen the US uranium mining industry, bolster national defense and improve supply diversification.
Ongoing Conventional Uranium and Vanadium Production: The White Mesa Mill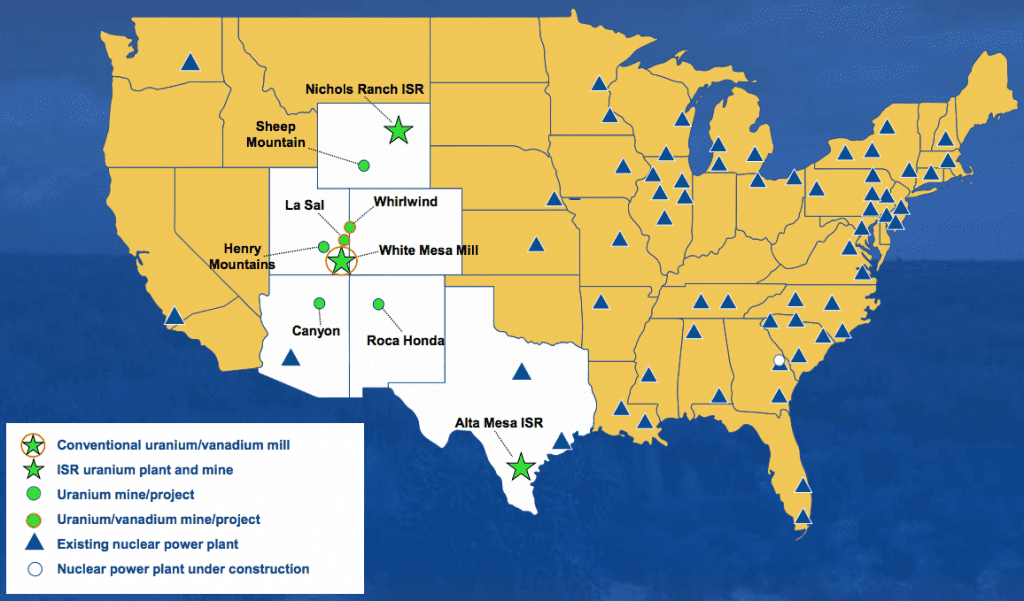 Energy Fuels' White Mesa Mill is a strategic asset, as it provides the company with a multitude of business opportunities, including the production of uranium and vanadium. The facility is the only fully-licensed and operating conventional uranium and vanadium mill in the US. It is also one of only two operating conventional uranium mills in North America.
White Mesa is strategically located in Blanding, Utah, central to the highest-grade uranium and vanadium mines in the US. Since 2013, the mill has produced over six million pounds of uranium. The mill produced 917,000 pounds of uranium in 2018, including 493,000 pounds for the company's account and 424,000 pounds for the account of third parties. It is also capable of producing a high-purity vanadium product, and the company is evaluating the potential to recover copper.
Finally, the mill is also ideally positioned to generate revenue through third-party toll milling, processing low-cost alternate feed materials and participating in the cleanup of historic uranium mines in the region. The White Mesa Mill has a licensed capacity of over eight million pounds of uranium per year.
In addition to processing uranium at the mill, Energy Fuels commenced vanadium production in December 2018, making the company the only primary vanadium producer in North America. The company commenced commercial production the following month. In February 2019, Energy Fuels began vanadium shipments for sale to end-users in the metallurgical, aerospace and chemical industries. The company intends to sell to a diverse group of customers to maximize revenues and profits.
The White Mesa mill last produced 1.5 million pounds of vanadium in 2013 and has up to 4 million pounds of recoverable, dissolved vanadium in its pond solutions that can be recovered over the next 20 to 24 months, subject to supportive pricing. The company is currently producing high-purity vanadium at a rate of 160,000 to 200,000 pounds per month.
Ongoing In Situ Uranium Production: The Nichols Ranch ISR Project
Energy Fuels wholly-owns and operates the Nichols Ranch ISR project, located in the prolific Powder River Basin of Wyoming. Energy Fuels acquired this key production asset in 2015, through its acquisition of Uranerz Energy Corporation. Also, in August 2018, Energy Fuels acquired a six to eight percent sliding-scale gross proceeds production royalty for the company's Nichols Ranch, Hank and Doughstick properties, along with others on nearby operational properties owned by Cameco Corporation (TSX:CCO). Acquiring these royalties is expected to significantly decrease Energy Fuels' production costs at Nichols Ranch, and provide future cash-flows as Cameco's US projects resume production.
In 2017, the company produced about 366,000 pounds of uranium at Nichols Ranch, and in 2018, the company produced approximately 140,000 pounds of uranium. The company currently has nine wellfields in operation, with an additional 34 wellfields permitted for production as market conditions warrant, ensuring a long-term production profile. The company is ready to increase its production within six months of a production decision. While today's prices dictate reduced levels of production, the facility has a licensed capacity of two million pounds of uranium per year.
In Situ Uranium Production on Standby: Alta Mesa ISR Project
In June 2016, Energy Fuels completed the acquisition of Mesteña Uranium, and its flagship Alta Mesa ISR project, located in South Texas. Alta Mesa is a proven low-cost uranium producer, well-known within the US nuclear industry. Between 2005 and 2013, the facility produced about 4.6 million pounds of uranium, including over one million pounds in two of those years. The project is currently on care and maintenance. As uranium prices rise on a sustained basis, Energy Fuels expects to resume production at this important asset.
According to an August 2016 NI 43-101 technical report, Alta Mesa contains an estimated 1.6 million tons of measured and indicated mineral resources with an average grade of 0.11 percent containing 3.6 million pounds of uranium, plus seven million tons of inferred mineral resources with an average grade of 0.12 percent containing 16.8 million pounds of uranium. In addition, the technical report identified further areas for exploration, with an average grade of 0.08 to 0.123 percent uranium containing 4.1 to 6.6 million pounds of uranium. The total project area is over 200,000 acres providing the company with a long-term, low-cost uranium production profile from this asset.
Alta Mesa can be ready to resume production within 12 months of a production decision. In the meantime, Energy Fuels has planned a 2019 drill program with the aim of significantly expanding the resource.
The Nichols Ranch ISR project in Wyoming, the Alta Mesa ISR Project in Texas, and the White Mesa mill in Utah gives Energy Fuels diversified, low-cost ISR and conventional uranium production from three production centers. As uranium prices increase due to the US government investigation into uranium imports, or due to improving global supply and demand fundamentals, Energy Fuels is well-positioned to increase profitable production.
Acquiring Nichols Ranch and Alta Mesa deepened the value of Energy Fuels' already impressive development pipeline which includes the largest NI 43-101 resource base among producers in the US. These ISR acquisitions make the company the only integrated mining company with conventional and ISR uranium production in the US.
"Energy Fuels is clearly emerging as a leading integrated producer of uranium in the US. We now have low-cost ISR and conventional uranium production in our portfolio, the largest NI 43-101 compliant in-ground uranium resource in the US among producers, and the ability to significantly increase uranium production in the future as uranium prices rise," explained the company.
Canyon Mine: Fully-Permitted Mine In Development
Energy Fuels owns the fully-permitted Canyon mine in northern Arizona. This is a high-grade breccia pipe uranium mine within trucking distance of the company's White Mesa mill, where the ore will be processed. The company believes this project has all-in costs in-line with the lowest-cost, "tier one" conventional uranium mines operating in the world today.
The breccia pipe deposits of northern Arizona contain the highest grades of uranium found in the US and are among the highest-grade deposits in the world outside Canada's Athabasca Basin.
Existing surface development at Canyon includes a headframe, evaporation pond, hoist, maintenance facility and environmental controls. In early 2017, Energy Fuels stated it had built all surface developments and completed its 1,470-foot production shaft. The company also completed underground drilling to define and expand the deposit.
According to a 2017 technical report, the measured and indicated mineral resources at the Canyon mine are estimated to include 2.43 million pounds of uranium grading 0.88 percent contained in 140,000 tons, along with inferred mineral resources estimated to include another 130,000 pounds of uranium grading 0.38 percent uranium contained in 20,000 tons.
The Canyon mine also includes 12 million pounds of copper, with an average grade of 5.93 percent copper contained in 100,000 tons.
During 2019, the company intends to conduct engineering, metallurgical testing, procurement and construction management activities at the Canyon mine project, including additional bench and pilot plant scale metallurgical test work for copper and uranium mineralization.
Scalable Production
In addition to the aforementioned projects, Energy Fuels has successfully amassed a diverse portfolio of additional production-ready and late-development stage uranium properties giving the company significant future production scalability.
Roca Honda — New Mexico
The Roca Honda project was acquired by Energy Fuels as part of its acquisition of Strathmore Minerals in 2013. The project is located in northwest New Mexico within trucking distance of Energy Fuels' White Mesa mill.
Roca Honda is one of the largest and highest-grade development-stage uranium projects in the US. The 2015 preliminary economic assessment (PEA) and technical report on the project shows 1.51 million tons of measured and indicated resources with an average grade of 0.48 percent uranium containing 14.56 million pounds of uranium as well as an additional 1.20 million tons of inferred mineral resources with an average grade of 0.47 percent uranium containing 11.21 million pounds of uranium.
A December 2016 PEA revised the cost of production to US$33.27 a pound, approximately two dollars less than the initially estimated US$35. Capital costs comprised of upfront capital and operating capital, mine closure and reclamation are expected to total US$13.88 per pound of uranium. The PEA further anticipates average production of 2.7 million pounds of uranium per year over a mine-life of nine-years.
Energy Fuels intends to accelerate the licensing and permitting for the project. The company expects the record of decision to be completed by 2020.
In August 2015, Energy Fuels announced that it had completed the acquisition of a highly strategic 4,580-acre land position adjacent to its existing Roca Honda holdings. This is a major step in consolidating the properties adjacent to General Atomics' Mountain Taylor uranium mine. The properties acquired include significant historical resources and a historic mine shaft constructed in the early 1980s by Kerr-McGee to within 200 feet of the ore body. The acquired properties have the potential to significantly enhance the project economics of Roca Honda.
In May 2016, Energy Fuels announced the acquisition of its JV partner's 40 percent interest in Roca Honda, increasing its ownership to a 100 percent interest in the Roca Honda project. As a result of the buyout, Energy Fuels increased its portfolio size by 6.8 percent measured and indicated, and 12.4 percent inferred resources. Roca Honda is currently in an advanced stage of permitting which is expected to be completed in 2019.
Sheep Mountain — Wyoming
The Sheep Mountain project is a fully-permitted conventional uranium mine located approximately eight miles south of Jeffrey City, Wyoming on a land package totaling 4,475 acres. The project includes the Congo Pit, a proposed open-pit development, and the existing Sheep Mountain underground mine. The Sheep Mountain mine is a formerly producing conventional uranium mine with the potential to become a long-term uranium production center at higher uranium prices. The project has a Resource Estimate of approximately 12.9 million tons of measured and indicated resources at an average grade of 0.12 percent uranium (30.3 million pounds uranium), including 18.4 million pounds of reserves.
Energy Fuels receiving its final Environmental Impact Statement (EIS) and Record of Decision (ROD) for the Sheep Mountain project in January 2017. This was the last major government approval required to begin mining at this site. At this time, the company is evaluating processing alternatives for the resources, including licensing and constructing its own mill or heap leach facility.
Energy Fuels plans to redevelop Sheep Mountain using both conventional underground and open-pit mining methods with uranium produced in a new heap leach extraction process. The company's current plans specify a mine life of 15 years, comprising 11 years of open-pit operation and an additional five years allotted for mine closure and reclamation. The pre-feasibility study estimates the Sheep Mountain project can produce up to 1.5 million pounds of uranium per year over its 15-year lifespan.
Henry Mountains — Utah
The Henry Mountains complex is a contiguous group of uranium properties which includes the Tony M and Southwest deposit (the Tony M mine), the Copper Bench and the Indian Bench deposit (the Bullfrog project). The 2012 NI 43-101 technical report on the complex shows approximately 2.5 million tons of indicated resources with an average grade of 0.27 percent uranium (12.8 million pounds uranium) and approximately 1.61 million tons of inferred resources with an average grade of 0.25 percent uranium (8.08 million pounds uranium).
The fully-permitted and developed Tony M portion of the Henry Mountains complex is currently on standby. The high-grade Bullfrog deposit is currently in preparation for permitting. This project, which the company estimates could produce up to 1.5 million pounds of uranium per year, is in close proximity to the company's White Mesa mill – less than 100 miles trucking distance.
La Sal — Utah
The La Sal complex is a fully-permitted and developed series of mines, including four uranium and vanadium mines (La Sal, Beaver, Energy Queen and Pandora) connected by an extensive network of underground workings. The complex is located in the La Sal mining district along the La Sal trend which runs east to west for about 20 miles. Ore is processed at the company's nearby White Mesa mill.
In September 2018, Energy Fuels announced that they expect to resume production at La Sal. In preparation for production, the company has completed a test-mining program that selectively targeted high-grade vanadium oxide with the goal of increasing productivity and mining grades while also reducing mining costs. The La Sal complex was previously in production in early 2013.
A month later, Energy Fuels released some initial results from their testing program. These resulted in the discovery of areas with high-grade vanadium mineralization that was not previously mined due to low levels of uranium in the material. Other highlights include an average vanadium grade of 1.675 percent and an average uranium grade of 0.102 percent uranium.
Energy Fuels completed its test work at La Sal in April 2019 and is pursuing operational readiness with the goal of future commercial production. The goal of the program was to evaluate different mining approaches that target high-grade vanadium zones, which could potentially increase productivity and mined grades while decreasing mining costs per pound. During the program, Energy Fuels refurbished the La Sal and Pandora mines and extracted approximately 6,000 tons of mineralized material.
Moving forward, Energy Fuels plans to continue with its readiness activities and expects to complete a surface and underground drilling program at the La Sal complex to potentially expand the known uranium and vanadium resources.
Daneros — Utah
The fully-permitted and developed Daneros mine was in production as recently as October 2012, at which point it was placed on standby. It remains on standby as of early 2017. The Daneros mine is located in Utah's White Canyon mining district from which historic production totaled more than 11 million pounds of uranium. Daneros contains approximately 156,600 tons of inferred resources with an average grade of 0.21 percent containing 661,000 pounds of uranium (December 31, 2013). Ore is processed at the company's nearby White Mesa Mill.
Wate – Arizona
The Wate project is a nearly-permitted high-grade breccia pipe deposit located in northern Arizona. Energy Fuels now holds a 100-percent interest in the Wate following an acquisition transaction completed in November 2015.
According to a 2015 Technical Report, the Wate project contains approximately 1.12 million pounds of uranium contained in approximately 70,000 tons of inferred mineral resources with an average grade of 0.79 percent uranium.
The Wate project, which sits on Arizona State Land, is in an advanced stage of permitting. A mineral lease (which includes a mining permit) is expected to be issued later in 2019. Once the mineral lease is granted, Energy Fuels expects to move forward to acquire the additional environmental permits and other approvals required to commence development and mining.
Energy Fuels' Management Team
Mark Chalmers — President, Chief Executive Officer and Director
Mr. Chalmers brings an extensive background in both the U.S. and global uranium mining and processing industries to Energy Fuels. From 2011 to 2015, Mr. Chalmers served as Executive General Manager of Production for Paladin Energy Ltd., a uranium producer with assets in Australia and Africa, including the Langer Heinrich and Kayelekera mines, where he oversaw sustained, significant increases in production while reducing operating costs. He also possesses extensive experience in ISR uranium production, including management of the Beverley Uranium Mine owned by General Atomics (Australia), and the Highland mine owned by Cameco Corporation (USA). Mr. Chalmers has also consulted to several of the largest players in the uranium supply sector, including BHP Billiton, Rio Tinto, and Marubeni, and currently serves as the Chair of the Australian Uranium Council, a position he has held since 2007.
Paul Goranson – COO
Paul Goranson has more than 28 years of mining, processing and regulatory experience in the uranium extraction industry that includes both conventional and ISR mining. Prior to the acquisition by Energy Fuels of Uranerz Energy Corporation, Goranson served as President, Chief Operating Officer and Director for Uranerz, where he was responsible for operations of the Nichols Ranch ISR Uranium Project. Prior to Uranerz, Goranson was President of Cameco Resources, a wholly-owned U.S. subsidiary of Cameco Corporation, which is one of the world's largest uranium mining companies. He was responsible for executing the "Double U" growth strategy for Cameco's U.S. operations, including developing production expansion projects such as the North Butte ISR uranium recovery facility and the refurbishment of the Highland Central Processing Plant.
Prior to Cameco Resources, Goranson was Vice President of Mestena Uranium where he led the construction, startup and operation of the Alta Mesa project that achieved over one million pounds of uranium production per year under his stewardship. Prior to Mestena, he was the manager for radiation safety, regulatory compliance and licensing with Rio Algom Mining, a division of BHP Billiton. Goranson is a registered Professional Engineer, and he holds a Master of Science in Environmental Engineering along with a Bachelor of Science in Natural Gas Engineering.
David C. Frydenlund – CFO, General Counsel and Corporate Secretary
David Frydenlund's expertise extends to NRC, EPA, State and Federal regulatory and environmental laws and regulations. From 1997 to July 2012, Frydenlund was Vice President Regulatory Affairs, Counsel and Corporate Secretary of Denison Mines Corp., and its predecessor International Uranium Corporation (IUC), and was also a director of IUC from 1997 to 2006. From 1996 to 1997, he was a Vice President of the Lundin Group of international public mining and oil and gas companies, and prior thereto was a partner with the Vancouver law firm of Ladner Downs (now Borden Ladner Gervais) where his practice focused on corporate, securities and international mining transactions law. Frydenlund was also an adjunct professor, corporate law, at the University of British Columbia Faculty of Law from 1990-1994. He holds a bachelor's degree from Simon Fraser University, a master's degree from the University of Chicago and a law degree from the University of Toronto.
Curtis H. Moore – VP of Marketing and Corporate Development
Curtis Moore is in charge of product marketing for Energy Fuels and is closely involved in mergers and acquisitions, investor relations, public relations and corporate legal. He has been with Energy Fuels for over seven years, holding various roles of increasing responsibility. Prior to joining Energy Fuels, Moore worked in multi-family real estate development, government relations and public affairs, production homebuilding and private law practice. He is a licensed attorney in the State of Colorado. He holds Juris Doctor and Masters in Business Administration degrees from the University of Colorado in Boulder and a Bachelor of Arts dual degree in Economics and Government from Claremont McKenna College in Claremont, California.
Birks Bovaird – Chairman of the Board
For a majority of his career, J. Birks Bovaird's focus has been the provision and implementation of corporate financial consulting and strategic planning services. He was previously the Vice President of Corporate Finance for one of Canada's major accounting firms. He is Chairman of GTA Resources and Mining Inc. as well as a member of the audit and compensation committees. He is an independent director of Noble Mineral Exploration Inc. where he is a member of the audit committee and chair of the compensation committee.
He also serves as an independent director and member of the audit committee of Interactive Capital Partners Corporation (ICPC) which is a reporting issuer whose common shares are not currently trading. ICPC is in the process of preparing the necessary financial reports in order to bring the company back into good standing with the Ontario Securities Commission. Bovaird has previously been involved with numerous public resource companies, both as a member of management and as a director. He is a graduate of the Canadian Director Education Program and holds an
Benjamin Eshleman III – Director
Benjamin Eshleman is the President and CEO of Mesteña LLC, a privately held energy company headquartered in Corpus Christi, Texas. As President and CEO, he is responsible for the oil, gas and uranium leasing activities over 200,000 mineral acres located in South Texas. Mesteña built, operated and mined several million pounds of uranium through its Alta Mesa plant in the mid-2000s. Eshleman also sits on the board of the Texas and Southwestern Cattle Raisers Association, a well-known business association advocating landowner rights. He is a 1979 graduate of Menlo College, with Bachelor of Science in Business Administration.
Barbara Filas – Director
Barbara Filas currently serves as the Nominations Chair and Chair of the Board of Governors for the National Mining Hall of Fame and Museum in Leadville, Colorado and is a part-time professor at the Colorado School of Mines in Golden, Colorado. From 2003 to 2009, she served as the President and Chief Executive of Knight Piésold and Co. From 2011 to 2013, Filas served as the President of Geovic Mining Corp. From 2015 to 2016, she was a Director of Moroccan Minerals Ltd.
Filas' operational background includes hands-on experience with operating gold and coal mines and processing facilities; executive experience in consulting, public companies and non-profits; and technical expertise in base and precious metals, coal, uranium and industrial metals in various engineering and environmental capacities. Additionally, she was the first female President of the Society for Mining, Metallurgy and Exploration and is internationally recognized as a thought-leader on a variety of topics including mining, waste management, environmental and social responsibility, leadership and sustainability.
Bruce D. Hansen – Director
Bruce Hansen is currently Chief Executive Officer and a director of General Moly Inc., a position he has held since 2007. Prior to that, he was the Senior Vice-President of Operations Services and Development with Newmont Mining Corporation. He has worked with Newmont for 10 years holding increasingly senior roles, including CFO from 1999 to 2005.
Prior to joining Newmont, Hansen spent 12 years with Santa Fe Pacific Gold, where he held increasingly senior management roles including Senior Vice President of Corporate Development and Vice President Finance and Development. He holds a Masters of Business Administration from the University of New Mexico and a Bachelor's of Science Degree in Mining Engineering from the Colorado School of Mines.
Dennis Higgs – Director
Dennis Higgs has been involved in the financial and venture capital markets in Canada, the US and Europe for over 30 years. He founded his first junior exploration company in 1983 and took it public in 1984. Since then, he has been involved in the founding, financing, initial public listing and building of several companies. Higgs was directly involved with the founding and initial public offering of Arizona Star Resource Corp. and the listing and financing of BioSource International Inc., both of which were the subject of takeover bids.
Most recently, he was one of the founding Directors and subsequently Executive Chairman of Uranerz before it merged with Energy Fuels. Higgs was Executive Chairman of the Board of Directors of Uranerz from February 2006 until June 2015. He is currently Chairman and a director of Nevada Exploration Inc. He holds a Bachelor of Commerce degree from the University of British Columbia.
Robert Kirkwood – Director
Robert Kirkwood is a principal of the Kirkwood Companies, including Kirkwood Oil and Gas LLC, Wesco Operating Inc. and United Nuclear LLC. He has been with the Kirkwood Companies for over 35 years and has been involved in all aspects of oil and gas exploration and operations. From 2000 to date, the Kirkwood companies have grown from less than 500 barrels of oil per day and seven employees to over 3,000 barrels of oil per day and 60 employees with field offices in Ft. Washakie, WY; Baggs, WY; Moab, UT; and Ely, NV. The Kirkwood companies have identified, evaluated, negotiated and closed over $110 million in production acquisitions in the Rocky Mountain States. Kirkwood is a 1982 graduate of the University of Wyoming, with a Bachelor of Science in Petroleum Engineering.
---
*Disclaimer: The profile provides information which was sourced and approved by Energy Fuels Inc. (TSX:EFR,NYSEMKT:UUUU) in order to help investors learn more about the company. Energy Fuels is a client of the Investing News Network (INN). The company's campaign fees pay for INN to create and update this profile page, to which links are placed on Investingnews.com and channel newsletters.
The company description, investment highlights and catalysts were sourced by INN and approved by the company. INN does not guarantee the accuracy or thoroughness of the information contained on this page.
INN does not provide investment advice and the information on Investingnews.com profile should not be considered a recommendation to buy or sell any security.
INN does not endorse or recommend the business, products, services or securities of any company profiled.
Readers should conduct their own research for all information publicly available concerning the company.