Cybin Corp
Developing Psychedelic Medicines and Nutraceutical Products
Overview
Cybin (NEO:CYBN) is a life science company advancing mushroom-based psychedelic pharmaceuticals and non-psychedelic nutraceutical products for diverse markets as potential therapies for various psychiatric and neurological conditions. Cybin is developing technologies and delivery systems aiming to improve bioavailability to achieve the desired effects of psychedelics at low dosage levels. The new delivery systems will be studied through clinical trials to confirm the safety and efficacy of therapies for major depressive disorder, addictions and cognitive function improvement.
Under its Serenity Life Science division, Cybin intends to sponsor and conduct clinical trials studying the use of products containing psilocybin as an active pharmaceutical ingredient used to treat major depressive disorder (MDD). Under its Journey division, Cybin intends to develop non-psychedelic medicinal and nutraceutical mushroom products, with over 20 formulations and unique form factors established to date. According to Grand View Research, the global nutraceutical market is projected to grow to a total of US$722.49 billion by 2027.
Cybin intends to pursue an IP strategy covering chemically-synthesized compounds, delivery mechanisms, screeners, protocols, and new drug formulations. The company's M&A strategy is designed to acquire revenue-generating assets in the psychedelic sector.
Cybin's Company Highlights
Operating two divisions that are also wholly-owned subsidiaries, Serenity Life Science and Nature's Journey
Serenity Life Science division aims to fund research and development of psilocybin for medical purposes, developing proprietary active pharmaceutical ingredients (APIs)
Nature's Journey division is developing nutraceutical mushroom products targeting the millennial generation, including a number of form factors
Global nutraceutical market is projected to grow to a total of US$722.49 billion by 2027, according to Grand View Research
Pursuing an M&A strategy designed to acquire revenue-generating assets in the medical mushroom and psychedelics space
Signed a strategic partnership with the Toronto Centre for Psychedelic Science to improve its IP portfolio through research and development
Brand ambassador and former NHL player Dan Carcillo is a major proponent of psilocybin and its remedial benefits
Management team has facilitated over C$1 billion in pharmaceutical sales
Cybin's Serenity Life Science Division
Cybin's Serenity Life Science Division is dedicated to bringing a psilocybin-based drug to market for the treatment of major depressive disorder. In pursuit of this goal, Cybin and its Serenity Division intend to conduct a clinical trial in Jamaica with patients suffering from MDD.
The trial, "A Phase 2, Randomized, Parallel Group, Bioequivalence (BE) Study of psilocybin 1 mg, 3 mg, 5 mg and 7 mg administered with Buccal Film to 25 mg Oral Capsule Followed by Placebo-Controlled Safety and Efficacy Trial with Selected Dose in Patients with Major Depressive Disorder (MDD)", is expected to examine bioequivalence data against safe and efficacious oral doses of psilocybin for a four-month period in MDD patients. Cybin intends to submit its marketing authorization by Q3 2020. The trial is expected to be conducted through the University of the West Indies.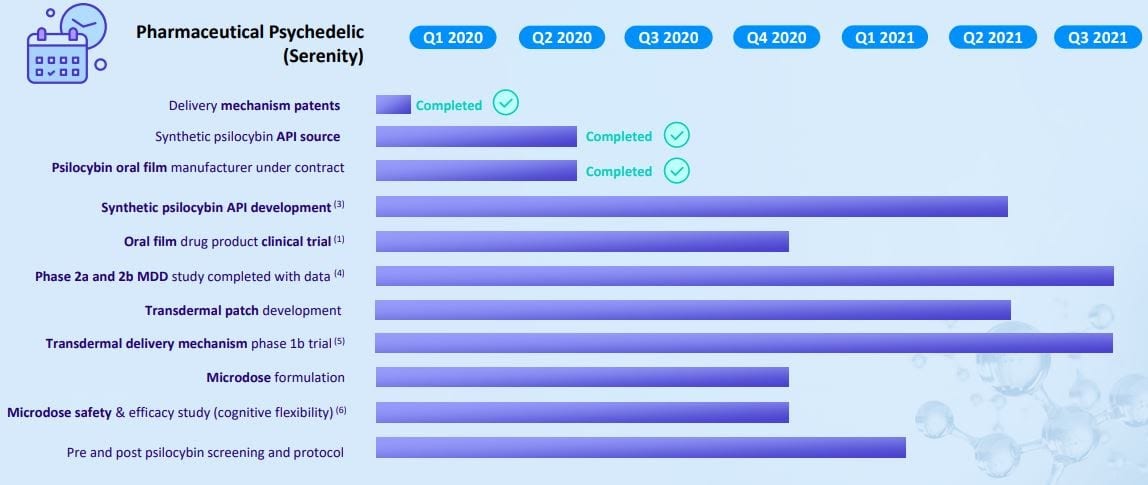 The primary goals of the study are to choose a BE dose of psilocybin designed to be administered with buccal film to 25 mg oral capsules and to evaluate the clinical efficacy of buccal psilocybin film as a delivery mechanism compared to placebo film. During the span of the trial Cybin also intends to continue to evaluate the safety and tolerability of psilocybin.
API Strategy
Under its Serenity Life Sciences division, Cybin intends to source and develop the active pharmaceutical ingredients (APIs) necessary for its own studies. Due to the delays involved in obtaining APIs for study, Cybin intends to explore the potential for the production and commercialization of synthetic APIs that can be shipped to any academic facility with a drug establishment license.
Cybin has already secured 25 grams of API from a GMP source that is immediately available for GMP SL film manufacturing. The company intends to put this towards its clinical trials in patients with MDD, specifically during Phase 2a and 2b. Moving forward, Cybin intends to offer its synthetic API to academic and corporate institutions that are conducting research or developing their own products.
In February 2020 Cybin Corp announced a strategic partnership with the Toronto Centre for Psychedelic Science (TCPS). Cybin intends to work alongside the TCPS in order to help determine the safety and efficacy of psilocybin-based microdosing.
Cybin's Nature's Journey Division
Cybin Corp's wholly-owned Nature's Journey Inc. operates the Journey™ brand, which is focused on developing proprietary medicinal mushroom products that aim to improve mental wellness, boost the immune system, detoxify the body and improve overall general health and wellness.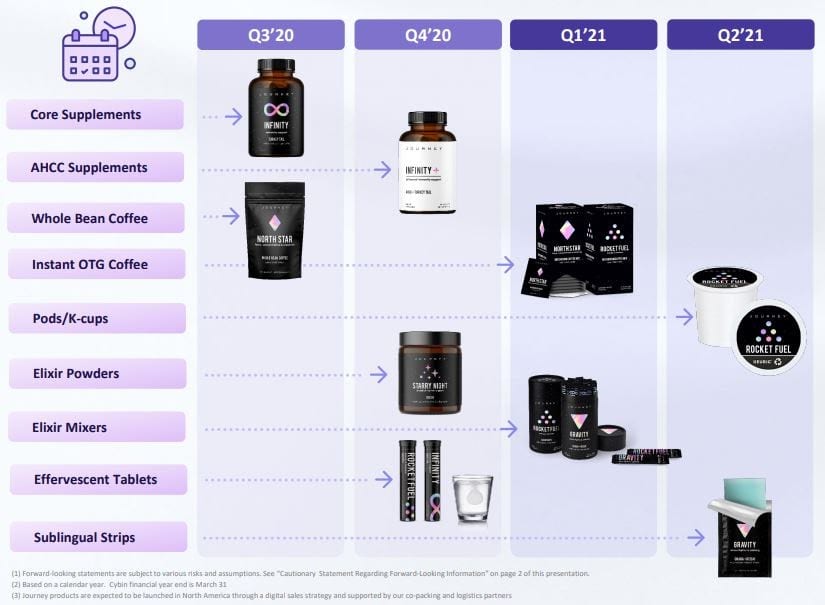 Cybin is currently working to position Journey™ for growth in North American markets, targeting millennials through the use of proprietary formulations with clinically-backed ingredients. The company has developed over 20 different formulated products that come in a variety of form factors including capsules, hard tablets, infused coffees, infused teas, powders and additional patent-pending delivery mechanisms.
In order to support the immune-boosting potential of its products, Cybin has obtained the exclusive formulation rights to AHCC, a world-leading immune support product. AHCC is a patented immune support ingredient derived from the mycelia of Lentinula edodes and is viewed as a safe nutritional supplement. Once ingested, AHCC is capable of stimulating several key immune receptors.
Cybin intends to target the growing medical mushroom market through a focus on eCommerce sales. As part of this digital strategy and focus towards millennials, Cybin intends to focus on expanding the reach of its social media channels across North America.
Cybin's Management Team
Paul Glavine — Co-founder & COO
Serial entrepreneur and investor with vast experience in the biotech and cannabis sectors. Co-founder of Global Canna Brands which was granted the first-ever tier 3 cultivation license in Jamaica. Sold first cannabis startup TruVerra to Supreme Cannabis Company Inc. (TSX:FIRE). Previous background in the technology industry has advised on M&A and other financings in excess of $50M.
Eric So — Co-founder & President
Co-founder and Managing Director of Trinity Venture Partners Inc., a Canadian boutique merchant bank. A trusted advisor, he began his career practicing in the areas of corporate commercial, securities, finance, and mergers and acquisitions at a leading international law firm. Successfully raised over $70M for his multiple start-ups. Co-founder of Growpacker Inc.
John Kanakis — Co-founder & SVP Business Development
Co-Founder and Managing Director of Trinity Venture Partners Inc, a Canadian boutique merchant bank. Co-Founder of Growpacker Inc., a private and profitable contract manufacture of cannabis-infused beverages and edibles that operates in California. 10+ years experience in medical device and CPG manufacturing. Early-stage investor and advisor in various companies spanning multiple sectors
Doug Drysdale — CEO
Doug has more than 30 years of experience in the health care sector. As a skillful corporate director, in early 2014, Doug led the recapitalization of a NASDAQ-listed pharmaceutical company, raising $65 million. Within the first year of taking the helm as Chairman and CEO, Doug rebuilt the management team and board of directors and built a 220 person sales team, complete with supporting functions (marketing, sales training, sales operations and analytics). His efforts grew the company's enterprise value exponentially from $80 million to around $800 million. Under Doug's leadership, the pharmaceutical company raised $465 million of capital.
Earlier in his career, Doug served as Head of M&A at Actavis Group, leading 15 corporate acquisitions across three continents between 2004 and 2008. One of these transactions includes a high-profile, public hostile takeover attempt in Central Eastern Europe. Over this period, Doug raised approximately $3 billion of capital and managed lending syndicates, including over 25 banks, to fund its growth.
Greg Cavers — CFO
15+ years experience creating efficient scalable operations financial reporting, IFRS; regulatory reporting OSFI. Former Ontario Securities Commission contracted Director of Finance. Former Scotiabank senior manager of enterprise functions. Former CFO of Global Maxfin Investments Inc. Former CIBC small business lending controller. Authority over assets of $31B for external reporting on a monthly and quarterly basis.
Jukka Karjalainen Ph.D., M.D. — Chief Medical Officer
Former Director of Medical and Regulatory Affairs and Corporate Vice President at Biovail Pharmaceuticals. Former Medical Director at Eli Lilly and Company (Finland) and multiple roles as a C-level officer in private biotech companies. 25 years of pharma experience spanning multiple medical specialties, academic, clinical research regulatory affairs, preclinical, regulatory, and clinical drug development from Phase I to Phase IV. Designed and managed a large number of Phase 1a and b trials, hundreds of Phase 2-3 clinical registration trials, Phase 3b and 4 trials in Europe, Asia, US and Canada. 60 original publications in top-rated international medical journals, author of over 80 CSR's, 2 health outcome reports, and 11 review articles.
Grant Froese — Retail Strategist
Former Chief Operating Officer at Loblaws, Canada's largest food and drug Retailer. 38 years of experience within the retail industry. Extensive background in merchandising, supply chain management, digital, marketing, and innovative strategies. Served on various private and public boards
---
This profile is sponsored by Cybin Corp. This profile provides information which was sourced by the Investing News Network (INN) and approved by Cybin Corp., in order to help investors learn more about the company. Cybin Corp. is a client of INN. The company's campaign fees pay for INN to create and update this profile.
INN does not provide investment advice and the information on this profile should not be considered a recommendation to buy or sell any security. INN does not endorse or recommend the business, products, services, or securities of any company profiled.
The information contained here is for information purposes only and is not to be construed as an offer or solicitation for the sale or purchase of securities. Readers should conduct their own research for all information publicly available concerning the company. Prior to making any investment decision, it is recommended that readers consult directly with Cybin Corp. and seek advice from a qualified investment advisor.