Alpha North
Bringing esports to North America
Overview
Alpha North is a multi-fold, vertically integrated esports company with competitive social gaming at its core.
Alpha North's ecosystem conducts operations in several sub-sectors to satisfy the emerging needs of the esports industry in the short and long term. These include real estate assets, IP creation with an online tournaments platform, production & broadcasting, charity fundraising, celebrity and industry influencer agreements and publishing.
Alpha North Company Highlights
The video game industry is expected to reach US$300 billion by 2025.
The esports market is expected to reach US$1.1 billion in 2019.
Alpha North IPO expected to take place in 2020.
The gaming truck, an 18-wheel, 35-ton semi-trailer, will be a mobile interactive touchpoint featuring a competition stage and full production facility connecting fans with their favorite teams and athletes.
Alpha North truck is set up for tv quality broadcasting, live music and DJ performances, a broadcasting booth, multiple interactive electronic billboards, and 12 mobile gaming stations
Gamerz Arena facilitates cross-platform tournaments and competitions for gamers of all skill levels, including cash prizes for top players.
Partnered with the David Ortiz Children's Fund to host an exclusive esports challenge for all celebrities, athletes and VIP guests to raise awareness for children born with CHD
Hosting multiple esports challenges in 2020 with celebrities and professional athletes
The esports Market
Esports refers to the rapidly expanding world of competitive video games that are played on a variety of platforms. Two or more players compete in online battles until a winner is determined. Over the years, esports has gained popularity as a competitive sport that attracts millions of viewers that tune in for tournaments.
The esport industry has been building over the past 30 to 40 years as gaming has become more accessible and popular with the rise of computer technology. The first esports event took place in 1972, and Youtube's debut in 2005 made the tournaments available to viewers at home. Now with streaming services like Twitch, esports fans can watch video channels dedicated to online gaming.
Over the years, esports has evolved into an athletic environment where players and online gaming teams compete for titles in major league gaming events. These events have prize pools where professional players, like Ninja, can earn as much as US$500,000 per month. Over $155 million in prize money was awarded in nearly 3,500 esports tournaments in 2018.
The future of esports looks promising as the video game industry is expected to reach US$300 billion by 2025. Newzoo expects the esports market to reach US$1.1 billion in 2019 alone. To top this off, up to 453.8 million people from around the globe are expected to tune in to tournaments and events in 2019, creating sponsorship and revenue generation opportunities for those entering the industry.
The growth of the market is being bolstered by social media, the rise of professional players and the interest in gaming as a spectator sport. Traditional sports institutions have also taken an interest in esports. Many current and retired professional athletes have entered the industry, such as Toronto Maple Leafs forward Zach Hyman and NBA legend Michael Jordan.
The Alpha North Business Model
Alpha North is a vertically-integrated company with operations in North America. To achieve its goal, the company has focused on satisfying the needs of the esports industry by operating in several sub-sectors such as real estate, live events, online and IP creation with the purpose of content creation for competitive social gamers. The company intends to offer gamers the chance to enroll in esports academies and programs.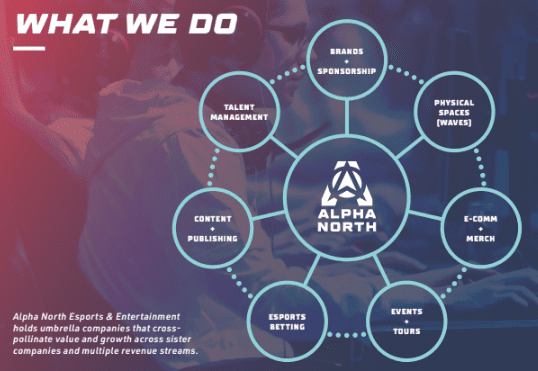 Alpha North is currently working to partner with companies that have previously sponsored esports tournaments. As part of its live entertainment strategy, Alpha North announced the acquisition of the Vancouver Community Retro Gaming Club (VCRGC) in February 2020. The VCRGC is a community of retro video game enthusiasts that has hosted a series of successful sports events at popular venues across Vancouver.
Along with its sponsors, Alpha North works with talented creatives to develop and sell clothing and merchandise through its e-commerce platform. The platform features products endorsed by top athletes, events and teams. The company is also looking to manage and develop athletes with all levels of experience.
Alpha North and MLBPA Agreement Opportunities
2019
Esports event at All-Star Weekend in Cleveland
2020
Spring Training Activation
All-Star Game
World Series activation
Other Revenue Opportunities
Player Charity Events/Fundraisers
Player Camps and Influencer Events
Gamerz Arena Tournaments and Competitions
Merchandise rights
Trading card rights
Gaming Truck
The Alpha North esports truck is an 18-wheel, 35-ton semi-trailer that unfolds with a push of a button. Once open, this state-of-the-art mobile arena features a competition stage and full production facility including an interactive caster studio, social media center and VIP lounge. The truck includes 12 mobile gaming stations that are located inside a soundproof room on the trailer.
The truck has the ability to host television-quality broadcasts, live music and DJ performances, a broadcasting booth and comes loaded with more interactive electronic billboards than any mobile gaming truck in the world. The walls inside of the trailer are wrapped with 80" LED screens to provide complete wall-to-wall entertainment and maximize sponsorship opportunities. The outside of the truck is covered with two 20' by 7' waterproof electronic billboards that are designed to play live events and feature corporate branding opportunities.
The top deck of the Alpha North truck is lined with six feet of plexiglass to create a platform capable of hosting approximately 25 people for yard games, celebrity entertainment, and corporate sponsorship events.
Gamerz Arena
In addition to the live tournaments and entertainment provided by the company's mobile gaming truck, Alpha North has launched Gamerz Arena, a digital platform for gamers and competitors to meet in daily tournaments with cash and bragging rights on the line. The platform hosts daily tournaments including a leaderboard and payouts for top competitors. Through the power of Twitch, users are able to stream their live games for users to view around the world, giving casual gamers a look into the world of competitive gaming. Gamerz Arena enables cross-platform competition, allowing gamers on an Xbox, Playstation, Switch or PC to play against one another in the same game.
Management
Emil Bodenstein — CEO and Director
Emil Bodenstein currently has immersed himself in the world of esports. After forming Jobu Media Group in 2018, he was able to acquire a license from Major League Baseball Players Association, have over one hundred and thirty professional athletes participate in his first-ever online esports challenge, and hold a live esports event with over 20 professional athletes in Las Vegas. He currently is planning the first-ever MLBPA esports All-Star event in Cleveland.
A graduate of Nova Southeastern University with a B.S. in Business Administration, Bodenstein brings a strong sense of entrepreneurship and related industry operating experience to the company. He is a proud father and husband to his wife Andrea and two children, Lacey and Braden.
Eric Mays – President
Mr. Mays has been a Sports Marketing Senior Manager for Under Armour, overseeing all the work with the NFL, Boxing and Major League Baseball. Mr. Mays has spent his career in sports, starting out in licensing for the Topps Company and then working as a Sports Agent for ACES Sports Management. Mr. Mays is also a board member for the David Ortiz Children Foundation. He lives with his wife and 3 children.
Tommy Knapp – VP of Business Development
Mr. Knapp's distinctive skill set and experience, across multiple major traditional sports leagues and teams, combined with his various esports projects, make him a sought-after host, moderator, speaker and panelist. He's originated and curated the business networking brands B2B (Baseball to Business) and E2E and has delivered content at DreamHack Atlanta, the Diamond Club at Marlins Park, Mana Convention Center Wynwood, Florida Atlantic University, the Greater Fort Lauderdale Business Alliance and the Adrienne Arsht Center to name just a few. In addition, Mr. Knapp is Founder of the Next Level Gaming Clubs and esports Academies as well as Director of the E2E: esports Business Conference.
Paul More — CFO
Paul More is a finance professional with over 10 years of combined experience in public and industry accounting. Prior to joining the company, he was the CFO of a midsize public entity in the health sector. He earned a Bachelor of Commerce degree from the University of Northern British Columbia with a double major in Accounting and Finance. He also holds the Chartered Professional Accountant and Chartered Accountant designations.
Joe Krutel – Advisor
Mr. Krutel has a bold reputation in Hollywood and is known for his wit, reliability, and talent as a seasoned producer, including his role as a producer on HBO's hit show, Ballers, as well as other projects including Money Talks, Rush, Hour, Rush Hour 2, and the Family Man. In addition to the onset role of a producer, Mr. Krutel is also known as a "connector" bringing in mega brands such as Adidas, Nike, Under Armor, Range Rover, and Audemars Piguet, for association with product placement and A-List talent.
Dr. Gerry Ramogida – Advisor
Dr. Gerry Ramogida is currently a performance therapist with the Golden State Warriors and has experience working with professional sports teams such as the Seattle Seahawks and Vancouver Canucks. Dr. Ramogida is also currently a consultant with many Olympic and professional athletes. Dr. Gerry has worked with numerous influencers over the years and will help spearhead Alpha's influencer partnerships and agreements.
Dr. David Putrino – Advisor
Dr. Putrino has a deep background in elite sports performance research, working with many high profile partners such as Red Bull High Performance, the NBA, the Brooklyn Nets and multiple partners in the English Premier League. He first began his work in esports performance in 2015, and has since had the privilege to work with esports partners such as Logitech, Take Two Interactive, the Brooklyn Nets, Manchester City, Red Bull High Performance and the University of Limerick Department of Physical Education and Sport Sciences. Along with Dr. Mathur, Dr. Putrino will spearhead Alpha's entrance into the health and wellness sector.
---
*Disclaimer: This profile is sponsored by Alpha North. This profile provides information that was sourced by the Investing News Network (INN) and approved by Alpha North, in order to help investors learn more about the company. Alpha North is a client of INN. The company's campaign fees pay for INN to create and update this profile.
INN does not provide investment advice and the information on this profile should not be considered a recommendation to buy or sell any security. INN does not endorse or recommend the business, products, services or securities of any company profiled.
The information contained here is for information purposes only and is not to be construed as an offer or solicitation for the sale or purchase of securities. Readers should conduct their own research for all information publicly available concerning the company. Prior to making any investment decision, it is recommended that readers consult directly with Alpha North and seek advice from a qualified investment advisor.